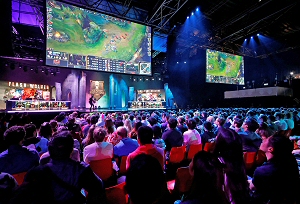 Welcome, and thank you for stopping in at our compendium for passionate Canadian-based eSports betting fans! Whether you're a seasoned punter or new to the market, our website has everything you need.
You'll discover complete reviews of all the most popular eSports games, as well as some niche-market titles. You'll learn what types of bets are available across different eSports genres, and how to pick the good ones. We'll also provide you with some great tips on how to select the right eSports betting operator for your needs.
The World of eSports in a Nutshell
The word eSports is short for "Electronic Sports", and refers specifically to the competitive class of PC and console video games. For the first few years of its existence, there was controversy over calling eSports a sport. After all, the word "sport" has forever been associated with contests of strength and athletic prowess. But eSports are competitions that test a player's mental fortitude, strategic thinking, motor skills and response time. Much like athletics, there are those who are far more developed and/or naturally talented in these areas.
eSports either take place as a head-to-head battle, where a single player competes against another, or as team-based battles. Head to heads are becoming less common these days as team-based titles are dominating production, largely due to the increased fan-based and more advanced tactics necessary to outmaneuver an elite opponent.
A team-based eSport will involve one team of 4 to 6 players competing against another team of equal size to complete an objective. Team work is obviously required, and the better the members of a team meld, the better they're likely to compete. Just being exceptionally good at a game won't earn anyone a spot on a pro team. They must be able to get along and work in tandem with everyone else on the team, cooperating in a unanimously strategic advance, to have any hope of competing on league level. These are the teams worthy of a punter's attention.
With so many video gaming enthusiasts out there, it's no wonder eSports gained such immense viewership. Just like major athletic sports (baseball, basketball, football, ice hockey, etc.) eSport events now attract millions of viewers all over the world, tuning in via official Twitch, YouTube and Major League Gaming channels, to watch live streams of competitive play – the same play that draws so many bettors to the virtual arena.
The Basics of Betting on eSports
If you've ever placed a wager on a standard sporting event, you already have a good idea of how eSport betting works. The lines, the odds, the types of wagers – they all compare closely to that of traditional sports betting.
The most common bets are straight bets to win (a.k.a. money-lines) – meaning a bet on one player or team to beat another, either in a single game or multi-round match. You'll also find an array of prop bets; the range of which will vary greatly based on the game being played.
Check out these pages for more information on eSports betting:
The Industry's Top eSports Betting Games & Leagues
The eSports market has grown immensely over the last two decades. Some games have been around since the dawn of electronic sporting events, while new titles are constantly in development. Our goal is to offer information on all the big gaming genres, as well as the niche-market titles that draw smaller but equally important crowds of Canada eSports betting enthusiast.
Below is a list of all the game titles we've reviewed for our readers. Each detailed review includes information on game play, wagering markets, and leagues, as well as links to extended reviews of current pro teams for each market.
This list is a work in progress. If the game you're looking for isn't on the list yet, please check back soon!
Trusted eSportsbooks for Canadian Players
Where you do your online eSports betting is just as important – if not more so – than the bets you place. Regulation, responsibility, respectability – these are all must-have qualities that determine the integrity of any online gambling operation. Being such a young iGaming vertical, there are far too many rogue websites out there hoping to snag an unsuspecting victim.
We've been diligently scouring the web for the most trusted eSports betting sites that accept Canadian punters. Here's what we've found so far. Click on any operator on this list to see a complete, highly detailed and wholly unbiased review.
Stats & Tips to Boost Your Betting Strategy
Just as individuals and teams must work hard to devise an effective strategy to win eSports games, the best punters put time and effort into developing a good eSports betting strategy. You can't just pick the higher rated team every time and expect to win the majority of your bets. If it were that easy, eSports bookmakers would have gone out of business long ago.
A good strategist – one who is earning more money than they lose – will research everything from the game in question, to the players who are competing. They will compare the past performances and team tactics of each competitor to see how they really match up.
Team A might have a far superior win record than Team B, but Team A's typical strategy might be highly susceptible to the skill sets of Team B, therefore making Team B the better choice to wager on. These are all things that become easier to recognize as you get more familiar with the games, teams, and tactics. Not only will the above -listed reviews help you out in this area, the following links will, too.