25 Sep
Elucidation of Betting on FIFA 20 Online
FIFA Betting Advocate: Where traditional sports and eSports collide.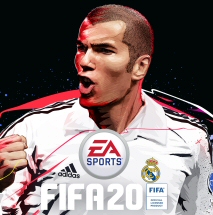 FIFA is one of the oldest, most popular sports video games of all time. Since its very first multi-platform installment in 1993, featuring cover stars David Platt and Piotr Świerczewski, EA Sports has published more than three dozen FIFA video game sequels for every PC and console that existed within the time frame. It's been heralded as "the slickest, most polished and by far the most popular football game around", and in 2018, earned a page in the Guinness World Records as the best-selling sports video game franchise in the world.
As a competitive eSport, countless fans have taken to betting on FIFA 20. The game's authenticity and impeccably realistic graphics make it so close to the real thing, the lines between traditional sports and electronic sports blur, delivering an experience that is eerily similar to watching live sports. The only difference is that, instead of top-form athletes running the field, it is the masters of spatial awareness – the video game elites of the world – controling the action.
Review of FIFA Betting
What makes FIFA eSports betting so unique is that it is one of just a handful of games that genuinely mimic real life sports (others being NBA2K and Madden 21) in such a way as to draw a global fan base of hundreds of millions. It' snot just players, either, but viewers – people who find the live streams just as entertaining as a genuine sporting event.
Like a real soccer match, FIFA eSports events present a wide range of match betting, handicaps and props, all made available through the world's top eSportsbooks. A typical match or tournament will offer the following types of FIFA bets:
Match Winner – Single Game
This is a straight bet on the which team will win a single match by scoring the most points in regulation or overtime. The odds are rarely even on straight match bets, because oddsmakers study the teams, setting lines that pay less for a winning bet on the favorite, and more for a winning bet on the underdog.
Match Winner – Best of #
This is a straight bet on which team will win the most games in a match series. Major tournaments often host series that are played as best of 3, or best of 5. The score of each game is irrelevant. To win, you must bet on the team that wins the most games in the series.
Tournament Winner
This is a long-term bet, placed at the beginning of a tournament, on which team the bettor believes will win the entire series. These are difficult bets to win, but can be very profitable if you do. Punters would do well to perform strategic research on FIFA eSports players and teams, thereby manifesting a better of chance of winning these riskier wagers.
Handicaps
Handicaps are similar to single game match bets, except that the oddsmakers will give points to the underdog to even up the playing field, as well as the payouts for betting either side. For instance, the underdog might be given 1.5 points. If the favorite wins by only 1, bettors who chose the underdog will still win by half a point.
Over/Under Totals
Instead of betting on who will win a match, punters can wager on the total combined score of the game. The oddsmakers predict the final score, then set the over/under lines at something like over/under 2.5. Betting over 2.5 requires a total combined score of 3 or more to win.
Propositions
Prop bets can revolve around just about any common circumstance in a game. The usual props in FIFA 20 are First to Score, Second to Score, Both Teams Score, etc.
For more details on exactly how to conduct FIFA 20 eSports wagers, please refer to the generalized betting topic:
FIFA eSports Leagues & Tournaments
The popularity of the FIFA video game franchise has culminated into a variety of annual FIFA eSports leagues and tournaments. The most prestigious of all is the FIFA Global Series. It takes place every summer, with separate, simultaneous tournaments held for PlayStation and Xbox users. The ePremier League, organized by the sport's actual Premier League and the game's creator, Electronic Arts, and the eMLS League, hosted by Major League Soccer, are among the top Tier 2 championships.
The list of most popular FIFA eSports competitions includes:
FIFA Global Series
eChampions League
FIFA eClub World Cup
FIFA eNations Cup
EA Champions Cup
ePremier League
FIFA 20 Summer Cup Series (regional)
eLaLiga
FUT 20 Champions Cup
Twitch Rivals: FaceOff
FIFA 20 Game Play at its Core
If you're not familiar with European football ((a.k.a. soccer in some parts of the world), I would not suggest placing bets on it; neither on real games or virtual ones. Your first move should be to learn more about the sport. I would suggest reading up on the positions and rules, watching a few Premier League matches, then tuning in for some FIFA eSports live streams. If you're really serious about it, get some experience playing the video game. Get to know the format completely first, and you'll make far better decisions in the betting market later.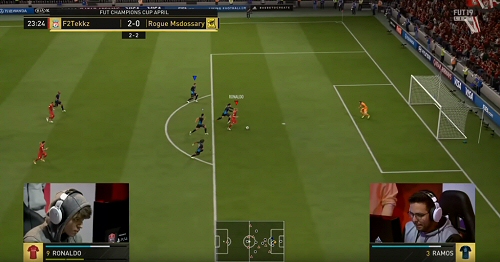 Game Play
FIFA 20 is a multi-platform video game that emulates European football. A virtual match is no different than a real life match. Each team consists of 11 players – 1 goal keeper and 10 outfielders. Each has a specific role in the game, attacking the opponent's goal to score, or defending their own half of the field to prevent the opponent from scoring. The team with the most points at end of regulation (or overtime, if applicable) wins.
How and Where to Watch FIFA 20 eSports
Like most eSports, the competitions are widely available on live streaming services like Twitch and YouTube. Official FIFA league channels are listed below for your convenience. Note that all major eSportsbooks will provide direct streams of all the events they offer odds on.
The most popular FIFA eSports live stream channels are: