6 Aug
Betting on League of Legends eSports Review
Competitive Video Gaming: League of Legends eSports Betting Reviewed
Of all the eSports video games popularized today, few are so universally recognizable as League of Legends (a.k.a. LoL). Even those who don't play it know of it. Those who do play on every level from casual to ultra competitive. The range of competitive players is so vast, League of Legends has grown into one of the most widely favored eSports games in the world.

As a member of the mass online battle arena (MOBA) genre, LoL is comparable to Dota 2, but with far more complexity. It's a fast and furious real-time strategy (RTS) game that is a perfect fit for the competitive eSports mold. DreamHack's Season 1 Championship was held in 2011. It drew more than 1.6 million viewers and paid $50k in prizes. It was so successful, Riot Games upped the Season 2 prize pool to $5,000,000.
Review of League of Legends Betting
Just as League of Legends competitive game play exploded, so did the desire to bet on the game's elite teams. Every eSports bookie in the business top-lists LoL events. Due tot he game's versatility, there are a lot of different ways to bet on LoL matches.
The most common method is to place a straight win bet, picking the team you believe will overcome their competition in a single match. You can also bet on entire tournament series, like who will win the next Legends Championship Series (LCS) or Kespa Cup. Then there's a slew of LoL prop bets to consider, like Handicaps (I.e. point spreads), First Baron (first team to slay Baron Nashor), First Inhibitor (first team to destroy inhibitor), First Tower (first team to desultory a tower), and First Dragon (first team to slay a dragon).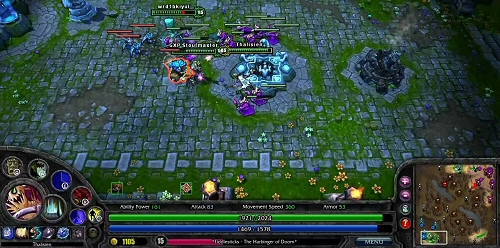 The key to winning prop bets is to study each team's style of game play and strategy. Some teams are quick to take on barons and dragons for the XP and loot, while other avoid these difficult conflicts until later in the game, when they're more prepared. Quick attackers are good, if they strategize well enough to win the battle. Otherwise, the more prepared team can be the better choice. This is where experience and team research really comes into play for LoL betting enthusiasts.
For specific details on exactly how to conduct League of Legends eSports betting, please refer to our previous segment:
How to Bet on eSports Video Games
LoL eSports Leagues & Tournaments
There are more than one hundred professional LoL teams competing in 12 professional LoL leagues across dozens of events that take place in every region of the world each year. The largest and highest paying competitions are the League of Legends World Championships – which also happens to attract the largest number of LoL bets – and the Legends Championship Series. Both of these series include tournaments and qualifiers leading up to international playoffs and, finally, a big championship event, where millions of dollars are up for grabs.
Some of the biggest seasonal and/or annual LoL eSports events include:
Tier 1
League of Legends European Championship (EU LCS)
League of Legends Championship Series (NA LCS)
Pacific Championship Series
League of Legends Pro League
League of Legends Continental League
Oceanic Pro League
League of Legends Japan League
Turkish Championship League
Vietnam Championship Series
League of Legends Champions Korea
Campeonato Brasileiro de League of Legends
Liga Latinoamérica
Tier 2
North America Academy League
Europen Masters
LoL Development League
LCL Open Cup
League of Legends Challengers Korea
Kespa Cup
Vietnam Championship Series B
Hero of Cities
Circuito Desafiante
Demacia Cup Championship
League of Legends Game Play at its Core
League of Legends is an MOBA PC game that's changed dramatically over the years. Game play today is hardly recognizable compared to the original version, released in 2009. Characters, objectives and, most notable of all, graphic quality, have increased tenfold.

The game presents players with more than 135 characters, or heroes, to choose from. Each one is balanced in its own way, while remaining entirely unique from every other character. Every LoL team consists of five players. By melding a blend of five different characters, team's can create wholly unique strategies to take down their enemy's Nexus.
A game starts with each team positioned at their own Spawning Pool, located on on opposite sides of the Summoner's Rift (a.k.a. map). At the center of each spawning pool is the team's Nexus. The main objectives are to a) protect your Nexus, and b) destroy the enemy Nexus. It's not so easy, though. Each Nexus is protected not just by its own team, but by obstacles and neutral monsters that block all paths, as well as minions, turrets and other defensive structures.
Each path is wrought with peril, as well as gold and XP that can help players level up and gain a competitive edge. Taking out a Baron or Dragon is no easy task, but is worth a great deal in resources and strength leveling. Some teams choose to go after these early. Others wait and build up their levels first. Some avoid them altogether. Each strategy can be effective, depending on the opponent's strategy. Whatever happens throughout the match, it's the first team to wipe out the enemy's Nexus that wins the match.
How & Where to Watch CS:GO eSports
If you've never played or watched a game of League of Legends, your first live stream will leave your head spinning. I would suggest either demoing the game yourself for awhile, or looking up some walk-through videos that teach you what's going on. Once you get the gist of it, you'll be able to appreciate different character attributes and recognize the most effective team strategies. This will help you choose what team's are worth betting on it LoL tournaments, too.
There are a number of ways to go about viewing live streams of LoL. There are plenty of players who stream their matches regularly on free live streaming sites like Twitch, YouTube and Major League Gaming.
For competitive tournaments and major events, the best place to go is LoLeSports.com, hosted by the game's creator, Riot Games. Every official event, whether it be national, regional, or worldwide, will be streamed live from this site.
What LoL Teams are Worth Betting On?
This is an intensely debatable topic that deserves its own separate discussion, for which I must direct you to our…