25 Aug
Review of Mega Pari eSportsbook Canada
MegaPari eSportsbook Review: What's In It for Canadian eSports Bettors?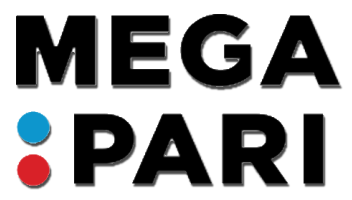 Since its 2017 launch, Mega Pari has proved to be one of the fastest growing eSportsbooks on the web today. The company has a lot going for it right now. Its diverse iGaming platform also offers traditional sports betting, RNG and live casino games, poker, bingo and more. MegaPari is accessible to all legal and regulated jurisdictions, including Canada. We'll talk more about these features and a lot more our highly comprehensive…
MegaPari eSports Review: What's In It for Canada?
The following is an extensive, 9-part review of the Mega Pari eSportsbook, a Canada-friendly iGaming operator with a lot to offer the electronic sports community. But as usual, with the good comes the bad. We'll be taking an in-depth look at this eSports market trailblazer to see what features appeal to Canadian users, and which ones do not.
The Basics: Under the Hood of MegaPari eSports
MegaPari is an omni-channel iGaming operator that first launched as a sportsbook and casino operation in late 2017. In the last few years, the website has expanded immensely, adding more gambling verticals (poker, bingo, eSports, etc.) and broadening its reach into additional markets; namely Canada, India and parts of the European Union.
The operation is owned by Zavbin Ltd. and headquartered in Cyprus, an island nation in the Mediterranean Sea and member state of the EU. It is operated by Orakum N.V., which carries an operator's license from Curaçao eGaming. That in itself is a bit of an issue, but one to be taken with a grain of salt.
We do not normally recommend Curaçao-licensed gambling sites because, quite frankly, it's nothing more than a fancy icon. Curaçao does not interfere in operator/player relations. If a licensee suddenly goes rogue, its players are S.O.L. On the other hand, many perfectly reputable operators hold Curaçaoan licenses. It's one of those cases where the longevity, reputation, and financial backing of an operator determines its legitimacy.
So, on the one hand, we have the negative – a Curaçao license – but on the other hand, we have 3+ years of excellent service and a high customer satisfaction rating. Mega Pari is one of a very small handful of online gambling sites licensed outside of Canada or Europe that our editors have ever given the thumbs-up to. If their services ever begin to falter, you can rest assured this review will receive an immediate update a revocation of our approval.
As for the software, MegaPari is desktop and mobile compliant – no download required. It is available in 50 languages, and supports payments in 100+ currencies, plus 25 crypto-currencies. Both live and virtual sports betting is provided, along with a multitude of other gambling options that surpasses the majority of competitors; even the biggest name brands.
What's Available to Canadian MegaPari Members?
Mega Pari has always welcomed Canadian members. In fact, we rank extremely high on the list of top member countries. As a priority geographic with no legal restrictions to speak of, you can rest assured Canada's iGamers have access to everything under the MegaPari sun. This includes:
eSportsbook
Sportsbook
Virtual Sports
Live Betting
Toto
Financials
Fantasy Leagues
RNG Casino
Live Casino
Poker
Bingo
Lottery
Scratch Cards
TV Games
Who Else Can Join Mega Pari?
This operator invites individuals of legal gambling age from almost every country and region of the world to participate in some, if not all, of its betting products. Rather than listing the hundreds of jurisdictions that can access MegaPari's eSportsbooks, it would be much easier to provide a list of those who cannot.
Who Can't Play at Mega Pari?
Anyone who resides in one of the following locations is strictly prohibited from creating an account, depositing money, or betting at MegaPari.com.
Important Note: While some virtual private networks are able to cloak a user's location enough to access this website from a restricted location, you should never use a VPN for online gambling purposes. Even if you do manage to gain access, deposit and place a bet, you will be caught when attempting to withdrawal money. MegaPari forbids the use of VPNs, and reserves the right to close an account, with or without repayment of balance, so consider yourself warned – Don't do it!
MegaPari Deposit & Withdraw Methods for Canada
This eSportsbook has one of the most extensive payment lists we've come across. More than 160 deposit and withdrawal methods, including crypto-currencies, are available; pretty much every payment method you can imagine (except Interac, unfortunately).
The following table displays all traditional (cash) payment options, followed by digital (crypto) payments options, that are available in CAD to Canadian players. The chart also details which methods are eligible for deposits and/or withdrawals. Note that you can tap on any digital currency abbreviation to see its current market value via CoinMarketCap.com.
Credit / Debit Cards

For Deposit

For Withdrawal

Visa

MasterCard

E-Wallets

For Deposit

For Withdrawal

B-pay

Epay

Jeton Wallet

Papara

Pay4Fun

Perfect Money

Skrill

Sticpay

Vcreditos Wallet

WebMoney

Yandex.Money

Mobile Payments

For Deposit

For Withdrawal

Siru Mobile

Payment Systems

For Deposit

For Withdrawal

ecoPayz

Payeer

Internet Banking

For Deposit

For Withdrawal

Banorte

Multibanco

PSE

Santander

Prepaid Cards

For Deposit

For Withdrawal

AstroPay

PaysafeCard

Bank Transfers

For Deposit

For Withdrawal

Anında Banka Havalesi

E-Vouchers

For Deposit

For Withdrawal

Flexepin

Crypto-Currencies

For Deposit

For Withdrawal

Basic Attention Token

(

BAT

)
Complete List of Video Games to Bet On at MegaPari
This is one area where Mega Pari could improve – a lot. The website only presents eSports betting on the most popular video game titles; just six in all. On a positive note, they do cover all of the league events around the world, big and small, for these games.
Other Betting Options at MegaPari
The eSportsbook may not contain a lot of options, but that's largely due to Mega Pari's focus on so many other types of gambling. Traditional sports betting options cover every athletic event you can think of, and then some; more than 50 in all, from Badminton to Billiards, Handball to Water Polo, and everything in between. Mega Pari also hosts live betting, casino games, poker, bingo, and more. See the chart below for a complete list.
eSportsbook
Sportsbook
Live Betting
Exchange Betting
Toto Sports
Virtual Sports

RNG Casino
Live Casino
Bingo
Poker
Mega Games

TV Games
Lottery
Lotto Instant Win
Scratch Cards
Financials
Ways to Bet on MegaPari eSports Leagues
With only six titles on the menu, you might expect the league betting options to be slim, but that's not the case. Being the most popular video games in eSports, you can expect to find dozens of events, from exhibitions and prelims, or top-prize championships, occurring every day.
Some of the major series supported include:
Call of Duty League (CDL; All regions)
CLUTCH

COOL

Eden Arena

ESL One (All regions)

Fight Night

Liga Pro Gaming

Nine to Five
Arcana Vote

ESL One (All regions)

LUMO Cup

OMEGA League
LCS Academy League

LoL Championship Series (LCS)

LoL Continentla League (LCL)

LoL Japan League (LJL)

LoL Champions Korea (LCK)

LoL Latin America (LLA)

LoL Liga de Videojuegos Profesional (LVP)

LoL Oceanic Pro League (OPL)

LoL Pacific Championship Series (PCS)

LoL Pro League (LPL)

LoL Turkish Championship League (TCL)

LoL Vietnam Championship Series (VCS)
Overwatch Contendors

Overwatch League
Alpha X Series

Global StarCraft II League

OlimoLeague
The vast majority of odds on league events are offered on Match Wins only. There are parameters set up to provide other eSports betting choices, which include Match Draws, Match Totals, Over/Under Totals and Handicaps, but these don't come up often on the odds list.
Can you Bet on Yourself at Mega Pari?
No. Mega Pari's platform does not support eSports betting on your own game play, or private-lobby competitive play against friends. The only eSportsbook we know of that does is Unikrn, via the Unikrn UMode and MoneyMatch divisions, respectively.
See our Review of Unikrn eSports Canada for more details.
Welcome Bonus, Rewards & Other Promos
Mega Pari isn't exactly over-flowing with promotional offers, but there are three ways to put some bonus cash in your pocket. It starts with a 100% Welcome Bonus on your first purchase, followed by daily Accumulator of the Day promos, a nifty Weekly Cashback Bonus on all qualifying losses, plus a free bonus for the unluckiest of punters who lose 20 bets in a row. See each section below for more information on these offers.
100% First Deposit Bonus
New members who sign up an account and make their first deposit will receive a 100% match bonus worth up to 100 Euros, or currency equivalent. To claim the bonus, you'll need to sign up a new player account (new members only – no multi-accounting!) then make a first deposit. When making the deposit, you'll need to tick the corresponding box to accept the bonus. If you forget to do this, don't worry. You can go back and claim it under My Account > Account Setting.
The wagering requirements are fairly strict, necessitating 5x wagering of the bonus amount on accumulators (parlays). Qualifying accumulator bets must contain no less than 3 picks, with at least 3 events listed at odds of 1.40 or greater. Once enough qualifying bets (equal to 5x the bonus) have been placed and settled, the wagering requirements are fulfilled and winnings may be withdrawn. Be sure to read over the complete First Deposit Bonus Terms on Mega Pari for all the details.
Accumulator of the Day
Each day, MegaPari's oddsmakers select what they believe to be the most interesting events in Sports and Live bets, then post them as their Accumulator of the Day. You'll find them on the Mega Pari Homepage, or under the Sports and Live tabs respectively. eSports events may show up here on occasion, but not too often. If you choose to wager on the Accumulator of the Day and your bet wins, you'll receive a 10% odds boost.
Weekly Cashback Bonus
Every week, Mega Pari delivers a cashback bonus to each and every member who's suffered qualifying losses throughout the previous week. Cash back rewards are equal to 3% of all qualifying losses, and are paid out every Tuesday. Only bets settled prior to the calculation of cashback will qualify for the given week. Rules of qualification are as follows:
Bets on totals and handicaps do not qualify, nor do canceled or sold bets, or any bets settled at odds below 1.5; (i.e. only lost bets on odds of at least 1.5 qualify). Cashback earned in the previous week must be spent before the next week's cashback bonus is awarded, or the new bonus will be automatically forfeit; only one bonus may be active at a time.
20 Bet Losing Streak Bonus
Ever had a bad run? I mean a really, really bad run? As bad as 20 losing bets in a row? Now that's a really bad run! If your luck happens to get that bad at Mega Pari, you'll actually get a big bonus back to lift your spirits, and restock your bankroll. The size of the bonus depends on the size of the bets lost, and wagering requirements do apply.
| | |
| --- | --- |
| Lose 20 bets of… | Receive a Bonus of… |
| $2 and up | $100 |
| $5 and up | $250 |
| $10 and up | $500 |
There are a few rules, of course, to ensure no one attempts to cheat the system. All 20 bets have to be on different events (you can't bet on the same game 20 times). The odds for each bet cannot exceed 3.00. Only singles and accumulator bets qualify. Each pick in an accumulator counts as 1 loss, but they must all lose. A multi-pick bet with even one win nullifies the losing streak.
If you believe you qualify for Mega Pari's Losing Streak Bonus, you must send an email to info@megapari.com with 'Series of losing bets' in the subject line, and your account number in the text body.
Important Note: Make sure you read over the terms of any bonus or promotions before you accept it. Be careful to following whatever rules are laid out for it. Breaching the terms is an automatic forfeit of any bonus.
Versatility and Response Quality of Customer Support
Customer service has to be Mega Pari's ultimate weakness. It's hit or miss, in more ways than one. I've had some sketchy experiences myself, so I did a little research and found that most people feel the same way. Some of MegaPari's support staff is really knowledgeable, friendly and quick to respond. Others seem completely incompetent, struggling to answer the simplest of questions and taking an inordinate amount of time to do so.
The range of support services is lacking, too. Your only options are live chat and email. They don't even provide a Help Centre or FAQ page to answer common questions. That's a severe oversight in my opinion. The only thing resembling such a link is a step-by-step instructional text explaining 'How to Place a Bet'. That link can be found at the bottom of every page on the website.
Live Chat
Live chat support has its good moments. I've gotten help here a couple of times, particularly with submitting verification documents. The biggest problem is that it's only available during certain hours. I could cope with a static 9-to-5 type of schedule, but there is no schedule. Sometimes there's a rep online, and sometimes there's not. Like I said above, it's hit or miss.
Email Support
MegaPari has two customer service email addresses, one for standard support and one for security issues. If you have specific questions about your account, ID verification, a payment you made, etc., contact the security department. If you just want to know basic stuff, like minimum deposit limits, max stakes on accumulators, or maybe what time live chat will be online again, send your email to the support department.
The contact email addresses are:
The Bottom Line – MegaPari eSports Pros and Cons
MegaPari has some great highlights for eSports bettors in Canada. There's a lot to like about this operator, especially if you lean towards wagering on the most famous video game titles and league events. There are some less attractive features too, of course, like underwhelming support services and range of eSports bet types. Based on this and all of the other information detailed above, here's a quick list of Mega Pari's most notable pros and cons.
Pros – What's Hot!
All the big-name eSports titles and league events are available.
Long-standing reputation for honesty and integrity.
Extensive line-up of payment methods.
Accepts 25 crypto-currencies for deposit and withdrawal.
Supports every major online gambling vertical, and then some.
Massive sportsbook and casino platforms.
Players from Canada and almost every other country in the world are accepted.
Good promotional opportunities for new and existing members.
Mobile-compatible website.
Cons – What's Not!
Short list of video game titles to bet on.
Despite stable track record, Curacao license doesn't instill confidence.
Majority of eSports bets are Match Win only.
Customer service is hit or miss.
Live chat is not 24/7.