1 Sep
Historical iGaming: What are Virtual eSports Games?
The what, how and why of Virtual eSports betting online.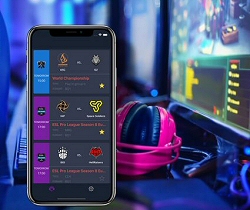 The electronic sports (eSports) industry is flourishing these days. The genre was already attracting millions of viewers to live stream broadcast of major eSports events. Now, with the availability of traditional sports wagers waning, eSports is getting more attention than ever.
If you're familiar with the history of eSports, however, you should know that match betting is limited. There are only so many tournaments to bet on throughout the year, especially if you're niche-market bettor who only likes betting on certain games, teams, or events. That's where virtual eSports can come in handy.
What are Virtual eSport Games?
If you're familiar with traditional sports betting, you probably think the virtual edition of eSports revolves around random, computer generated results between two fake teams in a chosen video game. After all, that's what virtual sports are; digital soccer games, football games, horse races, etc. But virtual eSporting events are different.
When an eSportsbook like Unikrn offers odds on virtual games, they aren't computer generated games. They are historical matches – actual matches between the world's best teams that played out sometime during the history of that title's eSports timeline. It could be a match from a few weeks ago, or a few years ago.
You won't know any specific details of the match until you place a bet on it. The odds on each team will be based on the same odds presented back when the match took place. A bet on the favorite will pay less, while the underdog will pay more. Once your bet slip is finalized, you'll get to watch the event unfold just as you would a live eSports match.
Is Virtual eSports Betting a Good Choice?
The value of betting on virtual electronic sports depends largely on your patience and willingness to apply eSports betting strategies. If you only like certain games and there are no current matches to bet on, virtual eSports can bee a good alternative.
On the other hand, if you're the type to put in your research hours, examining each team's performance history and other relevant stats, you can get an edge on bookies in the live arena. There's no way to gain an advantage in virtual eSport bets, because you don't have any sortable information on the players or teams prior to the start of the match.
Where Can I Bet on Virtual eSports
The only online eSportsbook I know of that offers this form of virtual eSports betting is Unikrn. The company defines its virtual eSporting division as "random replays of fan favorite eSports titles for you to bet on".
You'll find these matches under the brand's "Virtual" tab. The website's full range of eSports titles are available in virtual format, including everything from CS:GO and Call of Duty, to NBA2k, Rocket League, and Street Fighter.
More Helpful Information about eSports Betting in Canada