13 Aug
How to Bet on eSports Over the Internet
CA eSports 101: 3 Steps to Betting with a Safe eSports Bookie in Canada.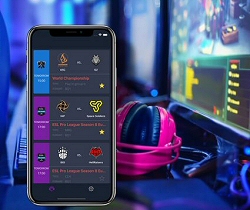 The eSports arena has presented punters with a unique wagering option for the last four decades. The internet brought the market into the limelight about ten years ago, but it wasn't until 2020 that eSports betting skyrocketed all over the world, especially right here in Canada. A resounding lack of athletic sports to bet on contributed to the fact, but it sure has helped bring a worthy market to an eager public.
Now, there are more Canadians than ever looking to get their hands into this exciting betting arena. We're here to help. The following information text will teach you how to bet on eSports in three easy steps; website selection, first-time deposit, and creating a bet slip.
Step 1: How to Pick a Safe eSports Bookie in Canada
The safety and security of your internet betting experience should be your first priority. As regulated as the iGaming industry is these days, there are still rogue operations out there using every trick in the book to attract unsuspecting victims. The good news is, it doesn't take much to separate the good from the bad. From there, you get to pick and choose from the legitimate sites based on the features you desire most in an eSports bookie.
Safety is Dependent on License & Regulation
These days, the safety of any operator is primarily dependent on where it is licensed and regulated. If it boasts an active license from the UK (UKGC) or Malta (MGA), you're good to go. Other European jurisdictions, like Alderney, Gibraltar, and Isle of Man, are good, but not quite as good. Anything else really isn't worth the potential risk, as they provide lax play protections, if any.
Necessary Features for Canada eSports Bettors
Once you've narrowed your list to legitimate eSports websites, you'll want to make sure a few features are present. These are the things that will make or break the experience for a player. First and foremost, as a Canadian, you'll need to make sure Canadian residents are eligible to join.
Next, head straight over to the website's banking section to see what payment methods are accepted. Look for a deposit option you're familiar with, like the Canadian-exclusive Interac Online. Also look for a viable withdrawal option, as not all payment methods work both ways.
Optional Features to Consider
Now for the fun part – choosing your features. Think about what you want from your esports experience. Is there a particular league you're hoping to bet on? Every operator boasts the most popular games, like CS:GO, Dota 2 and League of Legends, but only the biggest brands cater to niche-markets like FIFA and Mario Kart.
Next, see what kind of bets are on offer. Most sites will cater to a range of eSports betting types – everything from straight bets, outrights and accumulators, to props and in-play betting. If you're looking for variety, you'll want to choose an eSports bookmaker that represents everything you're interested in. If you're not sure, you can read up on it here.
Also consider how the odds are displayed. A lot of major brands will offer you the choice of how to view odds, but some sites only offer a single odds format – either EU, UK or US. If you have a preference, you'll want to see the odds in your preferred format. For Canadians, the preference is usually EU format. If you're not sure, check out this page first.
One last thing to be aware of is the promotional aspect. You'll notice that each operator offers a welcome bonus package of some sort. These promos are worth weighing, but it's not always the size of the bonus, but the terms applied, that impact its value. Look at how much you get, what it takes to get it, and most of all, what you have to do to clear it (i.e. wagering requirements).
When you've got all these things sorted out, and you've chosen just the right operator to meet your needs, you can confidently…
Sign Up an eSports Betting Account
This part requires little delineation. It's a very straight-forward process. Simply click the Sign Up link and follow the instructions.
The only word of caution I'll offer is to double-check all your info before finalizing the registration. One typo can be disastrous. If important info like your name, address or date of birth don't match up, your account will be closed the moment they find out – and rest assured, they will find out.
Step 2: Making Your First eSports Bookmaker Deposit
The hardest part is out of the way. Now it's time to make that first deposit. If you followed the basic instruction above, you already know what deposit method you'll be using, and how to redeem the welcome bonus (if interested).
Log into your account and head over to the website's Banking section. Choose your preferred deposit method. Follow the directions to fill out the payment form, enter the amount you wish to deposit, and press the submit button. Your account should be funded within a matter of seconds.
Step 3: How to Bet on eSports Leagues
Finally, the fun part! You can now place bets on electronic sports. All you have to do is check out the list of leagues available, choose the match you want to bet on, and the way you want to bet on it.
If you have a specific game in mind, filter the menu to remove all other games from the list. This will present you only with eligible bets on your game of choice. While you're at it, check out the other filtering options, as they can really help you narrow down the search.
When you find the bet you want, look over the odds available. If you find them favorable enough, click on it. you'll be shown all relevant information about the wager, and given the option to place a bet. When you enter the amount you want to stake, you'll create a bet slip. It's not finalized yet, though.
At this point, you can look over any other matches or props you might want to bet on and add them to the slip, as well. If you make multiple bets, you'll have the option to make an accumulator bet – one where all picks must be correct to win. Or, you can leave them as separate bets. The choice is yours.
Now look over your bet slip. Make sure everything is the way you want it. If so, submit the bet slip. Now all that's left to do is sit back, cross your fingers, and hope your picks come in.
More Helpful Information about eSports Betting in Canada