18 Jul
What Gives Canadian Poker Players an Edge?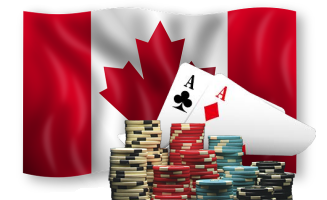 Let's face it—Canadian poker players are among the best pros in the world. They may not make up the majority of the world's professionals, but they sure do have a great ROI. Don't believe me? Take a look at the statistics.
Who spent the last several years atop the totem pole of the all time money list? Why it's none other than Canadian poker phenom Daniel Negreanu. We are famous for our lady poker players too. The 2017 Female Player of the Year Award went to Canada's own Kristen Bicknell. And she's well on her way to claiming that same title in 2018.
Alongside our seasoned pros, we have rising stars like Sam Greenwood and Ema Zajmovic lighting up the poker headlines. The question many would love answered is simply this…
What gives Canadian Poker Players an Edge?
I've looked deeply into this query hoping to find a tablature of answers. Unfortunately, that hasn't been the case. However, there is one underlined factor that can surely be attributed. We're just plain smarter…
Higher Tertiary Education Rate Makes Smarter Players
According to a plethora statistical data, Canadians are smarter than the average human. It's not because we have bigger brains, or better absorption of knowledge. It's because more Canadians go to college than residents of any other country in the world.
According to a 2014 study by University Affairs of Canada, 53% of Canadians go on to receive a higher education. The following chart, provided by researchers at the Russel Sage Foundation, depicts university attendance across major countries, based on the age ranges of 25-34, and 25-64.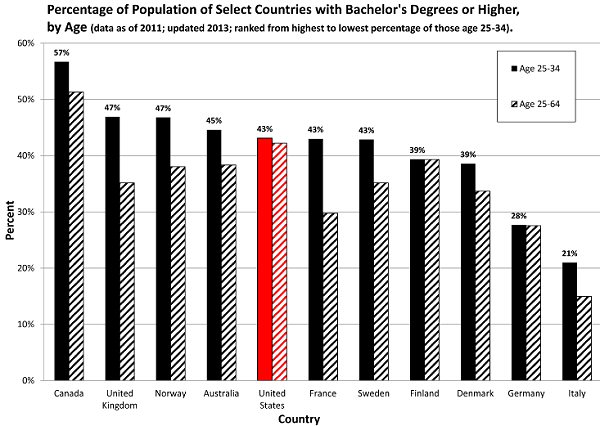 Why do so many Canadians go to university, as opposed to the rest of the world? I suspect that has mostly to do with the cost of tertiary instruction. The average annual tuition for a college student in Canada is $6,571 for undergraduate studies, and $6,907 for a graduate degree.
Comparatively speaking, the chart indicates that the United States only sees 42% of its population graduating from college; (a number that has reportedly declined to as low as 30% in more recent years). And the cost to do so can average anywhere from $9,970  per year for in-state residents at public colleges, up to $34,740 per year for a private college.
Let's not forget, also, that the current USD-to-CAD conversion rate is USD-$1.00 = CAD-$1.32, making it even more cost effective for Canadians to earn a degree. Furthermore, Canadians with a household income of $50k or below can actually get a free ride to college.
Rate of College Students Turned Online Poker Pros
Consequently, It's worth noting just how many of today's professional poker players have a college degree. Most are highly educated in things like computer science, psychological behavior and/or business management—three key principles that the best poker players utilize on the felt. Computer science relates to the math behind the game. Psychology plays an enormous role in reading and outwitting opponents. Business management has everything to do with properly managing wagers and entire bankrolls.
A somewhat scarier statistic is the number of poker players who actually dropped out of college to pursue a poker career. Most of these players got into the online poker scene in the early 2000's, when it was at its most profitable. Today, however, sustaining a career as a poker player isn't nearly so easy.
The competition is much more fierce. It's very common for a player to have several years of success, then suddenly, their skillset becomes obsolete. Having a college education to fall back on, should things go awry, is much safer.
Party Poker Canada, the most trusted Canadian gaming destination, and our editor's pick for two years, now offers a wide variety of popular card games: from Texas Hold'em, to  Omaha, to 7 card stud, to Limit Hold'em and even casino games like blackjack. Play for fun, for free, or play for real, for real money that is ! Our editorial pick for 2020.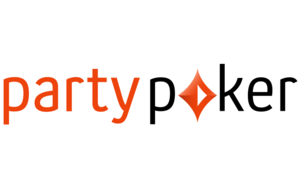 Canadian Poker Games