30 Jul
Kristen Bicknell Bio: Canada's Precocious Pro of the Poker Felt
"She's precocious, and she knows just what it takes to make a pro blush. She's got Kristen Bicknell eyes!"
There's no one hotter on the pro poker circuit right now than Kristen Bicknell. This Canadian bombshell has it all—the skill, the charisma, the psychological intuition, and the blinding beauty to blow away the competition. She's no newcomer to the live or virtual felt, and if you cross her path, you better be prepared for a ferocious battle.
Who is this Canadian Powerhouse of Poker?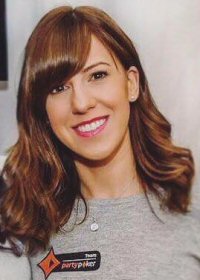 Kristen Bicknell was born December 29, 1986 in St. Catharines, Ontario, a city just outside of Niagara Falls. One of three sisters, her parents own a family business where they build and race custom, dirt-track stock cars. As such, she spent a great deal of time at the track with her father, Peter Bicknell, aka "Mr. Small Blocks", whose prowess on the track earned him a place in the Canadian Motor Sports Hall of Fame.
She herself raced go carts from a young age, competing only against boys. She admits she wasn't a tom boy, but felt it was important to prove she could compete the guys; something she says helped her to easily overcome the usual intimidation felt by women competing in the male-dominated sport of poker.
As a teenager, she wanted nothing more than to become a professional race car driver. After graduating high school in 2004, however, she went to university where she studied psychology criminology. It was never a passion of hers, though. In fact, nothing on the university's registry struck her as appealing. She was forced to pick a program, and in the end, criminology won the coin toss.
Only weeks into school, her then-boyfriend's roommates invited them to play poker. Before she knew it, it was noon the next day. Finally, she had found her passion. She was in love with the game of poker. Kristen began playing in home games, local games, and even online.
She scoured the pages of poker strategy guides and ebooks. Her thirst for knowledge was insatiable. Unfortunately, she wasn't doing all that well in her favorite online games—heads-up SNGs. She dabbled in live events, but that was getting her very far either. For the first few years, she only scrounged $30-40k in annual profits. A positive performance, but not nearly enough to sustain a viable career.
That's when she discovered the Supernova Elite program at PokerStars.
"Krissyb24" Explodes into Supernova Elite Status
When the Supernova Elite VIP status was introduced, Kristen realized she didn't actually have to be a great poker player to make a huge profit. This program awarded hard-core grinders a guaranteed minimum of $100k in annual rakeback. In her first year, 2011, Bicknell wrangled an estimated $120,000 in rakeback alone, despite barely breaking even on the virtual felt.
For three years, she spent hour after four, every day, competing in 24 simultaneous full ring tables. The young Canadian poker pro never tired of it. Her passion was such that the constant grinding never left her exhausted. But alas, the Supernova Elite program was scrapped at the end of 2013.
For the next few years, she continued to do well in online poker, but she had to up her game. No longer would breaking even pad her bankroll so well. And improve she did. But as online poker began catering more and more towards recreational players, "Krissyb24" knew it was time for a transition. She began looking more towards live games, and her success rate has been skyrocketing ever since.
2016 a Turning Point for Canada's Favorite Female Poker Pro
2016 was Kristen's first genuinely successful year on the live tournament circuit. She had already claimed her first WSOP bracelet in 2013, taking down the Ladies Event for US-$173,922, but that was the only live cash of that year for her, followed by nothing in 2014, and one menial cash in 2015 at the EPT Prague.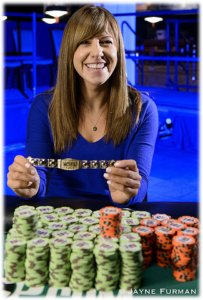 Everything changed in 2016, when she found herself in the prize bubble in 11 tournaments across the globe. One of them happened to be her second WSOP bracelet win, worth over US-$290k. She followed that up with many more cashes, including a 3rd place finish at the Deepstack Poker Tour in Calgary for CA-$128k.
Things were looking even better in 2017, when she rounded the cash corner in 28 events, raking in over US-$550,000. The most notable victories therein were her 6th place finish at the WSOP 6-Handed Championship (US-$96,823) and 1st place triumph in Event #13 NLHE of the WPT Five Diamond World Poker Classic (US-$199,840). The moment that outshined all that year for Kristen Bicknell was being named the 2017 Female Poker Player of the Year.
2018 is already stacking up to be even brighter. Not only is she well on her way to defending her FPOY title, the Canadian bombshell already has 21 live tournament cashes, worth $936,982 in the bank (as of July 30, 2018). A pair of stellar performances in APPT High Roller events in March, finishing 1st and 4th respectively, earned her over $470k combined.
The most memorable moment of all, though, had to be her 2nd place finish in the 2018 $5k Deepstack Championship Poker Series in Las Vegas in mid-June. Amid 178 entries, Kristen Bicknell ended up playing heads-up against—who else?—her boyfriend, Alex Foxen. As soon as the two were left to battle it out one-on-one, they agreed to chop the prize, $200,000 a piece, and play for the remaining $39k. Bicknell went on to lose to Foxen, who tweeted the following post to his precocious long-time love.
Had a tough heads up opponent, but I managed to get the W. Really fun experience. Good game to the beautiful @krissyb24poker #FTGB pic.twitter.com/WrU5ZL8jyp

— Alex Foxen (@WAFoxen) June 18, 2018
What's Kristen's Secret to Success?
At just 31 years of age, Kristen Bicknell has US-$2,156,900 in career earnings and two WSOP bracelets under her belt. What's her secret to success? The Canadian poker pro says that, first and foremost, it's a natural talent for the game. She also attributes her strong work ethic, solid mental game, and the ability to maintain focus and grind tables for extended lengths of time.
Kristen also owes her success to her other passion in life, health and fitness. She has a love for avocado smoothies and works out regularly at the gym, whether she's on tour or not. To her, missing 3-4 days at the gym in a row is a critical error. Bicknell says she's invigorated, mind and body, by workouts, and that she doesn't feel as physically strong or mentally clear without it.
Party Poker Canada, the most trusted Canadian gaming destination, and our editor's pick for two years, now offers a wide variety of popular card games: from Texas Hold'em, to  Omaha, to 7 card stud, to Limit Hold'em and even casino games like blackjack. Play for fun, for free, or play for real, for real money that is ! Our editorial pick for 2022.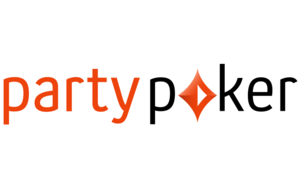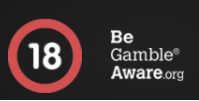 (Reminder to Gamble Responsibly)