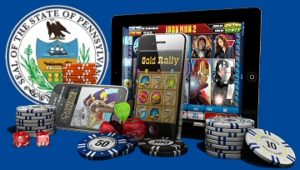 The moment so many Pennsylvanians have been waiting for is finally here. Online gambling has been legalized. Operators have been authorized. Websites have been launched. To date, more than a dozen legal PA gambling sites – online casinos, poker rooms and sports betting operations – are now available to all qualified inhabitants of the Keystone State.
Pennsylvanians have waited a very long time for this moment. The history of gambling in the state isn't all that extensive, and yet the push for iGaming legislation seems as old as the hills. Once state government finally acquiesced to regulation, it would take several more years get from Point A – legalization – to Point B – launch. Now that it's here, we're experiencing the inevitable rush of each land-based casino to initiate the expansion from terrestrial to virtual.
There are currently 12 online gaming sites up and running, with at least two more major operations in the works. Our aim is to give readers all of the information they could possibly need to achieve an informed, safe, secure and, above all, responsibly entertaining experience PA gaming sites.
What You Need to Know: Just the FAQs, Ma'am!
The legalization of interactive gaming in Pennsylvania is still so new. We understand that most of you who are reading this are looking for basic information; answers to the most common questions like who can gamble online, how safe is it, and is there a self-exclusion list? Let me start by answering some of these questions for you.
Who can gamble online in PA? Anyone of legal gambling age that is physically located in the state of Pennsylvania.
Is it legal to gamble online? Pennsylvania's licensed and regulated online casinos are 100% legal for eligible users.
What is the legal gambling age? 21 years of age.
How secure are PA's gambling websites? All gambling sites regulated by the PGCB are as safe and secure as any financially-driven online activity (online banking, online shopping, etc.)
What if I'm excluded from gambling in PA? The state offers voluntary self-exclusion

for those who don't want to participate, as well as involuntary exclusion for those deemed unfit to gamble by a court of law. Anyone on either of these lists will not be permitted to gamble online in Pennsylvania.
Looking for more information? See our complete iGaming Q&A sheet here:
PGCB Licensed & Regulated Online Casinos
The Pennsylvania Gaming Control Board has been incredibly busy in recent months. With the regulatory framework in place, the PGCB has been scouring a multitude of interactive gaming applications, running background checks and investigating financial sources to determine eligibility.
The following iGaming operations have been approved, and have since launched their respective online gambling websites. Click on any of the items below to learn more about the operator, license, and games available.
Pennsylvania Gambling Laws – What's Legal & What's Not?
Outside of horse racing and lotteries, gambling was entirely off limits in Pennsylvania until 2004, when the state government chose to regulate a limited number of casinos. Mohegan Sun at Pocono Downs became the first PA casino to open its doors on November 14, 2006.
Then in January 2010, PA expanded gambling again, this time to permit table games (poker, blackjack, roulette, craps, etc.) at the state's 10 casinos and racinos. By July, more than half of them had tables up and running.
State officials spent three years pondering the potential of online gambling before finally pulling the trigger in 2017. The Pennsylvania online gambling laws gave existing, land-based casinos the choice to partner up with iGaming providers, apply for a license, and launch their terrestrial services out into the cyberspace. That law also contained a clause legalizing sports betting, if and when the US government changed federal laws to allow it. When that happened in 2018, sports betting became legal in Pennsylvania by default.
The snowball effect of these events culminated in the legalization of the follow wagering activities:
| | |
| --- | --- |
| Legal Gambling On Land | Legal Gambling Online |
| | |
Cream of the Crop: Top Online Casinos in PA
When a dozen land-based casinos are all racing to get a new product to market, you have to expect some trouble along the way. Internet commerce is not an exact science. There's software issues, programming issues, and other considerations, like who to partner up with to supply the best game variety.
Some of PA's new online casinos did a better job than others, partly because some of them anticipated the modernization to digital. Those who began preparations early, securing relationships with the global iGaming industry's top suppliers long before the licensing process was open, are the ones we've seen great thing from in the first year of operation.
Rivers Casino has performed exceptionally well since the launch of dual iGaming portals, BetRivers and Play SugarHouse. They were the first to market with online sports betting in May and June 2019, but both waited until 2020 to launch their online casino games, ensuring users access to a complete package from day one.
To date, we believe BetRivers to be the crème de la crème of PA's iGaming market. The operator presents the widest variety of sports betting, powered by Kambi, with a diverse casino portfolio that includes games from IGT, Konami, NextGen, ShuffleMaster, the world-renowned iGaming software platform, NetEnt, and more. The only thing BetRivers lacks is an online poker platform.
Learn more:
The PA Online Poker Battle – WSOP vs. PokerStars
Only one iGaming operator has dipped its feet into the PA online poker pool to date. Mount Airy teamed up with The Stars Group to deliver PokerStars in PA last year. As many of you know, PokerStars is the premier online poker platform, famous for being the largest for its regular multi-million dollar tournaments. Of course, the ring-fenced nature of Pennsylvania's market doesn't allow player sharing, resulting in smaller cash game and tournament volume, with smaller prize pools. On the plus side, players have the opportunity to win a seat in major PokerStars Live events via online satellites and qualifiers.
PokerStars has enjoyed its monopoly in PA for more than a year now, but that's going to change in soon enough. The PGCB has finally approved a license for the partnership of Caesars Entertainment and 888, which have long promised to bring WSOP.com to the Keystone state. Likewise, BetMGM, the interactive wing of MGM Resorts International, has plans to launch PartyPoker in the near future.  Once these rivals come to market, it will be interesting to see how the internet poker vertical grows, and how PokerStars responds to the presence of such formidable competition.
PA Online Sports Betting No Longer a Fantasy
Fantasy sports may have been acceptable to 2019, but traditional sports betting spent 26 years on the list of illegal gambling options before finally coming to PA casinos and online gambling sites. In fact, Keystoners are now privy to more sports betting options than you may realize. State officials have also chosen to regulate virtual sports games.
Being so nascent to the state, traditional sports betting is something almost every PA online casino operator has chosen to offer. Nine of PA's 12 online gambling sites have a sports betting platform in place. The only real difference between them is the range of sporting event son offer.
Fantasy sports aren't on every operators list of available wagering activities. The two most people are expected to flock to are America's original DFS juggernauts, DraftKings and FanDuel.
Virtual sports are a whole different caliber of gaming. It's real sports, but not. At Caesars Online Casino, for example, you can play games like NBA Last 60. In this game, you choose two real basketball teams. Real odds are presented on various bets for a real historical game between the two, buy you won't know which game, or even what year it was played.