13 Oct
BetRivers Bonuses, Promotions and VIP Rewards
Deciphering Bet Rivers Casino bonus promotion rules and requirements.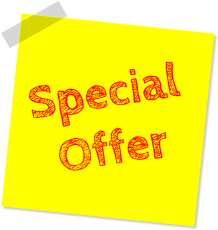 BetRivers Sportsbook Casino has an extensive list of promotions for new and existing members to take advantage of. As always, the bonus menu starts with a welcome package that pads a user's first deposit with extra betting cash. From there, a variety of promotions target different types of bettors; not just sports fans (as many other so-called "comprehensive" reviews have suggested), but slots, video poker, and table games players, too. The proof is in the details, and that's exactly what we'll be digging into in our…
Exploration of Bet Rivers Casino Bonuses & Promotions
There are a number of active promotions ongoing on BetRivers Online Sportsbook and Casino. We've listed each of them below with a short description. Click on any promotion that piques your interest to see the complete details, or continue scrolling to view each one in turn.
PA BetRivers Deposit Bonus for New Players
All new members of Bet Rivers Sportsbook Casino are eligible to claim a first-time deposit bonus of up to $250. It's a 100% match bonus, meaning the amount you deposit is matched, dollar for dollar, up to $250. To claim the bonus, you must enter the bonus code 250MATCH when making your first deposit.
For example, if you deposit $10, you get another $10 free in bonus cash. Deposit $100, and you'll get $100 free; deposit $250, get $250 free. Depositing anything over $250 will still award the highest $250 bonus, but no more.
1x Wagering Requirements
This is a pretty standard bonus, as far as online casinos go. What's anything-but-standard are the wagering requirements (a.k.a. play-through) attached to the bonus. BetRivers promotional wagering requirements (WR) are set at just 1x the amount of the deposit, followed by 1x WR on the bonus.
Here's how it works. You make a deposit, then once WR is met on the deposit, you will receive the bonus credit within 48 hours. Then, once the WR is met on the bonus, you will be able to request a withdrawal.
Step-by-Step Example
You make a first deposit of $50 using promo code 250MATCH.

You place $50 worth of eligible wagers in the sportsbook and/or on casino games.

Your account is credited with a $50 bonus.

You place an additional $50 worth of eligible wagers in the sportsbook and/or on casino games.

The bonus is cleared, and all money in your account is eligible for withdrawal.
Eligible Wagers
Certain bets are not eligible for completing WR, for rather obvious reasons. For instance, you cannot bet two sides of the same event (i.e. both teams in the same football game.) This, or anything else a bettor does to gain an unfair advantage, is considered a violation of fair play, and will result in forfeiture of the bonus.
When betting on sports, the bonus terms define eligible wagers as bets made on "games or events with odds longer than -200 (equivalent to decimal odds higher than 1.50)." Therefore, wagering on odds of -300 would not count towards WR, whereas wagers on odds of -190 would. Any odds with a + value will also count towards WR.
For casino players, eligible games include all slot machines and video poker games only. Bets on any other games, such as blackjack, baccarat or roulette, will not count towards play-through of the deposit or bonus.
Other Bonus Rules
This bonus my only be claimed once per member of BetRivers Casino, or any of its affiliated online gambling sites (a.k.a. PlaySugarHouse.com). The bonus is only available on the member's first deposit. A minimum deposit of $10 is required. Any attempt to place a withdrawal before bonus wagering requirements are met will result in forfeiture of the bonus.
Deposit $50, Get $100 in Free NFL Bets
An alternative welcome bonus package geared specifically towards sports betting fans, BetRivers will give you a free $100 worth of free bets to use on NFL match-ups when you make your first deposit of $50 with the bonus code NFL100.
Eligibility & Expiration
You must make a first-time deposit of at least $50 to be eligible for the bonus. The moment the deposit is made, five $20 free bet vouchers are applied to your account. Each one can be used to place a bet on any NFL games with odds of -200 or longer (i.e. -175, -150, +100, etc.). Be sure to place your free bets within a week of depositing, as they will expire 7 days after issuance.
Wagering Requirements
The wagering requirements on Free Bet bonuses are just 1x the value of the bonus. That means that once you place the free bet, if you win it, WR is already complete. You will not receive the original bet amount back, but the winnings are yours to keep and withdrawal as you please.
Bet Rivers Double Down 2x Points Promo
This limited-time promotion is running throughout the month of October 2020. All real money wagers made on the following list of table games will receive double Loyalty Points and double Bonus Store Points throughout the promo period. (See iRUSH Rewards below for more info on rewards points.)
Table Games by NetEnt

American Roulette
American Roulette Touch (mobile)
Baccarat 2
Baccarat 2 Touch (mobile)
Black Jack Surrender
Black Jack Surrender Touch (mobile)
European Roulette
European Roulette Touch (mobile)
French Roulette
French Roulette Touch (mobile)

Table Games by IGT

Baccarat
Blackjack
Roulette!

Table Games by NYX
Double Down Terms & Conditions
The promotional period lasts from 12:00am October 1, 2020 to 11:59pm on October 31, 2020. Only real money wagers on the above-listed table games will receive 2x point accumulation.
Sportsbook $500k Pennsylvania Pick'Em
NFL fans unite on BetRivers Sportsbook for the $500,000 PA Pick'Em challenge. All throughout the regular season, you can try to predict the winners of each week's games. The more accurate your predictions, the better chance of winning a weekly prize. Accuracy also begets points on the season-long leaderboard, where the top point earner will win a guaranteed prize of at least $125,000.
Eligibility & Entry Fee
Participation in the $500k Pennsylvania Pick'Em Challenge is not free. Members of the online sportsbook must pay a $150 entry fee to participate. Registration is only available between August 7-September 13, 2020. Registered participants may begin making predictions for each week's games from September 8, 2020, through January 3, 2021.
Members of BetRivers are able to enter the contest up to 25 times by paying an additional fee per entry. Each entry allots another chance to make weekly picks throughout the season. Participants who register on any eligible date in August will receive a $50 buy-in discount ($100 fee per entry). Registering between September 1-8 grants a $25 buy-in discount ($125 fee per entry).
Picks for each week can only be made on the BetRivers website or mobile app between 5pm (ET) Tuesday through 12:59pm (ET) Sunday. Once picks are confirmed, they cannot be changed. Picks are only eligible on games originally scheduled for a Sunday or Monday. Thursday, Friday or Saturday games are excluded.
All picks are based on straight-up winners (no lines, spreads, etc.) If an eligible game is canceled or postponed, and is not played before the end of the Monday Night Football game, the pick for that game will count as a "correct pick". Additionally, if a game ends in a tie, the player will earn a "correct pick".
If for any reason the NFL regular season is shortened to 8 weeks or less, all entry fees will be refunded, and no additional prizes will be paid. Should the NFL regular season be shortened, but still last at least 9 weeks, the contest will be decided by the final point totals when the shortened season ends.
NFL Sunday 50% Profit Boost Promotional
Football fans are encouraged to log into BetRivers Sportsbook every Sunday to receive a 50% profit boost on any one bet made on that Sunday's NFL games. All you have to do is place a bet on any Sunday NFL game, then log in any time that day. If you win, you'll receive an extra 50% on top of your profit.
For example, if you bet $75 to win $100 on the Giants to beat the Bears, and the Giants win the game, instead of winning $100, you'll win $150 (plus your $75 wager, for a total payout of $225).
Eligible Wagers
The maximum wager is $50. The profit boost is applied to winnings only, not the original bet amount. The maximum 50% profit boost is $250. For instance, if you bet $50 on a -1000 line, the standard payout for a win would be $500. The 50% profit boost on this would be $250. Any wager that would present a 50% profit boost of more than $250 would only pay an extra $250 in boosted profit.
Only one bet may have a profit boost applied each Sunday. The bettor must check the 'Profit Boost' box on their bet slip when placing the bet. Only bets with odds of -200 or longer are eligible for the 50% Profit Boost.
All bets on Sunday games are eligible, whether the bet is placed that day, or any day prior. The winnings and profit boost are paid out instantly upon log in, and are available for immediate withdrawal.
iRUSH Rewards – BetRivers VIP Program
BetRivers Casino and Sportsbook hosts a diverse VIP loyalty program that rewards all real-money members of the online gambling portal. Whether you're a casino gamer or sports bettors – a daily high-roller, or a recreational iGamer who only logs in occasionally to place minimal bets – you'll find something of interest in the iRUSH Rewards Program.
iRR 10-Tier VIP Ladder
iRUSH Rewards (iRR) is a 10-tier VIP status program. The first tier is called Level 1, and becomes accessible the moment a player earns their first 40 Loyalty Points (LP). After generating 160 LP, status automatically increases to Level 2. At Levels 1 and 2, players are eligible to make purchases in the Bonus Store (see below).
Once a member reaches Level 3 and above, they unlock access to more rewards. These include things like special offers (Lvl 3+), custom deposit limits (Lvl 5+), VIP birthday gifts (Lvl 7+), a dedicated VIP manager and expedited cashouts (Lvl 8+), luxury gifts (Lvl 9+) and much, much more.
There is one more tier known as "Elite". Players cannot achieve Elite status on their own. It is only accessible via invitation. Elite VIPs receive all of the perks listed above, plus Elite VIP promotions, dedicated concierge service, a free Android or Apple device to play on, plus "ultra luxury" VIP gifts. See the chart below for a complete list of status tiers and the corresponding perks.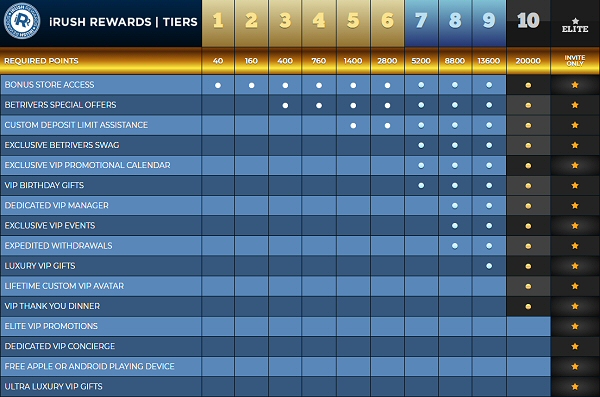 Bonus Store & Bonus Store Points
For every LP awarded, players receive an equal amount of Bonus Store Points (BSP). This is where the online casino's promotions really excel. While there are always numerous promotions geared towards sports bettors, the Bonus Store is where online casino fans (and sports fans, too) get the most bang for their wagering buck.
Within the store, players can purchase the following bonuses:
Bonus Money: A specific amount of bonus credits, with 1x wagering requirements, can be purchased. Eligible bonus amounts and the corresponding BSP cost for each are as follows:
$2.50 Bonus for 200 pts
$5 Bonus for 400 pts
$15 Bonus for 1,200 pts
$60 Bonus for 4,000 pts (Lvl 5+ required)
$100 Bonus for 6,000 pts (Lvl 7+ required)
$400 Bonus for 20,000 pts (Lvl 9+ required)
Wheel Spin Bonus: With this reward, players use BSP to purchase a chance to win a random guaranteed bonus. The range of bonuses per wheel spin, and their corresponding cost, are:
$1-$10 Bonus Wheel Spin for 100 pts
$1-$20 Bonus Wheel Spin for 150 pts
$3-$30 Bonus Wheel Spin for 300 pts
$5-$25 Bonus Wheel Spin for 600 pts
$10-$50 Bonus Wheel Spin for 1,000 pts (Lvl 5+ required)
$25-$150 Bonus Wheel Spin for 2,500 pts (Lvl 6+ required)
$50-$250 Bonus Wheel Spin for 5,000 pts (Lvl 7+ required)
$100-$1,000 Bonus Wheel Spin for 10,000 pts (Lvl 8+ required)
$250-$2,000 Bonus Wheel Spin for 25,000 pts (Lvl 9+ required)
Free Sports Bet: Sports bettors can purchase a free bet bonus according to the following BSP price chart:
$5 Free Bet for 200 pts
$30 Free Bet for 1,000 pts (Lvl 5+ required)
$250 Free Bet for 7,000 pts (Lvl 9+ required)
Sports Bet Profit Boost: Members of the BetRivers Sportsbook can purchase profit boosts of various sizes, with scaling max bet / max profit rules, as follows:
25% Profit Boost with $5 Max Bet & $25 Max Profit for 100 pts
15% Profit Boost with $75 Max Bet & $100 Max Profit for 750 pts (Lvl 5+ required)
20% Profit Boost with $200 Max Bet & $500 Max Profit for 2,000 pts (Lvl 9+ required)
Refer-A-Friend for $50-$500 Bonus Per Referral
Referring your friends to BetRivers Online Sportsbook & Casino is worth big bonus bucks. For every successfully referred friend, you'll receive one Bonus Wheel Spin, with a guaranteed bonus prize of $50 to $500. Members can receive a bonus for referring up to three friends, including up to one household member.
How to Refer a Friend to BetRivers
The referral program is a three-step process, eligible to all members of the online casino and sportsbook who have deposited and wagered at least $50 (excluding bonus reception/wagers).
Step 1: You must use the Refer-a-Friend Form on the BetRivers website to refer friends. When filling out the form, you must supply your own name and e-mail address, as well as your friend's name and email address.
Step 2: At any time within 30 days of submitting the form, your friend must sign up an account with BetRivers under the same name and email address you supplied on the form. You will not receive a referral bonus if the member you refer already has an account, was referred by someone else first, or signs up under a different name/email.
Step 3: The referred friend must make a deposit and wager at least $50 within 30 days of signing up their account. Reception or wagering of bonus money will not count towards the $50 wagering requirement.
If all these requirements are met (and you have deposited/wagered at least $50 in the lifetime of your account), you will receive one Virtual Wheel Spin with a guaranteed bonus prize of $50 to $500. The bonus is subject to 1x wagering requirements on all sports bets or casino games, and will expire if play-through is not met within 30 days.
BetRivers Bonuses, Promotions and VIP Rewards are just the tip of the iceberg. Use the following links to learn more about BetRivers PA.