7 Oct
PA iGaming Self-Exclusion Guidelines
Involuntary & Voluntary Self-Exclusion from Pennsylvania iGaming.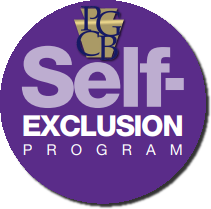 The first time you sign up an account to conduct any form of online gambling with a Pennsylvania licensed iGaming operator, you'll likely be asked if your name appears on any of the state's 'excluded gambler' lists. If you don't know what that means, chances are, you're not on such a list. If you are, or if you'd like to be, you may find the information on this page very useful.
There are two types of excluded gamblers lists Pennsylvanian's could find their name on. We'll start with the Involuntary Exclusion list, namely because its description is short and sweet. Then we'll cover the Voluntary Self-Exclusion list, why it's important, and how to use it, should you feel the need to.
Involuntary Exclusion from Gambling in PA
The Pennsylvania Gaming Control Board (PGCB) kicked off 2020 by implementing a new law that requires the regulator to provide a publicly accessible list of all names appearing on its Involuntary Exclusion List. This isn't the kind of list you'd want your name to appear on. It consists of people who've "previously committed gambling-related offenses"; people the PGCB has deemed worthy of banning from land-based casinos, and by natural extension, the state's new online casinos, poker rooms, sportsbooks, etc.
Anyone whose name appears on this list will have received a notification from the state. The notice identifies the reason for the exclusion, and also lists options for getting one's name removed from the list. If pleading the case is not an option, or if it fails, anyone who's name has been on the list for 5 years or more can apply to be removed.
For integrity purposes, and respect of privacy, we won't supply a direct link to the state's Involuntary Exclusion List, but you can learn more about it, including how to access it, by visiting the PGCB website and selecting Gaming from the main menu.
Pennsylvania Gambling Voluntary Self-Exclusion
Although the end result is the same, this is a very different type of list from the involuntary version. First of all, as the name implies, it's voluntary. Anyone can sign up for it, or not sign up for it, at their discretion. Secondly, it's completely confidential. The PGCB does not provide public access to the self-exclusion list. Being on the list does not grant access to the names of anyone else on the list. The privacy of every self-excludes member is respected to the utmost degree.
The purpose of providing Pennsylvanians with voluntary self-exclusion is to help consciously compulsive gamblers to help themselves. Anyone who feels they may have a gambling problem can self-exclude themselves at any time. It does not have to be permanent, either. Individuals can exclude themselves from land-based and online gambling for a period of twelve (12) months, five (5) years, or their lifetime.
Once the process is complete, self-exclusion will remain in place until the applicant requests to be removed from the list, but not before the chosen timeline expires. For instance, a 5 year self-exclusion will not simply expire after 5 years. If, perhaps seven years down the road, the person changes their mind, they can request to be removed from the list. They cannot request removal prior to the 5-year exclusion. A lifetime exclusion cannot be revoked.
How to Apply for PA iGaming Self-Exclusion
Be sure to read over PGCB's official instructions for voluntary self-exclusion for complete details before applying. The following is a basic step-by-step list of what to expect:
In Person Only – No Exceptions
The individual applying for self-exclusion must do so in person and of their own will at the PGCB office or any other approved PGCB location. No one may place any one else on the self-exclusion list.
What to Bring
The applicant must bring with them a valid, government issued, photo identification card. If the person cannot provide sufficient proof of their identity, they will not be permitted to sign up.
What Information is Required
The voluntary self-exclusion application will require a lengthy list of information, mostly to assist gambling operators in validating the applicants identity should they attempt to access a PA gambling facility. In addition to a valid photo ID (driver's license, passport, etc), the individual will also need to provide:
Name, including any aliases or nicknames

Date of birth

Address of current residence

Telephone number

Social security number

Detailed physical description (height, weight, gender, hair color, eye color and any other physical characteristic that may assist in identification)
What Happens Next
Once the application is processed, gambling operators must refuse to accept wagers from self-excluded gamblers. Access to junket participation, check cashing privileges, club memberships, comps, and promotions shall be denied. The person must be removed from all marketed solicitation, targeted mailings, and any other form of solicited or promotional materials related to gambling or gambling properties.
Responsibility is not left solely to the state's gambling operators. If a self-excluded person attempts to access a land-based casino, they can and will be arrested for trespassing. If the person manages to access a gambling activity, they will not be able to collect any winnings, or recover any losses. Those funds will be remitted to the PGCB to fund problem gambling prevention and treatment.
How Do I Know If Self-Exclusion is Right for Me?
Gambling addiction is far easier to deny than it is to recognize. The PGCB's Responsible Play program is designed to help people recognize whether or not their gambling behavior is problematic. According to this program, some of the most common signs include:
Becoming preoccupied with gambling

Lying or getting defensive about gambling

Feeling restless or irritable when not gambling

Increasing bets to increase excitement

Gambling to escape problems

Risking your job, relationships and freedom
If you believe you might have a problem, take the Gambling Problem Self-Assessment Quiz. It's completely anonymous, and can help you determine whether or not it's time to make a change.
Disclaimer – The information provided on this website is meant for educational purposes only. We will not be held liable for any irresponsible / illegal activity on your part.