14 Apr
PA TwinSpires to Replace BetAmerica
BetAmerica Out → TwinSpires Online Casino, Sports and Racebook In.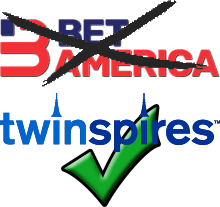 In January, Churchill Downs Incorporated (CDI), owner of PA online casino, sportsbook and racebook operator, BetAmerica, announced it would undergo a rebranding. BetAmerica wasn't exactly achieving peak performance. In fact, the platform has been scraping the bottom of the iGaming barrel, not just in Pennsylvania, but in Indiana and New Jersey, as well. CDI decided it was time for a change – time to wash the slate clean and start anew. And with that, PA iGamers await the impending launch of TwinSpires.
The rebranding hasn't taken place just yet, and there's no exact date slated for the transition either. Churchill Downs seems to be content with the existing BetAmerica offering in Pennsylvania for the moment, as the company works to launch TwinSpires across new iGaming jurisdictions in Michigan and Tennessee. Rest assured, CDI has promised to bring the new platform to PA sometime in the first half of 2021.
PA Ready to Welcome TwinSpires Online Casino and Sportsbook
BetAmerica probably seemed like a great name for an all-inclusive iGaming platform. I imagine the marketing team at CDI was rather proud of themselves for coming up with it a few years back. After all, it honors the American betting public, while easily encompassing any manner of online gambling an individual state may legalize, from Indiana's restrictive sports betting-only approach, to New Jersey's and Pennsylvania's more versatile expansion into online casino, sportsbooks and racebook betting.
What could be more alluring than a title like "BetAmerica"? I can think of one thing – a name the nation's betting community is already familiar with. How about a name like Twin Spires? Brand familiarity is critical when it comes to new products, and online gambling – the legal form, at least – is still very new in the United States. Racing and sports betting fans all over the country should recognize the TwinSpires name, and its connection to the most famous racing brand on the continent, Churchill Downs, organizer of the esteemed Kentucky Derby.
The fact is, when there are more than a dozen choices for novice internet gamers, they are far more likely to choose a household brand like TwinSpires, than an indistinguishable name like BetAmerica. And, while the title alone was enough to deter some, there's more to Pennsylvania's lack of interest in BetAmerica.
Of all the operators in the state, the CDI-owned iGaming portal is the only one that lacks a mobile application for Android or iOS. In its current state, the platform is only accessible via browser. The variety of sports is far fewer than most of their competitors. Plus, it's one of the only operators in the state without a live casino option.
What the All New TwinSpires Brings to the Table in PA
Back in January, Ian Williams, President of Churchill Downs Online Gaming division, spoke of the many benefits the BetAmerica → TwinSpires rebrand will bring to the table, not just here in PA, but across the boards.
"Pursuing a single brand strategy allows us to maintain focus on integrating our horse racing wagering platform alongside our sports betting and iGaming business, which will provide our players with the ultimate online and mobile betting experience," said Williams.
Until the rebrand takes place, CDI encourages all members of BetAmerica to continue utilizing its existing platform. The transition is expected to be a "seamless migration" for users, slated to occur "in the first half of 2021".