6 Oct
Pennsylvania Online Poker: There Can Only Be One Three?
PA Online Poker Rooms: Expectations for card gaming Keystoners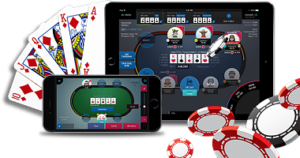 If you've landed here from any other page on our website, you may already be familiar with the full spectrum of Pennsylvania's legal online gambling sites. Today, we're mixing things up by focusing entirely on the online poker side of the market (as opposed to online casino and/or sports betting choices). This document will focus on the state's variety of operators (or lack thereof) competing for your loyalty, the range of cash games and tournaments available, and future prospects for the Keystone State's digital card gamers.
One Website to Rule Them All – PokerStars PA
Ten years ago, if you asked America's poker fans what their favorite online gaming site was, 9 out of 10 would have said PokerStars. Then in 2011, the industry was rocked to its foundation by the US government. The events of Black Friday (April 15, 2011) saw PokerStars and other major operations accused of illegally accepting US players unceremoniously booted from the country. Up until last year, Pennsylvanians went without access to real money internet poker games – at least, not in any legal sense.
When Pennsylvania lawmakers passed online gambling laws and began handing out regulatory licenses, countless poker fans were thrilled to find out their old haunt was coming back to town. PokerStars teamed up with Mt Airy Casino, launching PokerStars in PA in November 2019. The historic move landed PokerStars the honor of first poker site site to lawfully welcome Keystoners.
Now, nearly a year later, not much has changed. In fact, nothing has changed. PokerStars remains, to this day, the only Pennsylvania online poker room open for virtual business.
More PA Online Poker Rooms to Come?
The short answer – yes! There are at least two more online poker operators promising to compete in the PA market. For months, Keystoners have awaited the arrival of WSOP.com, and BetMGM assures us PartyPoker PA is on the way. The indefinite factor is, "When?"
The Wait for 888's WSOP.com PA
Harrah's Philadelphia launched Caesars Casino in April 2020. The famous Harrah's and Caesars brand names are owned, of course, by Caesars Entertainment, which also happens to own the World Series of Poker and its interactive counterpart, WSOP.com. If there's any name in the global poker industry as famous, if not more so, than PokerStars, it's the WSOP.
Talk of a WSOP.com launch in PA has been circling the water cooler for months now, but 888 – the US partner of WSOP in Delaware, Nevada and New Jersey – seemed to be in no rush to acquire a license from the PGCB.
Update: This week, the headlines finally lit up with news of 888's license approval. The PGCB stamped its approval on the license September 30, clearing the way for a PA WSOP poker room. Still, there's no word on a date for when the impending website will launch, but it certainly appears PokerStars will soon have a premier rival to compete with. Not only that, 888 promises to deliver its famous casino and sports brands, as well.
BetMGM to Deliver PartyPoker PA
MGM Resorts International is the parent company of BetMGM, the digital side of the casino conglomerates operations. BetMGM is partnered with Roar Digital, LLC, operator of the PartyPoker US Network. Like 888/WSOP, Pennsylvanians have long awaited the launch of PartyPoker in the Keystone State, but the PGCB's current license eligibility list still shows a 'Pending' license status for Roar Digital.
It's uncertain what's causing the delay, but it's worth noting that BetMGM is one of just two out-of-state operators granted the title of "Qualified Gaming Entity", or QGE for short. When the PGCB offered up 13 licenses to the state's 13 land-based casinos, not all chose to apply. So instead, the state chose to offer its last two licenses to out-of-state QGEs. Of all that applied, PA chose MGM and Golden Nugget. Thus, it would make sense that the PGCB's hesitance has something to do with further investigation of these out-of-state businesses.
Current Expectations for Pennsylvania Online Poker
PokerStars being the only PA online poker room in the market to date is a blessing and a curse, so to speak. It is, after all, the world's largest online poker room, so there's no lacking for cash games and tournament variety; not to mention a host of promotional satellites and qualifiers to PokerStars Live events.
On the opposite end of that spectrum, PA card gamers have made it clear that they are looking forward to the end of PokerStars' monopoly in the Keystone State. It's not that they don't appreciate what the famous brand brings to the table, but rather a strong desire for choice. Competition breeds better choices and promotions for customers, and no doubt PokerStars could use a little prodding in that area.
That being said, here's what you can expect to find at PokerStars these days.
Player Pool
PokerStars is currently averaging about 350 players at any given time; twice that at peak hours. That's a decent number, but nothing compared to the tens-of-thousands they attracted a decade ago. And the current numbers are virtually guaranteed to fall when PartyPoker and/or WSOP.com come online. If you're expecting regular multi-million dollar events and oceans of fish in the cash games, you're in for a big shocker.
Cash Games
There's always a steady stream of traffic at the PA PokerStars cash tables. NL Hold'em games of $0.01/$0.02 up to $1/$2 are readily available, with higher stakes more likely on the weekends. The same goes for PL Omaha games – a few low stakes tables during the week, with more action Saturday and Sunday. PokerStars also provides 7 Card Stud, standard and Hi/Lo editions, but they're a ghost town on week days.
Tournaments
The ring-fenced nature of PA PokerStars has resulted in a vast decline in tournament prize pools. The Sunday Majors no longer award multi-million dollar prizes, but they have exceeded the prize pools of the Sunday Warm-Up, Storm, Special, High-Roller and Super Sonic held in neighboring New Jersey. The latest renditions, combined, built up over $67k in prize money.
There's better news for the brand's famous 'Championship of Online Poker' series. Replacing the worldwide Spring and Winter Championships (SCOOP and WCOOP) of old is the Pennsylvania Championship of Online Poker – otherwise known as PACOOP. The 50-event tournament's debut was originally announced as a $1,000,000 GTD, but ended up with $1.225m in the pool.
Other Betting Options – Casino and Sports
As the official licensing partner of Mount Airy, Keystoners can click their way over to the PokerStars Casino any time and enjoy a collection of casino style games. With online poker being the focal point, however, don't expect too much. There are just under 100 games on the menu, covering just the basics – slots, blackjack, baccarat, roulette, video poker.
The Mt Airy / PokerStars duo also provides an online sportsbook via The Stars Group's partner, Fox Bet. The range of sports available is about as varied as the casino – just the most common offerings, but nothing to write home about.
Overall, the average gambler will probably find what they're looking for, no matter what type of iGaming they prefer. To learn more about websites with larger selections in either category, please refer to our PA online casinos and PA online sports betting pages.
Disclaimer – The information provided on this website is meant for educational purposes only. We will not be held liable for any irresponsible / illegal activity on your part.