15 Apr
List of PA Live Dealer Casinos
Where can I play live online casino games in PA?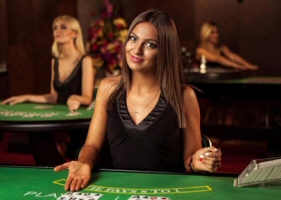 As Pennsylvania's online gambling market matures, most of its licensed operators are rounding out their services, polishing their platforms, answering the conjectural call of their valued customers. That means a greater variety of traditional casino games, like slot machines, tables and card games, as well as providing new age live casino games, where professional dealers and croupiers run the tables.
The Call for PA Live Dealer Casinos
Technology has progressed to extraordinary heights in the last decade. Live casinos have been around since the mid 2000s, but it wasn't until a few years ago that mobile devices and internet speeds grew strong enough, fast enough, to really show off their features.
Now days, an online casino that lacks live dealer tables is comparable to a US sportsbook that doesn't support betting on baseball. You can still bet on NFL and NBA lines, but not America's favorite pastime. No sportsbook would thrive under such conditions, so I find it hard to imagine any PA online casino thriving without today's most authentic virtual gambling experience.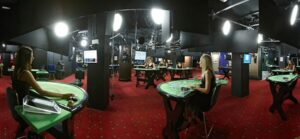 That's exactly what live dealer table games bring to the iGaming vertical. They are a genuine representation of a real land-casino casino game, delivered in real time to the customer's computer or mobile screen, via high-tech video and audio equipment. Real, professionally trained dealers and croupiers, dealing out real cards, spinning actual roulette wheels, in a real casino environment. The only thing missing is you, physically seated at the table.
Where to Play Live Online Casino Games in PA
As I said, any respectable online casino would be crazy not to offer their customers access to a live casino platform. It just so happens, only a few of PA's licensed iGaming operators are crazy enough not to. Most of them employ a live casino platform, and those that do all chose the world's leading supplier of live casino content – Evolution Gaming.
Below is a complete list of all PA online and mobile casinos that provide live table games to their customers.
What Live Dealer Tables are Available?
Evolution Gaming, and its bevy of Pennsylvania internet casino partners, offer Keystoners a modest collect of all the most popular table games with live dealers and croupiers at the ready, 24 hours a day, 7 days a week. They include:
American Roulette Live
Live roulette captures all the thrill and fast-paced excitement of a playing at a real roulette table, in a real, PA land casino. Evolution Gaming's live platform is so advanced – the camera angles and movements so precise – it really is the closest thing to standing around a real table. Unfortunately, it's so real that only American Roulette is provided. As any avid casino gambler knows, European and French Roulette offer far better odds for the player.
American Roulette features a total of 38 numbers on the wheel and table, 0, 00, and 1-36. The house edge on all bets – from even-paying wagers on things like black, red, odd or even, to straight up bets on a single number – is 5.27% (RTP 94.73%).
Truth be told, if you're going to play roulette, you should probably stick to the standard online version. BetRivers and other PA casinos offer European Roulette (RTP 97.3%) and French Roulette with La Partage (97.3% to 98.65%) in non-live format.
Baccarat Live
Baccarat is the classic casino card game that you can play, without really playing it at all. The dealer takes care of all the cards, for both the Player Hand and Banker Hand, based on a specific set of house rules. Thanks to Evolution Gaming's sophisticated software and sprightly dealers, you can now enjoy live baccarat action from the comfort of home, or wherever your travels take you.
Your job, as the player, is to pick which hand to bet on. Or, you can bet on the two hands resulting in the tie. Generally it's recommended to bet on the Banker, carrying the lowest house edge of 1.06%, even with the 5% commission paid on all winning hands. A bet on the Player comes with a 1.24% RTP. If you know what's good for you, you'll stay away from those sucker-punch Tie bets, where the edge rises to a staggering 9.53%.
Blackjack Live
Evolution's live blackjack tables are among the best in the digital gambling business. Not only are the dealers all friendly and skillfully competent, they deal a game with a player-friendly house edge of just 0.72% (RTP 99.28%). That may not be the lowest edge in the virtual sector, but for live dealer blackjack, that's about as good as it gets. If there aren't any open seats, or if you don't feel confident in playing your own hand, you'll also have the option to 'Bet Behind', in which you can bet on the hand of another seated player.
The basic rules are as follows:
8 decks in the shoe

Dealer stands on all 17s

Double down on any first 2 cards

Split any exact pairs, once per hand

No hitting split Aces

No double after split

Insurance offered on dealer Ace

Tie hand pushes

Winning hand pays 1 to 1

Blackjack pays 3 to 2

Insurance pays 2 to 1

Bet Range – $5 to $1,000

House Edge = 0.72%
Blackjack Live Side Bets
Infinite Blackjack Live also comes with Perfect Pair and 21+3 side bets, detailed as follows:
Perfect Pair: The player's first two cards are all that matter. The bet wins if these cards are:
Mixed Pair – Pays 6 to 1

Same-Color Pair – Pays 12 to 1

Perfect Same-Suit Pair – Pays 25 to 1

Bet Limit – $1 to $500

House Edge = 4.1%
21 + 3: The players first two cards are combined with dealer's up-card to form a three-card hand. This bet wins if the hand results in:
Flush – Pays 5 to 1

Straight – Pays 10 to 1

3 of a Kind – Pays 30 to 1

Straight Flush – Pays 40 to 1

3 of a Kind, Suited – Pays 100 to 1

Bet Limit – $1 to $250

House Edge = 3.7%
Infinite Blackjack Live
Infinite Blackjack follows the same rules, bets, payouts and house edge as Blackjack Live except for one thing – every player at the virtual table plays the same hand. Once the initial two-card hand is dealt, players have the choice to carry out the hand however they see fit – stand, hit, double, split, or buy insurance.
How does this work? Well, it just does – through the miracle of modern technology. Each card dealt is played beneath a camera that positions it, digitally, in the position you need to see it, whether it's a standard hit or a split with multiple draws thereafter. Of course, if you choose to stand, and others continue, you will have to wait for them to complete their choices before you can start the next hand.
I'll go ahead and reiterate the game rules for quick reference. They are as follows:
8 decks in the shoe

Dealer stands on all 17s

Double down on any first 2 cards

Split any exact pairs, once per hand

No hitting split Aces

No double after split

Insurance offered on dealer Ace

Tie hand pushes

Winning hand pays 1 to 1

Blackjack pays 3 to 2

Insurance pays 2 to 1

Bet Range – $5 to $1,000

House Edge = 0.72%
Infinite Blackjack Side Bets
Infinite Blackjack Live also comes with Perfect Pair and 21+3 side bets, detailed as follows:
Perfect Pair: The player's first two cards are all that matter. The bet wins if these cards are:
Mixed Pair – Pays 6 to 1

Same-Color Pair – Pays 12 to 1

Perfect Same-Suit Pair – Pays 25 to 1

Bet Limit – $1 to $500

House Edge = 4.1%
21 + 3: The players first two cards are combined with dealer's up-card to form a three-card hand. This bet wins if the hand results in:
Flush – Pays 5 to 1

Straight – Pays 10 to 1

3 of a Kind – Pays 30 to 1

Straight Flush – Pays 40 to 1

3 of a Kind, Suited – Pays 100 to 1

Bet Limit – $1 to $250

House Edge = 3.7%