16 May
OLG says Yes to Hard Rock Casino Ottawa
One of the world's most recognizable casino brands is coming to Ottawa this fall. The Ontario Lottery and Gaming Corp (OLG) announced Hard Rock International as the approved bidder for its Ottawa Area Gaming Bundle. Prepare yourselves – Hard Rock Casino Ottawa is coming!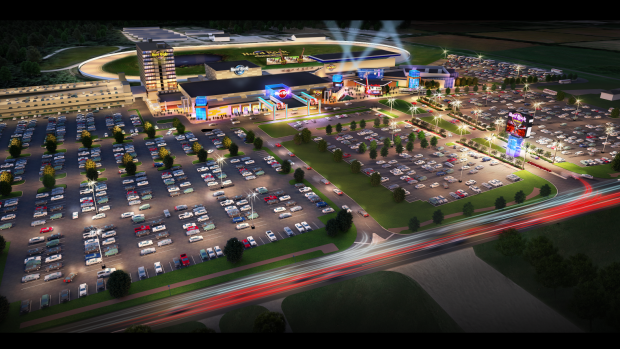 According to yesterday's press release, Hard Rock will acquire 51% of the Rideau Carleton Raceway. For the next 20 years – the length of the OLG contract – Hard Rock will manage day to day operations of the property's OLG Slots.
The company's managerial role will commence this fall, at which point Hard Rock and RCR Investor, Inc. – the investment arm of the raceway's owner, RCR Holdings Limited – will inject millions of dollars into renovating the facility.
$320M Casino Expansion
The two companies combined have agreed to siphon $320 million into the new Hard Rock Casino Ottawa, creating what they describe as an "integrated entertainment destinations".
As per existing zoning laws, Hard Rock will be permitted to install up to 21 gaming tables, including popular games like blackjack, roulette and poker. The facility's slot machines can only be increased marginally, up to 1,250, although that number may soon be increased. The OLG has estimated the demand for slots at Rideau Carleton Raceway could accommodate up to 2,000 machines.
At a news conference on Monday, Hard Rock International Chairman Jim Allen unveiled the details of his "master plan vision". The first phase won't be too terribly exciting, in which the company initiates modest renovations to the Albion Road complex. Those are due for completion by end of year.
Phase two will be much more interesting, involving a considerable expansion of the property's entertainment sector. This will include a new casino floor, four new restaurants, a 2,000-seat venue for feature shows, and – of course – a Hard Rock merchandising store.
Tough Competition for Hard Rock Casino Ottawa
It won't be easy drawing customers away from the nearby Lac Leamy Casino in Gatineau. Not only does that facility boast 1,700 slot machines and 70 gaming tables, it also features restaurants, entertainment and a Hilton Hotel that's more convenient for tourists staying in downtown Ottawa.
The Hard Rock Casino Ottawa won't feature a hotel until 2019, when phase three of the multi-million dollar expansion is scheduled for completion. Once finished, the Hard Rock Hotel will offer 250 rooms and suites.
The heads of RCR and HR aren't worried though. They are confident the notoriety of the Hard Rock brand will draw plenty of tourists their way – especially the younger variety – and potentially spur a new generation of harness racing enthusiasts.
Local Benefits of Hard Rock Casino Ottawa
Like all host cities of OLG Slots, Ottawa receives a kick-back for hosting the casino. In the last 5 years, the city has received approximately $5 million. When renovations of the new Hard Rock Casino Ottawa are complete, that annual figure is expected to rise considerably.
Perhaps more inviting for the community is the promise of new job openings. Allen said the expansion has the potential to create "more than 1,900 construction-related jobs and 2,000 direct and indirect ongoing jobs and opportunities for the Ottawa community."
He also promised to "keep all the employees", although that particular sentiment was already guaranteed by the contract with OLG.
#1 Canadian-Friendly Casino

Jackpotcity.com  is our editorial pick for your gaming needs. Currently offering an entire suite of casino games, as well as a wide range of Canadian deposit options, JackPotCity truly offers world-class gaming.