28 Feb
Review of Best 31 App for Android and iOS
A close-up look at Thirty One Rummy, the highest rated 31 mobile app on Apple and Google Play.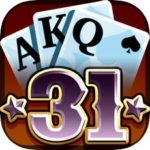 Most of the games we talk about on this website come with a plethora of social gaming apps to choose from. As popular as this game is, especially across Canada and the US, I was surprised to find how few apps there are for it. But they do exist, and there are a couple of good ones.
Having tried a few, I concur with the ratings on the Android and iOS app stores. Players of both platforms have ranked Thirty One Rummy as the best among them.
Review of Thirty One Rummy for Android & iOS
Thirty One Rummy was built by a company called North Sky Games; a company currently boasting eight popular card and board gaming apps on the market (blackjack, gin, dominoes, checkers, etc.) their 31 card game app is available for all Android smartphones and tablets running OS 4.4 and up, while Apple iPhone, iPad and iPod Touch users can install the game on any iOS updated to 8.0+.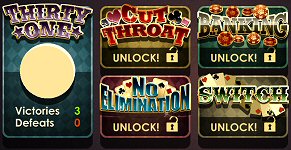 What I like most about this app is that players can choose from four common rule sets. This is a key feature, since 31 is known by many names, and even more rule variations. Players start with access to the traditional rules of 31 (Scat), and can earn coins to unlock four more popular variations covered here, Banking, Cut Throat, No-Elimination and Switch.
Before we go any further, let's take a moment to review the specs of Thirty One Rummy (current at time of writing) on Google Play and the Apple App Store.
Specifics
Android – Google Play
IOS – Apple iTunes
App Store Link
31 Rummy for Android
31 Rummy for iOS
Star Rating / Reviews
4.1 * / 300+
4.4 * / 500+
Compatibility
Android 4.4+
IOS 8.0+
iPhone, iPad, iPod Touch
Content Rating
Everyone
12+yrs
File Size
50MB
251MB
Price

Free w/ Ads & In App Purchases of $2.99 – $99.99

Free w/ Ads & In App Purchases of $2.99 – $99.99
Note: Apple has more restrictive rules on appropriate age ranges for certain types of games and in-game features. Apple has determined that, due to the use of coin-like tokens, the Thirty One Rummy app simulates gambling and therefore restricts its availability to ages 12+. Google Play Store's policies are less restrictive, viewing the card game app as being appropriate for all ages.
Mobile 31 App Features & Game Play
This game is very straight forward. Anyone who knows the rules should pick it up immediately. The menu offers options to turn sound on/off, increase and decrease speed, view stats, get help and contact the creators. Otherwise, you'll get started by tapping the first game option, Thirty One, then your difficulty of choice, Easy, Medium or Hard. The difference is how many tokens you start with. On easy mode, you'll get 4 coins, while your opponents only get 2. Medium and Hard give the other players 3 and 4 respectively.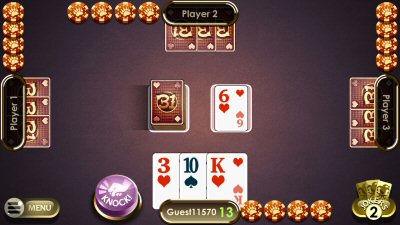 You're up against 3 computer players, each with 4 tokens (instead of 3 plus "on the county"). The most basic rules are in play, where only hands values up to 31 count. Three of a Kind, Runs, and other rules do not apply here. You can unlock other variants that do offer these rules by collecting Bear Paws coins—the app's in-game currency. Or you can spend $3 or more to purchase them, but that's no fun…
Coins are easily accumulated through challenges and level ups. There are daily challenges to complete; the first being to win 8 hands, worth +5 coins. Advancing to Level 2 earns +10 coins. Keep playing, and you'll unlock new rules in no time. You can also use coins to purchase new game themes, and to unlock Expert difficulty modes.
Single-Player Only – No Online Play
The one thing this game lacks is the option to play online against real people. It's a single-player only app. I'd say that's the only real negative. You can connect the game to facebook to earn extra coins and save your progress, but you can't play against fans. Bummer!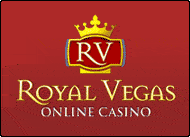 Royal Vegas offers a wide range of casual card games for fun or real money. Everything from keno, bingo and scratch cards, to even blackjack and texas hold'em. Safe, and fun.