23 Jan
Coup Mobile Game for iOS
Review of Coup card game for iPhone & iPad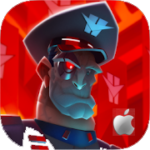 The game of Coup has only been around since 2012, but quickly rose in the popularity ranks among Canadian card games (or is it a board game?) The premise has a lot to do with it. Lying, stealing and manipulating your way into supreme political power—dare I say, world domination?—what's not to love? Being an extremely well executed game didn't hurt, either.
IMPORTANT UPDATE – Please Read: Coup is no longer available in the Apple App Store! Please see our recent addition, How to Play Coup Online, for additional options. Sadly, the information below is no longer relevant…
Today, the game of Coup is available through more distribution channels than ever before. It's even been converted to a mobile Coup game for iPhone and iPad users running iOS 8.0 and later. You'll find it in the Apple App Store under the title 'Coup Board Game', developed by Fox City Games LLC, and represented by the creator's custom interpretation of the faithfully vigilant 'Captain', (from one of their custom deck options).
Free Coup Mobile App for iOS
The iOS optimized mobile version of Coup was built by a team of specialist programmers who clearly adore the game as much as anyone. The graphics team at Fox City Games did a fantastic job replicating many of the game's deck variants, some of which are available as in-app purchases, as well as designing their own custom characters.
Before I continue with the Coup iOS app review, let's take a quick look at the specs, as listed (at time of writing) on the App Store:
Popularity (Stars): 4.7 / 5 (30+ ratings)
Compatibility: iOS 8.0+ on iPhone, iPad, and iPod Touch
Age Rating: 9+
Infrequent/Mild Cartoon or Fantasy Violence
Infrequent/Mild Mature/Suggestive Themes
Infrequent/Mild Profanity or Crude Humour
File Size: 124.3MB
Price: Free w/ in-app purchases (optional)
Remove Ads – $3.99
Resistance Alternate – $3.99
Spies Expansion – $5.49
Coup: Resistance Cards – $3.99
Coup Brazil Cards – $3.99
Mobile (iOS) Coup Features
For the most part, the iPhone / iPad adaptation of Coup is a perfect mimicry. All of the main characters are present—Duke, Assassin, Contessa, Captain and Ambassador—each capable of performing their noble/devious deeds. Bluff, deceive and outwit your foes; that is the name of the game, and it's all right here packed into a graphically spectacular depiction of the original Coup board game.
As you can see from the in-app purchasing price list above, there are several expansion packs that make the game a bit more interesting, including the extremely popular Coup: Resistance expansion. There's no need to spend any money to enjoy the game, but if you're a true fan of Coup, you may find the lack of Inquisitor and Foreign Aid options in the free version to be a bit dull.
Lag shouldn't be an issue, unless it's associated with your WiFi / Network speed, in which case paying to eliminate ads might help. Otherwise, they aren't too obtrusive.
Review – Coup Card Game for iPhone / iPad
Once loaded (you'll need an account, btw), you can participate in 2-4 player games, either as a single player against AI bots, against your social media friends, or live players from all over the world. A functional chat system allows players to taunt, I mean talk to each other during games. Player ranks are assigned based on progress, increasing for wins, achievements and badges earned.
All in all, I've found the game to be extremely fun, but it's still very new at this point. Finding real players to compete against can take a very long time. If you want live action, you're better off talking your Facebook friends into downloading the game, too.
Alternatively, get rid of your iPhones and iPads, and purchase a nice Android smartphone or tablet. There are over 100,000 people already playing Coup for Android. The specs are similar, but the competition is far better.
Either way, be sure to check out our complete rules and strategy guides to ensure staging the highest probability of staging a successful coup!
Popular Canadian Card Games

Jackpotcity.com  is our editorial pick for your gaming needs. Currently offering an entire suite of casino games, as well as a wide range of Canadian deposit options, JackPotCity truly offers world-class gaming.