9 May
History of Asshole the Card Game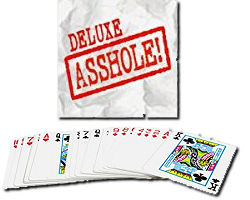 Asshole isn't your typical card game. Despite its rather derogatory name, Asshole history dates back much further than you might think. It's based on an ancient genre of "climbing games", wherein participants must play increasingly higher ranking cards throughout. It's also considered a "shedding game", with the objective of being the first to run completely out of cards.
The variation played today actually goes by many names. Some are derived from the namesake given to each round's losing player; that being Asshole, Scum or Scumbag, Bum, Butthead (among younger audiences), Arsehole (Great Britain), and Trouduc, or Trou du Cul (France). Others may know the game by the winning players title, Emperor, Governor General, Landlord, President, etc. In some cases, both winner and loser are named, with titles like Rich Man Poor Man, Warlords and Scumbags (Australia), or simply Capitalism.
See also: How to Play Asshole in Canada
History of Asshole (the Card Game)
According to Encyclopedia Britannica, the origins of Asshole date back to ancient China, where "climbing" and "shedding" card games originated. It is believed to be a direct descendant of the Japanese card game, Dai Hin Min, and a further ancestor of the Chinese game, Zheng Shangyou.
Both Dia Hin Min and Zheng Shangyou undertake similar rules, with social statuses going to each player following the opening hand of play. The winner becomes the supreme ruler, gaining distinct advantages over their competitors. The loser becomes the lowest form of life, forced to undertake various disadvantages, as well as doing all the grunt work (collecting cards, shuffling, dealing, etc.) during the next hand.
Asshole did not appear in the western world until the late 1970s. Being most popular among young players of drinking age, card game scholars attribute its spread throughout North America to backpackers.
Asshole Game Marketing
Once games manufacturers caught wind of its popularity, they began producing their own variations of Asshole rules and marketing them; most often as a drinking game. It's been package in many ways over the years. Kheper Games sells 'Deluxe Asshole' with a range of generational packaging graphics – some more explicit than others.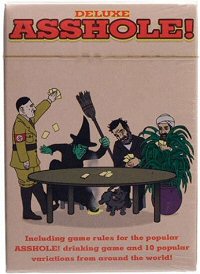 One of the most famous depicts various blue-collar business types seated around a table, with the far right player's face replaced by a buttocks. Another features notorious leaders and characters from history, including Adolf Hitler, Saddam Hussein, Osama bin Laden, and The Wizard of Oz's Wicked Witch of the West (whose shoe is being urinated on by Dorothy's beloved Scottish Terrier, Toto).
Due to the 'politically correct' nature of modern day society, it's now sold with a rather plain packaging. A white, slightly textured box depicting only the name of the game, Deluxe Asshole (in bright red letters), is the only version you'll find these days on merchant websites like Amazon, and most in retail stores where novelty games are sold.
Some manufacturers have taken the game a step further. The Great Dulmati, produced by Richard Garfield Games, is a variation that utilizes numbered cards with medieval faces. In this version, the cards are numbered 1-12, with the number on the card also denoting the number of those cards in the deck (two 2s, three 3s, four 4s, etc.). There are also two Jester (wild) cards in the mix. The first to run out of cards is The Great Dulmati, and the last Peasant Scum.
These and many other variations of Asshole exist in today's market. However, it is not necessary to purchase any of the novelty game editions. Asshole can be played with any standard 52-card deck, utilizing jokers for wilds if desired.
If you'd like to learn more about the game, please see our additional coverage:
How to Play Asshole – Common Rule Variations
How to Play Asshole Drinking Games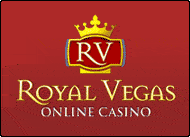 Royal Vegas offers a wide range of casual card games for fun or real money. Everything from keno, bingo and scratch cards, to even blackjack and texas hold'em. Safe, and fun.