14 Jan
Live Dealer Poker Games by Evolution
Beyond Blackjack: Evolution live poker games for card gaming fans.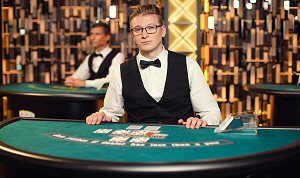 Live dealer casinos are beloved for delivering a more realistic gambling experience to players. With state of the art video and audio equipment, it's the closest thing to walking into a land-based casino, without having to leave your home. All the games can be played on a desktop or mobile device. But most of them are the same old 'fan favorites' – blackjack, roulette, and baccarat.
Every live casino studio offers these common variants, but only a few go beyond the typical game variety. Evolution Gaming is one such company. If you're a fan of house-banked, poker-style card games, you can't beat their selection. Not only is it among the largest on the internet, their platform has been named the best in the business for 10 years running.
Evolution Live Poker Games
The following is an alphabetical list of all poker-style casino games on the Evolution Gaming platform. For convenience, I've provided a brief description of each one. You can find these games at any Evolution Gaming powered online casinos, including Royal Vegas Canada, LeoVegas Mobile Casino, and many more.
Live Caribbean Stud Poker
This 5-card stud poker game features a progressive jackpot, plus lower fixed-amount jackpot prizes that can be won. Players bet, then receive their 5 cards. The dealer's first four cards are hidden, and the last one turned up. Based on this information, the player must either raise or fold. The dealer needs Ace+King or better to qualify.
A progressive jackpot side bet rewards players for being dealt a 3 of a Kind or better, with a Royal Flush claiming the progressive jackpot. Live Caribbean Stud Poker also features a 5 + 1 Bonus Bet. Placing this bet awards a payout for achieving a 3 of a Kind or better by combining the player's 5 cards plus the dealer's 1 face-up card. A Royal Flush on the 5+1 Bonus Bet is worth 1000 to 1.
Live Casino Holdem
Evolution's Live Casino Holdem is a standard game of Texas Holdem, but instead of competing against other players, the only opponent is the dealer. In this live version, a single hand can be played by infinite players. An optional Jumbo 7 side bet (available at participating online casinos) offers a range of prizes for achieving certain hand ranks, with a progressive jackpot that's awarded for a 7-card Straight Flush.
Live Casino Holdem Two-Handed
This game is the same as Live Casino Holdem, except that there are two player hands dealt at a time. With each new hand dealt, players are given the option of betting on the first hand, the second hand, or both. Live Two-Handed Casino Holdem offers a different side bet, known as the AA Bonus Bet. This bet can be placed on one or both hands, and pays out if a Pair of Aces is dealt within the first 5 cards (2 hole cards + first 3 community cards, aka Flop).
Live Three Card Poker
A live game available to an unlimited number of players, Live Three Card Poker is just like a standard 5-card poker game, but utilized just three cards per hand. Prevailing hand ranks are adjusted accordingly. Two side bets are available. A Pair Plus Bonus Bet pays out if the player's hand is dealt a pair or better. A Six Card Bonus Bet pays if all six cards – player's 3 + dealer's 3 – combine to achieve eligible hand ranks.
Live Texas Holdem Bonus Poker
This is the same as Casino Holdem, but with a different betting scheme. In this version, there is no additional betting round after the River (fifth community card) is dealt. The Bonus Bets also vary, offering a side bet that pays for a Three of a Kind or better, plus a First Five Progressive that pays for a variety of eligible hands, and releases its progressive for a Royal Flush, if dealt within the player's first five cards (2 hole cards + Flop).
Live Ultimate Texas Holdem
What's so "ultimate" about this fourth version of house-banked Texas Holdem? This Evolution live poker game has three betting rounds, with the option to check or raise on each street. The betting structure increases the potential payoff for great starting hands. The trade off is a higher qualifying hand of Pair or better for the dealer. Additionally, there's an optional Trips Bonus side bet that pays out for a 3 of a Kind or better.
#1 Canadian-Friendly Casino

Jackpotcity.com  is our editorial pick for your gaming needs. Currently offering an entire suite of casino games, as well as a wide range of Canadian deposit options, JackPotCity truly offers world-class gaming.