4 Oct
Yggdrasil Progressive Slot Joker Millions Pays €3M
€3 million payday no joke for Joker Millions Slot player.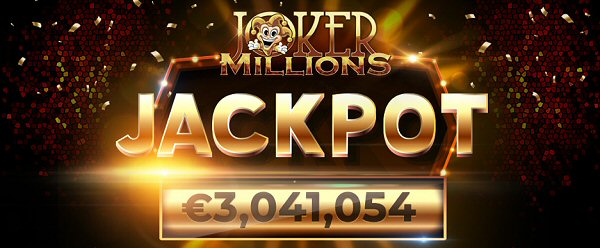 News of a multi-million progressive jackpot winner is always worth celebrating. Sure, we'd all love to be the person named – or as is more often the case, unanimously congratulated – in a story about a major jackpot winner. Still, knowing that these huge prizes are being won, changing the lives of people all over the world day after day, is uplifting for anyone who competes to win them.
Such news came out of the online gambling realm late last month when Yggdrasil Gaming's most famous digital slot machine of all time – the progressive Joker Millions – unleashed its exponential wealth. The lucky player, who remains anonymous, cashed in for a staggering 7-figure prize.
€3M Payday No Joke for Joker Millions Slot Players
According to multiple sources close to the story, the Joker Millions online slot machine struck gold for the second time this year – the third time in the last 12 months – on September 19. The hat-trick of payouts is an especially proud accomplishment for makers of the famous slot machine, but none so much as the players who were at the receiving end of those life-altering payouts.
This latest win was triggered by a member of Casumo Casino. A native of Finland, she was a newcomer to the website, having recently signed up an account with Casumo. After logging in an launching the Joker Millions on her mobile device, she set her bet size to €0.50 and pressed the spin button. The fortunate player was met with disbelief when almost instantly, the screen filled with those beautiful golden jokers, denoting the epic release of the mega progressive jackpot, worth €3,041,054.
Earlier this year in April, another very lucky player was privy to a similar progressive payout of €3.1 million on Yggdrasil's Empire Fortune Slot, representing the other half of the Joker Millions jackpot network. Going back to November 2018, Yggdrasil paid out the largest Joker Millions progressive jackpot to date, worth €7,831,370 to a member of LeoVegas Casino.
Yggdrasil's most famous jackpot network was first introduced four years ago with the launch of Joker Millions Slot on April 1, 2019. Most of us know that particular date as April Fool's Day. But his game knows no fools, and its multi-million dollar jackpots are certainly no joke!
Proud Moment for Yggdrasil & Casumo
In last month's press release, Yggdrasil CEO Fredrik Elmqvist was eager to congratulate the digital slots developer's latest multi-millionaire. "This is a dream come true for such a new mobile player and we're thrilled it took place on Casumo, one of our major partners," said Elmqvist.
He was even more honored to be part of the life-altering payouts for three individuals in such a short period of time. "To have three mega jackpot prizes drop in just 10 months is amazing," he said. "I'm delighted we're able to reward loyal Yggdrasil slot fans with gigantic prizes."
Equally excited to be a part of it all is Head of Casino at Casumo, Anna Pistika. "We're thrilled to see our players win huge cash prizes," she said on behalf of the casino. "It's particularly pleasing that it's a new customer, proving that anyone can win, at any time."
Pistika added that this latest payout "shows the power of high-quality progressive jackpots such as Yggdrasil's Joker Millions, and the excitement they create," concluding with a "huge congratulations" for the lucky winner.
#1 Canadian-Friendly Casino

Jackpotcity.com  is our editorial pick for your gaming needs. Currently offering an entire suite of casino games, as well as a wide range of Canadian deposit options, JackPotCity truly offers world-class gaming.