13 Nov
Find out Why 334k iGamers Prefer LeoVegas Casino
Get your iGaming on at LeoVegas Canada, because 334,042 online & mobile gamblers can't be wrong.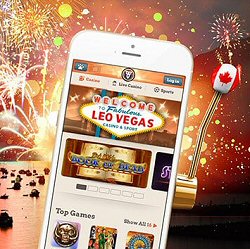 There are dozens of internet gambling websites that claim to be the best, most popular iGaming destinations the world wide web has to offer. Cant here really be more than one, though? Of course not. LeoVegas doesn't claim these titles, instead proving just how popular their online and mobile casino is by telling the world how many people use it.
Transparency is an uncommon thing in the iGaming industry, especially when it comes to the exact number of users who are actively participating. I remember when PokerStars used to brag how many millions of registered user their service had attracted. But there number was made up of every user who ever registered an account (or two). How many were active, depositing players? Who knows? When it comes to LeoVegas, we know exactly how many there are.
LeoVegas Q3 2019 Results Reveal All
LeoVegas was founded in 2011 on the soul premise of providing a "mobile first" iGaming experience. In those days, smartphones and tablets were just getting off the ground, but this company didn't care. It's executives knew the mobile movement was coming, and they capitalized on it.
By 2014, this company was skyrocketing to fame. Over the next three years, they expanded into additional markets and acquired other successful brands like Royal Panda. By the third quarter of 2018, they were joyously reporting a massive player increase, with 318,189 active, depositing players in Q3-2018, up 57% from 202,980 year over year.
Those numbers continue to grow with each new fiscal report. Days ago, the word coming down the PR newswire revealed an active depositing player base of 334,042 in Q3-2019; another 5% increase YoY. So if any of my fellow Canadians out there are wondering whether LeoVegas is the right mobile casino platform for you, all I can say is this…
LeoVegas Canada – 344,042 Users Can't be Wrong
I do wish LeoVegas' executives would differentiate the regions from which their players are logging in. Since they do not, I have to imagine that a significant number of them are coming from Canada.
It's already been established that, while provincially-run iGaming portals are lucky to generate $100,000 in revenue each year, offshore sites are accepting billions in wagers from the Canadian market. And if LeoVegas is pulling in that many depositors in a 3-month span, no doubt many of them are the very Canadians that find overseas operators so much more appealing than their home-grown alternatives.
What is it that makes LeoVegas so appealing, not just to Canadians, but to players all over Europe and beyond? It's a combination of things, really. Most of all, I think it's the game variety.
LeoVegas employs all the major games creators. At last count, there were 45 software brands making up the LeoVegas platform, plus their own proprietary software. That's thousands of games avialable at each user's fingertips. All of the big names are included, like Microgaming, Playtech, NetEnt, Evolution Gaming, IGT, Quickspin, Yggdrasil… You name it, they have it (except for Habanero Systems, curiously enough).
Their mobile-centric marketing tactic is another big draw. Every aspect of LeoVegas Canada was built to perform best on a mobile device – smartphone or tablet, Android or iOS, even Blackberry and Windows-based devices are prioritized.
Last but not least, LeoVegas runs a throng of promotions at any given time. Whether it's a bolstered new player bonus, free spins on the latest slots additions, or a raffle-style vacay to some resort island, there's always something to play for at this online and mobile casino giant.
#1 Canadian-Friendly Casino

Jackpotcity.com  is our editorial pick for your gaming needs. Currently offering an entire suite of casino games, as well as a wide range of Canadian deposit options, JackPotCity truly offers world-class gaming.