8 Nov
IGT's Dynasty Electronic Table Games Come to Niagara Casinos
Niagara Falls casinos doubling down on a series of new casino table games with cross-property live streaming capabilities.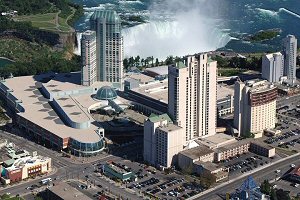 It used to be that people visited casinos with one primary objective – to gamble. Some played for fun – some played to win – but everyone came to play. The same can't be said of today's major casinos. They aren't just gambling hubs, but integrated resorts, bustling with all manner of luxury entertainment and dining. Today, very few visitors spend the bulk of their time gaming, while some never even step foot on the casino floor.
This has become a major issue for casino resorts that have always relied on gambling revenue as their top source of income. The new owners of Ontario's Niagara Fallsview Casino and Casino Niagara, Mohegan Gaming & Entertainment, are hoping their latest plan of action will turn things around, bringing more people out to enjoy the tables.
New Casino Table Games at Niagara Falls Casinos
Mohegan Gaming and International Game Technology (IGT) have teamed up to renovate the gaming floor of both of Ontario's casinos on the Falls. IGT, a US-based games manufacturer and long-time partner of of Canadian gaming regulators, including the Ontario Lottery and Gaming Corp (OLG), has installed an all new set of electronic amusements from their Dynasty Electronic Table Games series.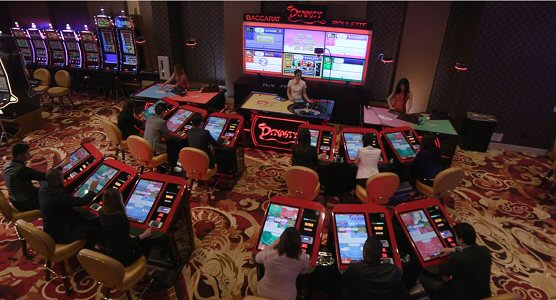 These new tables are built around stadium-style seating, presenting far more players an opportunity to get in on the action. Take baccarat for example. Instead of sitting around a traditional 7-seat table, there are dozens of seats set up, much like a classroom setting, with a single dealer at the head of the class. A series of high-tech cameras are in place to capture the action as it happens, streaming it in real-time to the large touchscreen kiosk at each player's desk-like seat.
Baccarat or Roulette? Better yet, Both!
Those kiosks are multi-talented, as well. Players can choose to play baccarat or roulette. Those with a mind to can even bet on both games at the same time. It reminds me of the online gambling industry's surge to mimic land-based casino table games in the mid 2000's.
They built studios, lined them with tables, and hired professional dealers to work them in front of a camera so that players at home to participate on their computer or mobile device. Now, it's as if land-based casinos are mimicking their online cousins, giving players the same at-home live dealer experience, but from within a real casino.
In all honesty, though, it's not one industry's desire to copy the success of another, but rather the desire to reduce overhead while packing more players into the same amount of space. Yes, it is similar to the online gambling initiative, but it's all about the bottom line.
One baccarat table averages 35 hands. With full seats (7 players), that's 245 wagers per hour. One set of Dynasty ETGs can seat more players, while requiring less dealers. Because the bets are all placed and paid out electronically, it saves a lot of time, dramatically amplifying the number of hand and bets per hour.
According to IGT, Dynasty dealers average 75 hands per hour, and can work two tables worth of players (14), potentially taking in 1,050 bets per hour. By those estimates, Ontario's Niagara Fallsview Casino can increase their take by more than 4 times. But wait, it gets better…
Live Streaming to both Niagara Falls Casino
Only the Dynasty tables at Niagara Fallsview Casino are maintained by present dealers. The tables at the sister site, Casino Niagara, are all streamed from Fallsview. That means these new casino table games are generating twice the bets per hour, up to 2,100, and twice the revenue. It's an innovation IGT's VP of Canadian Operations, David Flinn, expressed in a statement how especially proud his company is to provide to their clients.
"This multi-site installation of IGT's Dynasty ETG demonstrates IGT's commitment to delivering innovative solutions that drive operational efficiencies, and create an unrivaled player experience," Flinn said. "By adding IGT's Dynasty ETG to their entertainment portfolio, Casino Niagara and Niagara Fallsview Casino are positioned to maximize their table game revenue without additional operating costs."
#1 Canadian-Friendly Casino

Jackpotcity.com  is our editorial pick for your gaming needs. Currently offering an entire suite of casino games, as well as a wide range of Canadian deposit options, JackPotCity truly offers world-class gaming.