10 Oct
Will Debate over Single-Sport Wagers Win Votes?
Candidates Pupatello & Masse go to verbal war over support for single-game sports betting law.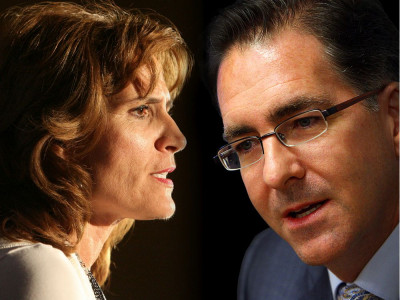 The debates are heating up as the race for the Windsor West riding escalated to volcanic levels this week. Liberal candidate Sandra Pupatello is promising to finish the job incumbent NDP MP Brian Masse started, but failed to complete, for the last four years. In retaliation, Masse says Pupatello was the one blocking his efforts the get the job done.
I'm talking, of course, about the politically-driven push to legalize single-sport wagers in Canada. It wasn't expected that this years federal elections would raise this topic as a headline topic, but between Pupatello and Masse, it's become a primary subject for harvesting votes in the Windsor West community of southern Ontario.
Debate Over Single-Game Sports Betting Law
Normally, when two candidates debate an issue, they hop on opposing sides of the argument. That's not the case with Pupatello and Masse, who are both supporting the legalization of single-event betting. Their controvert revolves around who supported it first, and who will work the hardest to get the law passed.
Pupatello gave Masse credit for getting the ball rolling, but says that after all this time, he's clearly not the right choice to kick it across the finish line.
MP Brian Masse first introduced Bill C-221 in 2015. It received unanimous approval in the House of Commons, but died in the Senate. In an ensuing attempt, the bill was voted down at second reading before reaching the committee stage.
"Unfortunately, we've had 17 years of an NDP MP (Masse) in this area and even if he's well-intentioned, and he may be, if he's unable to bring it across the finish line it's time to get somebody who will," said Pupatello at a press conference outside Caesars Windsor Casino on Wednesday.
"When I lock on to an issue, I get it resolved or I don't say that I will," proclaimed Pupatello.
Masse Outraged by "Flip-Flop" Liberals
Just a few hours later, the incumbent responded to his rival's defamatory remarks with scathing reposte. He accused Pupatello and her Liberal party of being responsible for the failure of C-221 in the first place.
"Trudeau in his sunny ways, it was supposed to be different, collaborative approach — this was one of the first things voted on in Parliament," recanted a riled Masse. "We were supposed to work together, it was the first signs of phoniness about a prime minister that says one thing and does another.
"It's no different than auto and no different even when it comes to the border," he continued. "We saw flip-flops."
Masse said Canada could have – should have – easily beaten the US to market on preferred sports betting products. "We were way ahead of the United States with support from the provinces, provincial gaming authorities and chambers of commerce," he told the media on Wednesday.
Aside from the NHL, even the national sports leagues, "supported the legislative changes. Now, the Liberal candidate announced the importance of this to our community, preserving jobs and creating new ones?" he questioned.
Jobs for Communities, Revenue for Government
Employment opportunities and bigger budgets – these are the qualities Pupatello are hoping her vision for a single-game sports betting future will bring to light. Masse isn't arguing with that part of her campaign.
"We need to change our laws to allow for single-sports betting in order to be more competitive and capture more of the revenue that is currently going offshore or to unregulated or illegal beneficiaries," she said, backing up her sentiments with statistical data and forward projections.
"The Canadian Gaming Association estimates this would add up to 150 jobs right here in Windsor, perhaps another 100 in Niagara Falls. It could result in another 1,000 or 1,500 right across the country. The revenue for provincial governments would go up by as much as a billion dollars."
The way things are now, Canada is left to compete with far better sportsbook offerings across the border in New York, Ohio and Michigan, not to mention the endless strain of internationally regulated online sportsbooks.
#1 Canadian-Friendly Casino

Jackpotcity.com  is our editorial pick for your gaming needs. Currently offering an entire suite of casino games, as well as a wide range of Canadian deposit options, JackPotCity truly offers world-class gaming.