3 Jan
Monopoly Roulette Hot Properties by SG Interactive
How to play Monopoly Roulette online, Hot Properties Bonus edition.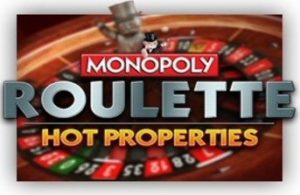 Prior to the digital age, roulette was a simple game with simple rules. It came in three formats—European roulette, featuring a single zero; American roulette, with double zeros; and French roulette, another single-zero game with special call bets, grouping numbers based on their wheel position. This offered more than enough dulcet pleasure for the avid gambler, with strategic choices for the wiser among them.
When the first internet casinos came along, these same offerings were available. But as the industry grew, acquiring a boundless, global customer base, competition became fierce. The need for innovation was clear. And with it, the evolution of new roulette games was upon us. Within this torrent of creativity, Monopoly Roulette Hot Properties was born.
How to Play Monopoly Roulette Online
There's no mistaking this game from traditional roulette. Developed by WMS, a subsidiary of the world-class Scientific Games Corp, its infusion of the original, sage-green Monopoly board is unmistakable. The same backdrop; the same font; same monetary notes; and the same Uncle Pennybags mascot.

For the most part, Roulette Monopoly is played just like any other game of roulette. The wheel and table layout are nearly identical, and all of the original betting options remain available. However, there's one extra space on the wheel and table.
The additional wheel space, highlighted in gold, is marked "HOT". It takes the place of what would be the double zero (00) in American roulette. Because of this, you can expect a theoretical return to player, or RTP, of 94.74% (i.e. house edge of 5.26%).
This news alone should be enough to stop the strategic player in their tracks, as the 97.3% RTP (2.7% house edge) in European roulette is far superior. However, the intrigue of the Hot Properties Bonus may be enough to sway some players into giving it a try anyway—at least for fun.
Monopoly Roulette Hot Properties Bonus
That HOT spot on the wheel corresponds with the extra 'Hot Properties' section on the Monopoly Roulette table. Placing a bet here on the off-hand chance (1 in 38, to be precise) that the ball lands in this slot is the only way to trigger the Hot Properties Bonus game.
In all reality, this bonus is like playing Deal or No Deal, but with Monopoly property cards in place of silver suitcases (and the notable lack of a million-dollar prize). There are 18 cards to start. You will choose a number of cards, which are sequentially revealed and discarded. Then, you get an offer, based on the total value and number of remaining cards. Refuse the offer, and the property cards get whittled down more.
The process continues until the player accepts an offer, or just 2 properties remain. At this point, the player must choose one final card to remove from play. The value of the last remaining card becomes the prize.
It's an exciting bonus, and one that makes playing Monopoly Roulette online an exciting experience. However, being an advocate of higher RTPs, I would never suggest playing American roulette. Therefore, I cannot, in good conscience, recommend playing Monopoly Roulette Hot Properties for real money. Take it for a practice spin, but don't waste your hard earned cash on this one.
#1 Canadian-Friendly Casino

Jackpotcity.com  is our editorial pick for your gaming needs. Currently offering an entire suite of casino games, as well as a wide range of Canadian deposit options, JackPotCity truly offers world-class gaming.