6 May
Ontario Means Business: AGCO Slaps BetMGM, PointsBet with Fines
Regulators Penalize Two Ontario Licensed Casinos for Promo Violations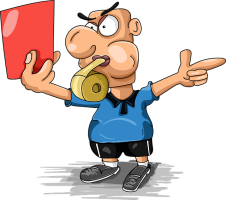 The province of Ontario de-privatized iGaming by launching a competitive market on April 4, 2022. The operators who've been approved to compete in this market were warned well ahead of time that any violation of regulatory statutes would not be tolerated. On May 3 – not even a full month in – Ontario is proving that it means business.
Two Ontario Licensed Casinos Hit with Fines
The Alcohol and Gaming Commission of Ontario (AGCO) slapped two iGaming operations with monetary penalties this week. The recipients of the fines are BetMGM and PointsBet. In both instances, the AGCO alleges violations involving advertising and inducements.
"In order to protect the public interest and ensure Ontario's igaming market operates responsibly and with integrity, the Registrar of the Alcohol and Gaming Commission of Ontario (AGCO), has served two AGCO-registered internet gaming operators with Notices of Monetary Penalty for alleged infractions of the Registrar's Standards for Internet Gaming (the Standards), pertaining to advertising and inducements."
What the Standards Say About Advertising
To protect Ontarians, the AGCO's Standards put strict limitations on advertisements and inducements. An operator's ads and incentives must be honest, and must not be misleading, or misrepresent a service or product (Standard 2.04). Any material that insinuates the odds of winning may increase as players spend more money is strictly forbidden.
Furthermore, operators are only able to advertise inducements, bonuses, and credits on their own website, or via advertising and marketing materials sent directly to a customer who's actively consented to receiving such material (Standard 2.05). For example, a player who opts in to receive promotional emails when signing up an account.
For the record, Ontario is one of a very short list of jurisdictions that authorize online gaming, but restrict operators from public advertising of bonuses, promotions, and general inducements.
Penalties Levied Against BetMGM & PointsBet
In a news release on May 3, 2022, the AGCO confirms the issuance of the following penalties.
"BetMGM Canada has been served Notice of Monetary Penalties totalling $48,000 for their alleged failure to comply with Standards 2.04 and 2.05."
[Explanation: BetMGM is accused of misleading and/or misrepresentation of inducements, and public advertising of promotional materials.]
"PointsBet Canada has been served Notice of Monetary Penalties totalling $30,000 for their alleged failure to comply with Standard 2.05."
[Explanation: PointsBet is accused of violating the Standard's restrictions against public advertising of promotional materials.]
The news release includes this statement from AGCO Chief Officer and Registrar, Tom Mungham:
"The AGCO holds all registered operators to high standards of responsible gambling, player protection and game integrity, and monitors their activities to ensure they are meeting their obligations under Ontario's Gaming Control Act and the Standards."
The Allegations Against BetMGM Canada
The AGCO specified a number of violations on BetMGM Canada's part. Three incidents were in violation of Standard 2.05, and a fourth violating Standard 2.04. They include:
$250k Launch Party – the operator advertised a "$250k Launch Party" in which the first-place winner of a contest would receive $100,000 in casino bonus credits. The promotion was tweeted on April 4, and again on April 11.
Bellagio – On April 4, 6, and 8, the operator tweeted a "Bellagio" ad offering a $10 bonus in return for a $25 bet.
Jimi Hendrix Free Spins Friday – Twice on April 8, a tweet promoted a chance to win 100 free spins on the Jimi Hendrix online slot for following the operator on Twitter.
More Money / High Chance – A tweet on April 10 stating, "the more money you put in per bet, the higher your chances of winning".
Accusations Against PointsBet Canada
The AGCO is accusing PointsBet Canada of violating Standard 2.05 on two occasions. they include:
Free Play Ad Posters – Between April 4 and April 21, posters on GO trains and other locations advertised a free play inducement.
Free Play Ad Posters – Between April 4 and April 17, posters in GO train stations advertised a free play inducement.
Operators Likely to Appeal the Decision Before Paying Up
For now, the allegations against BetMGM and PointsBet are just that – allegations. The AGCO is issuing monetary penalties, but the operators still have every right to appeal the decision.
Based on AGCO's evidence, it seems difficult to dispute the allegations with any efficacy. However, these are big multi-national companies with deep pockets and fancy lawyers. To pay the fine upfront without argument might appear to be an admission of wrong-doing, so they just may attempt an appeal. Only time will tell on that front.
Can Ontario's Regulated Market Survive w/o Advertising?
This is a big question; one that's worthy of asking, but difficult to answer for a number of reasons. No doubt, Ontario's iGaming community appreciates the fact that the market is now open. Competition breeds quality – quality service, quality products, and quality promotions. But without promotions, it becomes hard to compete.
Let's not forget that international operators have been advertising their services, and a bevy of promotions, throughout Canada for the last two decades. There is no law against it. Ontario is encouraging operators to receive authorization to operate legally, but disallows them from public advertising. It's not difficult to see where it could be more beneficial to an operator to promote to and accept Ontarians without a license.
More Benefits for Players than Operators?
Regulators tout several benefits for players to access Ontario licensed casinos. Protection of deposits, the promise of cashouts paid, security of personal and financial data, and fair gameplay, among other things. All of the negative aspects are direct opposites of the positives. Deposits may not be protected. Cashouts might be slow or non-existent. Data might not be secure. Games may not be fair. You get the idea. As unsavory as that sounds, for a player who's been accessing international sites without incident for years, there's not much reason to make the transition.
So the real question is this. What's the incentive for operators to obtain a local licence? And the answer would appear to be, not much. They can advertise from overseas. They don't have to pay licencing fees. Regulatory restrictions exist, but not to such a drastic extent.
The truth is, it could be very hard for Ontario's operators to compete against one another; not to mention against a plethora of international operators with fewer restrictions. Whether such factors could drive operators back to their offshore bases, well… that's another factor in which only time will tell.
#1 Canadian-Friendly Casino

Jackpotcity.com  is our editorial pick for your gaming needs. Currently offering an entire suite of casino games, as well as a wide range of Canadian deposit options, JackPotCity truly offers world-class gaming.