16 Oct
UKGC Lashes Out at Paddy Power Betfair with £2.2mm Fine
Online gambling fraud puts Paddy Power Betfair next in line for UKGC paddling with £2.2 million fine imposed.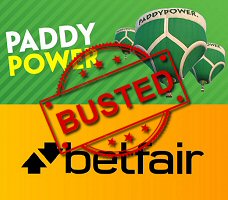 The United Kingdom Gambling Commission (UKGC) continues its warpath this week, with Paddy Power Betfair (PPB) being the latest target. Following an investigation into criminal betting and failure to protect problem gamblers, the Irish company will pay a hefty price. In lieu of penalty, PPB has agreed to a settlement of £2.2 million.
The monetary value of this case overshadows last week's proverbial slap-on-the-wrist. On October 10, an announcement from the Commission confirms a £500k penalty for Rank Group; the company that owns 150+ Grosvenor Casinos and Mecca Bingo halls, among others. Once again, I'm left shaking my head, wondering what it would take to actually incite the UKGC to strip an operator of its license.
Online Gambling Fraud and Other Infractions
According to the Commission's executive summary report, Paddy Power Betfair is guilty of two regulatory violations. The first is failure to instigate customer interaction in suspicious circumstances that should've been a red flag for problem gambling. The second is failure to comply with the UK's strict anti-money laundering (AML) laws.
"The Gambling Commission has found, and PPB accept, that it breached social responsibility code provision 3.4.1(1) which relates to customer interaction, when five customers were able to gamble extensively despite indicators of problem gambling.

"We also found, and PPB accepts, that it failed to act in accordance with our guidance on anti-money laundering, The Prevention of Money Laundering and Combating the Financing of Terrorism – Guidance for remote and non-remote casinos."
The incident dates back to 2016, when two customers were able to gamble substantial amounts of money. There was no customer interaction on PPB's part to determine problem gambling or identify the source of funds. As it turns out, one of those customers was an employee of a charity. He was embezzling funds from the organization. Of the approximate £900,000 he stole, nearly £500,000 of that was used to gamble at PPB's betting exchange.
Also in 2016, the Commission identifies AML and social responsibility failings relating to three retail and online betting customers. The investigation points again to weaknesses in PPB's player protection and identifying source of wealth policies.
PPB Acknowledges Failures, Agrees to Settlement
The report states, "PPB acknowledge that certain policies in force at the relevant time were ineffective." The company vows to invest in improvements to its AML and responsible gambling processes.
The £2.2 million settlement from PBB includes £498,508 to be returned to Birmingham Dogs Home, the charity that was stolen from; a £1,717,121 payment in lieu of a financial penalty, which will go to the UK's National Responsible Gambling Strategy; and £50,045 to cover the cost of the UKGC investigation.
The question for many is does the punishment fit the crime? Last week's penalty against Rank Group amounts to just £500,000, despite the fact that the company was guilty of allowing £1,000,000+ to pass through its cashier unchecked. Here, we see Paddy Power Betfair divesting more than 4x that. Thus, the value of the settlement appears to be indicative of money laundering and online gambling fraud being a factor in the case.
#1 Canadian-Friendly Casino

Jackpotcity.com  is our editorial pick for your gaming needs. Currently offering an entire suite of casino games, as well as a wide range of Canadian deposit options, JackPotCity truly offers world-class gaming.