30 Aug
Rio on the Vegas Auction Block? What then for WSOP?
Rumor: Rio Las Vegas for sale, WSOP will move to Caesars Forum.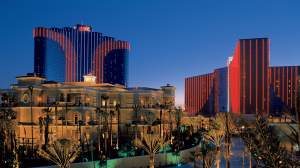 There's a wild rumor going around the water cooler in Las Vegas. It states that Caesars Entertainment has put the Rio All-Suite Hotel & Casino on the auction block. While some scoff at the rumor—after all, similar gossip has circulated for several years now—it is coming from a remarkably reliable source in the Vegas casino real estate arena.
Scott Roeben, author of the popular and traditionally reliable blog, Vital Vegas, says he's got a dependable inside source of information. According to this mysterious source, Caesars is entertaining offers from three (also unnamed) prospective buyers.
"Previously shared Rio sale rumor looks like the real deal," Roeben tweeted on Wednesday. "Caesars highly motivated to cut her loose, insider confirms three viable entities circling. Aftermath of sale will include move of WSOP to Caesars Forum convention center, despite denials."
Why Would Caesars Unhand Rio Las Vegas?
In all reality, Caesars has good reason to unload this Vegas Strip property. It's not exactly in the best of condition. It was built in 1990 and acquired by Harrah's in 1999. Caesars then joined forced with Harrah's in 2005, refurbishing the facility where needed. Caesars also moved the prestigious World Series of Poker to the casino that year.
Since then, the Rio has been untouched. And after more than a decade, the property is in great need of repair and updating; something Caesars has been unwilling (unable) to invest in.
The company spent more than two and half years, from January 2015, wrestling with Chapter 11 bankruptcy. Caesars clearly hasn't had the funds to perform the much needed renovations. In the meantime, Rio Las Vegas has been on a steady downhill path, currently ranked #118 on the list of TripAdvisor's best Las Vegas hotels. Few recent reviews have been kind, dropping the Vegas casino to a 3.5 out of 5 stars across nearly 20,000 reviews.
Roeben is certain his source is correct, and why shouldn't he be? His track record for breaking news of impending LV real estate acquisitions is quite impressive, as he was quick to point out on Vital Vegas Twitter:
"Please don't make us recite a list of … oh, all right: Broke sale of Riviera. Broke sale of SLS. Broke sale of Hard Rock. Broke sale of Las Vegas Club. Broke sale of Fontainebleau. Broke sale of Alon site. Rio rumor is solid. Get ready to be a believer"
If Sold, WSOP will Move to Caesars Forum
Roeben is also certain that, if and when the sale occurs, Caesars will not give up control of its invaluable WSOP poker tournament series. His source indicated a high probability that it will be moved the Caesars Forum Meeting Center, currently under construction in Las Vegas.

If that's true, there's a potential kink in the plan. That massive, $375 million convention center just broke ground in July, and isn't expected to open its doors until sometime in 2020. If a deal on the Rio closes prior to the 2019 WSOP next May-July, Caesars will have to find a temporary location for the world's most prestigious poker tournament series. Round and round she goes—where she stops, nobody knows…
#1 Canadian-Friendly Casino

Jackpotcity.com  is our editorial pick for your gaming needs. Currently offering an entire suite of casino games, as well as a wide range of Canadian deposit options, JackPotCity truly offers world-class gaming.