5 Feb
Live Streaming Online Casino Games on Twitch
Introduction to live Twitch online casino action streams.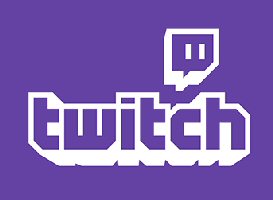 If you've been under a rock the last few years, you might not have heard of Twitch. Then again, with today's vast cellular networks, even if you were under a rock, you probably had internet access. It's truly amazing the advancements that have taken place in modern technology.
Twitch.tv is an online live streaming service that's become especially popular among the gaming community. It's the world's largest destination for broadcasting live video games, casinos game, poker games, etc. Every month, Twitch attracts around 1 million unique visitors, broadcasting more than 20 billion minutes worth of live-action gaming content.
It's astonishing how popular the activity has become. I remember about 5 years ago thinking people were out of their minds. My own nephew – 14 at the time – was a hardcore video gamer. Yet he spent 90% of his gaming time watching other people play games. "Why?" I asked. He said because it's fun. It's exciting. It's entertaining. Plus, he said he was learning how to play those games – new strategies, hidden locations, things like that. And, of course, he dreamed of becoming the "GOAT of Twitch streaming".
"What? You want to be a goat?" He had to explain to me that GOAT means "greatest of all time".
As crazy as I thought it was back then, I now understand it. Being a casino gamer, I've become interested in several live streamers of online casino games and poker games. It's actually fun watching some of these people play and strategize. Think of it as educational entertainment.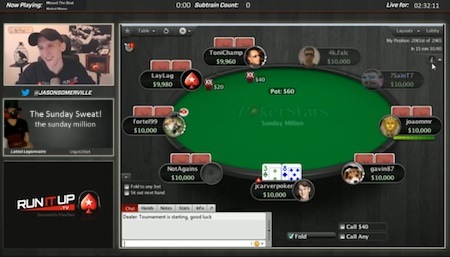 Not all of them are good, mind you. In fact, most are not. But a few streamers really do know how to put on a show. Some of the best poker players of our time – Jason Somerville (above), Greg Merson, David Sklansky, Jamie Staples, the list goes on – stream their online poker games (with a delay, of course), giving us average Joe's an inside look at how they play the game so well.
Maybe you're interested in how it works, and why they do it? More likely, you want to open your own Twitch streaming service and become just as successful. After all, the money these people make in sponsorship deals alone is mind-boggling. And if that's the case, you'll want to check out our introduction to…
Live Twitch Online Casino Action Streams
Anyone can be a Twitch streamer. Whether you draw a fan base, well… that's up to you. But there are a few things you'll need first.
Adequate Hardware

Streaming Software

Free Twitch Account
Minimum Recommended Hardware
You're going to need a decent computer to stream online casino games. The recommended minimum system requirements are:
Processor: Intel Core i5-4670 processor (or AMD equivalent)
RAM: 8GB
Operating System: Windows 7 / Mac OS X (or later)
These specs are pretty standard these days. If you bought a computer in the last few years, you're probably up to snuff. If not, look into a new computer or try upgrading your old one. And remember, these are minimum requirements – anything above will just make your stream better.
Depending on your budget, you may want to invest in a few accessories to boost video and audio quality. A graphics card is a good start. Most video gamers prefer a DirectX 10 or better, but for online casino and poker games, that's not really necessary. So long as the games you want to stream run smoothly on your PC, you're good to go.
You might want to consider a new webcam, like the Logitech HD Pro C920 (US-$55) or Logitech BRIO Ultra HD (US-$175). A good microphone helps too, but they can get pricey. The Blue Snowball iCE (US-$50) is a good budget option, or go fancy with a Blue Yeti (US-$120).
Last but certainly not least, how's your internet connection? To host live streams, you have to upload at a fast rate. A minimum upload speed of 3MB per second should be adequate, and most home WiFi services support it.
Twitch Streaming Software Options
To get the games from your screen onto the Twitch broadcast channel, you're going to need some type of game capture software to stream through. There are a lot of hardware options on the market, but you don't need that. Most of today's Twitch streaming gurus use one of two things:
Open Broadcast Software (OBS)

XSplit
OBS is a great option for new streamers, mostly because it's free. You can check it out at OBSProject, learn how to use it, and download the right version for your system (PC, Mac, Linux). Even veteran streamers still use it.
XSplit comes with a highly intuitive interface, making it a lot more user-friendly. However, it also comes with a monthly subscription fee. Premium membership will set you back $25 for 3 months, $60 for 1 year, or $150 for 3 years. Refer to the XSplit website for more info.
Either way, the setup process is about the same. You'll need to choose what window you're streaming from, adjust the layout (how the stream appears to your viewers), and then sync it to your Twitch account. This brings us to…
Signing Up a Free Twitch Account
This is the easy part. Setting up a Twitch account is absolutely free. Fill in your basic info, choose a username and password, and you're all set. Being a streamer, you'll want to take the extra step to choose an avatar and image banner, and write up a description that tells your viewers about you and what you'll be streaming.
Also, go into the menu and choose Settings > Channel & Video > Archive Broadcasts. This will set up temporary archiving of your streams so viewers can watch them anytime.
For additional information, I'll direct you to some great tutorial pages on Twitch that detail tips for getting started and using different operating systems. From there, you should be broadcasting Twitch online casino action streams in no time!
Twitch Beginner Broadcasting Guide: How to Broadcast Games on PC/Mac
#1 Canadian-Friendly Casino

Jackpotcity.com  is our editorial pick for your gaming needs. Currently offering an entire suite of casino games, as well as a wide range of Canadian deposit options, JackPotCity truly offers world-class gaming.