4 Oct
Reel Em In! Casino Fishing Slot Machines & Games
Description of fishing slot machines and games in WMS Gaming's extensive Reel Em In! series.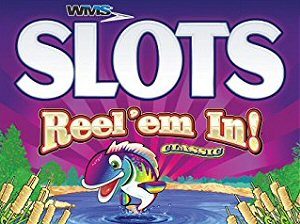 If you don't know what the term "angling" means, this page may not be for you. Otherwise, grab your rod and tackle, hike up your waders and get ready for some real money gaming excitement. The catch of the day is the complete Reel Em In! series of fishing slots and other games by WMS Gaming.
From its roots as a major pinball manufacturer dating back to the 1940's, WMS got into the casino slots business half a century later. In 1996, its very first slot machine debuted. They called it Reel Em In!, and it was a monumental success. (Not just because there was a software defect that allowed players to win without inserting money).
More Fishing Slot Machines and Games
After shoring up that little glitch, WMS went on to develop an entire series of Reel Em In! fishing games, catering to a mass fan base of anglers. They even produced a video poker game in the line, with a unique 'Go Fish' feature.
WMS is now under the parental wing of Scientific Games, but they're still at it. The list of casino fishing slots continues to grow with the latest Reel Em In! Lobster Potty launching in September 2017.
The Original Reel Em In! Slot
When WMS launched the original Reel Em In! slots game in 1996, it changed the dynamics of slot machines forever. This was the very first casino game to introduce a second-screen bonus. Today's players can't even imagine a casino world without second-screen bonuses. And all those cute little fishies on the reels had no trouble luring in players.
REI: Big Bass Bucks
Big Bass Bucks is another successful member of the REI group of angling games. WMS continued its focus on features, infusing this one with wilds and a trio of scatters to trigger its Fishing Contest and Big Bass Hole games.
REI: Catch the Big One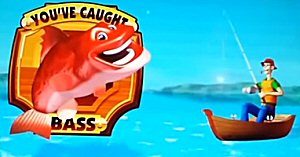 This edition is a 3 reel classic slot with the usual 7s and bars on the reels. Unlike most classic slots, this one offers free spins – but not in the way we're used to. In Catch the Big One, when free spins are activated, players are hoping to spin 3 symbols with a lure on them. Each time this happens, they get a chance to "catch the big one".
On the screen above, the fisherman tosses his lure in the water to angle for 7 big fish, each marked with a progressive prize. The fish go crazy for the lure as the screen slides up to view the fisherman pulling in his catch. It's usually worth anything from $25 up to a few thousand.
REI: Catch the Big One 2
I won't go into too much detail here, because it's essentially the same as part 1, with a few added graphical features and new species of fish. However, the biggest change is that REI: Catch The Big One 2 is available at online casinos, not just the land-based variety.
REI: Get Hooked
Another 3-reel version of REI, this one ups the ante by giving players access to wild multipliers, plus the usual fish-catching bonus game. Wild multipliers increase all winning combinations they're involved in by 3x. They are also cumulative, meaning a combination with 2 wilds will pay (3*3) 9x the payout.
REI: Triple Lunker
Same as above, (3 reels, 7 progressive bonus, 3x wild multiplier) with a slight alteration to graphics and cabinetry.
REI: Greatest Catch
Greatest Catch is a unique series of real money fishing games. It comes in three diverse themes that actually have nothing to do with angling. They include Gorilla Chief (safari animals), Jade Amulet (treasure hunting) and Leprechaun's World (clovers, pots of gold, etc). The only thing that makes these REI-related is that they offer the same fan-favorite fishing bonus game as the rest.
REI: Lobster Potty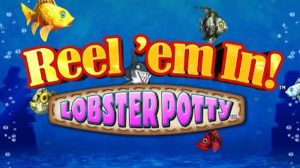 REI: Lobster Potty is the latest creation, released in September 2017. Technically, it's made by Barcrest, not WMS. However, both companies are owned by Scientific Games, so it's okay to cross patents here. They did this to incorporate Barcrest's famous Big Bet Mode on an REI slot. Essentially, the more you bet, the higher RTP (return to player) you get. Bet under $2 for a 94% RTP, $2+ for a 96% RTP, or enter Big Bet Mode for 5 linked spins and a 98-99% RTP.
REI: Supercast
This time, players get to choose their lures – the bigger the better! But they also have to pay for them. It comes in three bet ranges (50, 80 and 100 credit minimums), with each offering bigger opportunities to win.
Reel Em In! Poker
Released in 2003, REI: Poker is the only casino fishing game released by WMS that's not a slot machine. It's a standard 5-card draw video poker game with one very unique catch. Players can select the Go Fish! option at any time, before or during the draw, to replace one card with a new one. The player is shown 7 random cards, and can pick any one they wish to improve their hand. The payout for a winning hand isn't reduced for using the Go Fish! feature.
#1 Canadian-Friendly Casino

Jackpotcity.com  is our editorial pick for your gaming needs. Currently offering an entire suite of casino games, as well as a wide range of Canadian deposit options, JackPotCity truly offers world-class gaming.