11 Mar
Realistic Games Asks: Are You a Reel Gambler?
New Online Slots from Realistic Games: Reel Gambler Slot Review.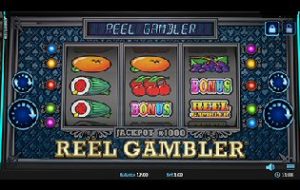 After nearly two decades in the business, iGaming content provider Realistic Games has put some impressive products on the market. In their latest addition, the company asks players of their member casinos, "Are you a Reel Gambler?"'
If that play on words wasn't enough to give it away (yes, it was a cheesy attempt, I know!), Realistic Games' newest release is called Reel Gambler. It's a classic 3-reel slot machine with the traditional 5-line pay structure. But as simple as it looks at a glance, there's so much more under the hood, including a 7-feature engine that's eager to rev.
On a side not, it would appear Realistic Games was so distracted by their focus on the development of Reel Gambler that they made a mistake in depicting its launch date. A news release announcing the game was issued on February 21, 2019. However, the game's info sheet says it's been online since March 21, 2018. Wrong month, wrong year…whoops!
Reel Gambler Slot Review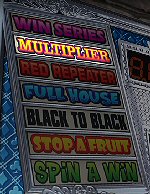 Reel Gambler has a super clean graphic interface and, like most 3×3 reel slots, depicts the majority of its payout information directly on the screen. In the top-right corner, we see the Reel Gambler logo is the highest paying trio of symbols, worth 200x the line stake. Next up is Bar symbols at 20x, then watermelons 10x, bells 5x, grapes 4x, oranges 3x and cherries 2x – a classic fruit machine.
Over in the top-left corner are 7 feature titles. Whenever three Bonus symbols appear on a line, it triggers the Feature randomizer. Each of the titles on the feature list will highlight in rotation until the player presses 'Start'. The highlighted feature is triggered.
Win Series: Awards a random, sequential number of winning spins.
Multiplier: Awards one guaranteed winning spin with a random multiplier scaling from 2x to 10x.
Red Repeater: Randomly selects cards from the deck. Each consecutive Red card delivers a progressively larger win. The game ends when a Black card appears.
Full House: The reels spin with just one randomly chosen symbol appearing on all reels. Player receives a prize for all 5 lines worth of wins.
Black To Black: Randomly selects cards from the deck. Each consecutive Black card delivers a progressively larger win. The game ends when a Red card appears.
Stop A Fruit: One random fruit symbol on the reels is selected, delivering the corresponding match-3 win for that symbol.
Spin A Win: The reels spin one time guaranteeing a win.
Reel Gambler's Gamble Feature
The Reel Gambler Slot has a unique gamble feature in which players can choose how much of their winnings they want to risk – none, any portion, or all. Take (gamble more) and Save (keep more) buttons are provided to move the winnings into the appropriate area. Players then choose one of 6 gamble features, with corresponding multipliers, to risk it on.
For example, you could choose Heart/Diamond (Red) or Club/Spade (Black), each having a 2x multiplier for a win. If you choose Red and the card that draws is red, you win 2x the gamble. If it's black, you lose. Gamble options offer a chance to risk it all (or some) for up to 12x payouts.
New Online Slots from Realistic Games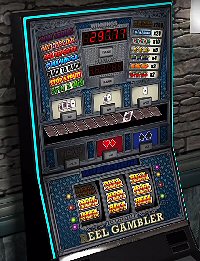 Realistic Games has been producing new online slots for nearly two decades now, dating back to their founding in 2002. Over the next ten years, they built games for third party suppliers. Then in 2012, they began building their own Realistic Games Library – aka ReGaL, for short. Since then, their platform has grown to 78 strong, including slot machines of all shapes and sizes, plus an assortment of popular 3D table games like blackjack, baccarat, and roulette.
Commercial Director Robert Lee was especially "thrilled to release" Reel Gambler late last month, noting that it's "our first game to use our brand new cabinet-style display, incorporating the very latest WebGL technology…[taking] the player to the heart of the action with numerous engaging and innovative features, with the opportunity to win bigger than ever."
#1 Canadian-Friendly Casino

Jackpotcity.com  is our editorial pick for your gaming needs. Currently offering an entire suite of casino games, as well as a wide range of Canadian deposit options, JackPotCity truly offers world-class gaming.