10 Aug
Canada's Best Live Poker Rooms Today
Top 5 Poker Rooms in Canada (that are Open in August 2021).
It wasn't all that long ago that all amateur and the professional poker players of the world were turning away from the live scene to compete online. Internet poker was all the rage. Cash games of all stakes and limits; tournaments as far as the virtual eye could see; guaranteed prize pools large enough to secure generations of wealth to come.
Now, the tides are turning back in the other direction. After more than a year of being all-but forced to play poker online, more and more people are craving the return to the physical felt. If you're among them, I've got some good news. Casinos all across Canada are re-opening their poker rooms.
Top 5 Poker Rooms in Canada (Open Aug. 2021)
We're going to take a quick look at Canada's best live poker rooms. Not just any poker rooms, but the ones you can visit today, in person, and compete face to face against other real poker players. For the record, only the provinces of Alberta and Saskatchewan have permitted the re-opening of poker tables in their casinos. Outside of these two locations, only one other poker room, Playground Poker Club in Kahnawake (located on tribal-owned lands), will be welcoming guests. It's not actually open as of writing, but it will be in less than 24 hours, which is why we've included it as our #3.  
Please be aware that this information is accurate at time of writing (August 10, 2021), and is subject to change thereafter. Be sure to double check current hours of operation before visiting any of these locations.
Choose a top-rated casino from the list below, or scroll to view them all in turn.
#1 Casino Regina – Regina, SK
| | |
| --- | --- |
| Location | 1800 Saskatchewan Drive, Regina, Saskatchewan |
| Casino Hours | 9am-4am, 7 days a week |
| Poker Room Hours | 12pm-4am, 7 days a week |
| Poker Tables | 9 tables; more added for larger tournaments |
| Cash Games | Yes, Texas Hold'em, Omaha and Dealer's Choice |
| Weekly Tournaments | Yes, every Tuesday and Wednesday @ 7pm |
| Major Tournaments | Yes, three major events held annually |
If this casino looks like a vintage stone structure with a long history, that's because it is. Built more than a century ago, Saskatchewan's Casino Regina was originally the home of Union Station, Regina's third train station, erected in 1911-12. It underwent a major expansion in 1931. The façade was renovated in Art Deco featuring Tyndall stone, with terrazzo flooring and marble support beams added inside. Eight long decades later, the station closed in 1991. Fortunately, it was deemed a national heritage site, preserving its existence.
Casino Regina didn't come into being until 1995, when investors spent $37 million to renovate the site once more. The casino opened the following year, on January 26, 1996. It's undergone a number of additional renovations since; one in 2001, another in 2009, and again in 2021, during the lockdown.
On June 20, 2021, Casino Regina re-opened its doors to a socially-deprived public. Hours of operation have been adjusted (9am–4am daily), along with a few other noteworthy feature changes. Masks are welcome, but no longer mandatory. The Casino Regina Poker Room has been "temporarily re-located" to the second floor. The Union Station Restaurant + Bar is open once more, and beverage service has resumed on the gaming floor.
Poker Room at Casino Regina
Casino Regina's poker room is absolutely breathtaking, featuring stunning stain-glass walls, spacious tables and comfortable seating for all. It's open from 12pm noon to 4am, seven days a week.
During normal business days, the room features 9 tables. Games include Texas Hold'em, Omaha and Dealer's Choice, in fixed limit, pot limit, no limit, and spread limit structures. Players can join a game as a walk-in, space permitting, or call ahead to reserve a spot on the waiting list. You can also reserve a table for a private game with friends.
Weekly tournaments are held every Tuesday and Wednesday. These tournaments start at 7pm sharp, with registration opening at 6pm. They are freezeout events, with variable structures and buy-ins that usually range from $50 to $150. Be sure to check out the schedule or call ahead for info on their upcoming weeklies.
Larger tournaments are played three times a year at Casino Regina. They are open to the general public, as well as professional poker players. Buy-ins start as low as $225 for low-level satellites, scaling up to $1,100 for direct buy-in. These major events include:
Station Poker Classic in March
Diamond Poker Classic in June
Harvest Poker Classic in November
For more information, you can visit Casino Regina Poker on the web, or contact the casino via email or phone. You can also call the poker room directly by dialing (306) 787-2950.
#2 Pure Casino Calgary – Calgary, AB
| | |
| --- | --- |
| Location | 1420 Meridian Road NE, Calgary, Alberta |
| Casino Hours | 9:30am-3am, 7 days a week |
| Poker Room Hours | 9:30am-3am, 7 days a week |
| Poker Tables | 10 tables |
| Cash Games | Yes, NL Hold'em, PL Omaha, Dealer's Choice |
| Weekly Tournaments | No, not at this time |
| Major Tournaments | No, not at this time |
Pure Casino Calgary first opened its door in May of 1997, proudly serving Alberta for more than two decades. In that time, the property has undergone two expansion, bringing its gaming floor to an impressive 57,000 square feet. Like all casino property across the Great White North, Pure Casino Calgary was forced to close its doors to the public in the Spring of 2020. However, it was also among the first to reopen in the Summer of 2021, welcoming guests back to the casino and poker room in mid-June. Masks are optional, not required.
Guests have access to a lot of features at Pure Casino – far more than a live poker room. The Meridian Central Station restaurant is open 9:30am-3am (same as the casino and poker room), serving up delicious cuisine with daily specials for breakfast, lunch and dinner. If you're looking to do something 'outside the box', Pure Casino's Virtual Golf Simulator is an experience unlike any other.
Poker Room at Pure Casino Calgary
The poker tables are dark and sleek, a vibrant contrast to the brightly lit, artfully design walls. The seats are equipped with thick, contoured cushions for ultimate comfort during long sessions. The live room features 10 tables in all, seating up to 9 players per table.
Players will always find a quick game of 1/2 NL Hold'em running on the cash tables. FL Hold'em and PL Omaha is usually on the menu, as well, so long as there are players willing to buy-in. The stakes rise in direct correlation with how busy the tables are. Get enough pros in the room, and you're likely to find 25/50 PLO at the busiest hours. Holdem and Omaha Bad Beat Jackpots are uncapped and always on the rise.
Daily and weekly tournaments, which were once staple of the poker room at Pure Casino Calgary, do not appear to be running at this time.
For more information, or to book a private table for you and your friends, please contact Pure Casino Calgary at (403) 248-9467.
#3 Playground Poker Club – Kahnawake, QC
| | |
| --- | --- |
| Location | 1500 Unit C Route 138, Kahnawake, QC |
| Casino Hours | N/A (no casino) |
| Poker Room Hours | 12pm-4am, 7 days a week |
| Poker Tables | Up to 20 cash tables open at any given time |
| Cash Games | Yes, Texas Hold'em and Omaha |
| Weekly Tournaments | No, not at this time |
| Major Tournaments | No, not at this time |
Playground Poker is perhaps the most famous of all poker rooms in Canada. Located just outside of Montreal in Kahnawake, Quebec, its grown immensely since it first opened in 2010. Unlike the other properties listed above, Playground is a cardroom, not a casino. You won't find any slot machines, blackjack tables or roulette wheels here. Playground Poker is just that – a playing ground for Canada's recreational and professional poker players.
Why would such a prestigious poker room receive #3 ranking on this list? That's a good question. I would love to place it in the #1 spot, except for one small problem. It's not actually open yet… I know, I know! This list is meant to include "Canada's Best Live Poker Room's Open Today". But the good news is, Playground will open it's doors less than 24 hours from now. Therefore, I felt it's inclusion was compulsory.
According to a press release issued earlier this week, "Poker Returns to Playground" at precisely 9am on Wednesday, August 11, 2021.
More importantly – Playground is the only live poker room open for business in the eastern half of the country! All other options are located in Alberta or Saskatchewan.
Poker Room at The Playground
The poker room at Playground is the largest in all of Canada, by far. It spans a massive 128,000 square feet, with 75 tables throughout. Upon re-opening, Playground will only host up to a maximum of 20 active tables at any given time. For the moment, masks are required in the building, and at the tables, for both staff and players. Masks may only be lowered while eating or drinking, which brings us to another well-known Playground perk. All players who are actively participating at Playgrounds cash tables are privy to free food and beverages.
Once the poker room re-opens, it will remain open on a 24-hour operating schedule. While organizers can't guarantee that the poker tables will remain open for months to come, they have promised to keep them open for a minimum of two weeks.
Playground will not be hosting any tournaments at this team. All tables will actively host Texas Hold'em and/or Omaha Hold'em poker games, with all the usual stakes and limits available. The $100k Bad Beat Jackpot and Omaha Bad Beat Jackpot are still intact and ripe for the winning. Players can join as walk-ins, or get on the waiting list by calling ahead at (450) 635-7653, or toll-free (855) MTL-POKER.
#4 River Cree Resort & Casino – Enoch, AB
| | |
| --- | --- |
| Location | 300 East Lapotac Boulevard, Enoch, Alberta |
| Casino Hours | 9:30am-3am, 7 days a week |
| Poker Room Hours | 11am-3am, 7 days a week |
| Poker Tables | 12 tables |
| Cash Games | Yes, NL Hold'em, FL Hold'em, PL Omaha, Dealer's Choice |
| Weekly Tournaments | No, not at this time |
| Major Tournaments | No, not at this time |
On October 6, 2006, the River Cree Resort & Casino became the very first aboriginal-owned casino in Alberta. Situated just outside of Edmonton, the Enoch Nation initially invested $178 million in the property. Over the years, it has grown to span 62,000 sq.ft. casino, welcoming guests to enjoy 1,100 gaming machines, 34 table games, and a separate 12-table poker room.
One of Canada's finest "destination" casinos that's not located on or near the US border, River Cree Casino attracts visitors from all around. Poker fans from northern B.C. make up a significant portion of the current card gaming traffic; a statistic spurred on by their westerly neighbor's hesitation to re-open live poker rooms. If it weren't for B.C.'s online poker room at PlayNow.com, odds are the tables would packed, and the waiting list backlogged. As it is, there's enough room to accommodate over 100 players at a time, making this and ideal location for all your in-person gaming needs.
Gambling isn't the only thing back on the table at the resort. River Cree has resumed its live events schedule, with regular  shows and concerts on the calendar through January 2023. All dining restrictions have been lifted, as well. The property's 10 restaurants and bars, including The Patio and Tap 25 Sports Bar, are all welcoming guests back. Masks are optional, but not required, for guests and employees alike.
Poker Room at River Cree Casino
With 12 tables and no seating restrictions, the poker room at River Cree is one of the largest on Canada's western end. As such, its teaming with activity these days, as more and more players are returning to the live scene. The demand for cash games is so high, in fact, that management recently elected to increase the supply of open cash tables by discontinuing any and all tournaments for the time begin. This includes the regularly schedule GPPS Series.
The River Cree Poker Team released this statement on August 1, 2021:
Hello Poker Players
Due to high demand of cash play we have decided to put our GPPS series and all other tournament play on hold effective August 1/2021. We will not be running any series events starting on August 1st and will dedicate our facility to cash games only for the time being. We will continue to run our Poker Bucks incentive for all cash game players which cycles every six months. We also are working on some exciting ideas and promotions in the coming months to create an exciting, fast paced Poker Hub in the Edmonton Area. We thank everyone for their continued patronage at the River Cree Poker Room.

Regards
River Cree Poker Team
As for cash games, 1/2 NL Hold'em and 1/2 to 2/5 PLO are pretty constant, while FL Hold'em and higher stakes PLO tables tend to run on the weekends.  Dealer's Choice games are also available. At any given time, the games that are running are dependent on demand. Walk-ins are welcome, or you can call ahead, or use the website, to join the waiting list by game type and stakes.
You can contact the River Cree Resort with with any questions by calling 780-484-CREE (2121) during business hours.
#5 Northern Lights Casino – Prince Albert, SK
Location
44 Marquis Rd W, Prince Albert, Saskatchewan
Casino Hours
Sun-Wed: 9am-3am
Thur-Sat: 9am-4am
Poker Room Hours
Mon-Wed: 5pm-1am
Thurs-Fri: 5pm-2am
Sat-Sun: 5pm-3am
Poker Tables
2 tables
Cash Games
Yes, Texas Hold'em and Omaha
Weekly Tournaments
No, not at this time
Major Tournaments
No, not at this time
Located in central Saskatchewan, Norther Lights Casino caters to visitors from all directions. At a little more than 41,000 sq.ft., it's more of a locals haunt than a destination casino. But that's not necessarily a bad thing. Sometimes, a locals casino is just what the doctor ordered. It's quaint, very well maintained, and the staff is always friendly and professional.
The casino features around 600 slot machines and about a dozen table games. They are all live dealer tables, not the electronic variety. Among them are two poker tables, four blackjack tables, roulette, Crazy 4 Poker, and a few other specialties like Chase the Flush and Phil Em Up.
You can grab a bite to eat at one of three dining options; North Star Restaurant, Charley Biggs', or the Deli & Bar. I recommend the North Star for its tasty variety and reasonable prices, but they're all pretty good options.
Poker Room at Northern Lights
Yes, it's a small poker room, just two tables back in a corner, just beyond the roulette wheel. But again, the locals casino vibe plays a positive role here. Most of the players are recreational types, giving experienced players a better shot at padding their bankroll.
As for game variety, there's always 1/2 NL Hold'em action to be had. The dealers are fantastic, always ready and willing to deal up a PL Omaha game when there's interest. It may not seem like much compared to southern Saskatchewan's Casino Regina, but it's easily the second best option in the province.
With so few tables, and no live poker action in nearby Manitoba, don't be surprised if the tables are full. You can call ahead for availability by dialing (306)-764-4777.
Party Poker Canada, the most trusted Canadian gaming destination, and our editor's pick for two years, now offers a wide variety of popular card games: from Texas Hold'em, to  Omaha, to 7 card stud, to Limit Hold'em and even casino games like blackjack. Play for fun, for free, or play for real, for real money that is ! Our editorial pick for 2023.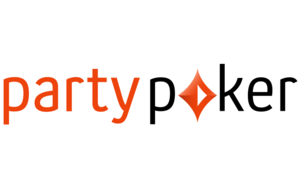 (Reminder to Gamble Responsibly)