17 Jul
Hussein Ensan wins 2019 WSOP, Livingston Out in 3rd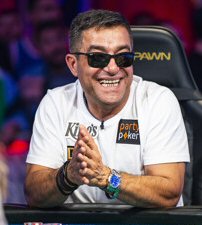 Canada's Alex Livingston out in 3rd; Hussein Ensan defeats Super Dario Sammartino to become the 2019 WSOP Champion.
The 50th Annual World Series of Poker has reached its end – in dramatic fashion, as always. Last night, from the Amazon room at the Rio in Las Vegas, Nevada, more than $25 million was awarded to the Main Event's final five. $10,000,000 of that went to the eventual winner, Hussein Ensan (right) for defeating "Super Dario" Sammartino if Italy in heads-up.
I'm happy to report Canada was represented in that elite pack. Alex Livingston of Halifax, NS ran supremely deep in the event, despite a precarious Day 6 that saw him return to the tables with only 9 big blinds in the bag. Livingston overcame the odds, rebuilt his stack, and ran it all the way to the final table.
Livingston Finishes in 3rd ($4,000,000)
Going deep in the WSOP Main Event is an incredible feat. Relatively few have ever done it once, so the fact that Alex Livingston has done it twice is truly phenomenal! The Canadian poker pro finished in 13th for $451,398 in the 2013 Main Event, and whittled his way far deeper last night to take the 3rd place prize of $4,000,000 in the 2019 rendition.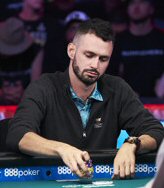 In approaching his final hand, Alex knew he had to make a move. He had about 41 million in front, looking like a juicy cut of steak to each of his opponents who were practically tied with more than 230 million a piece.
When he was dealt A♣ J♦ from the button, he took a deep breath and shoved it all in the middle. The German was quick to call, tabling a slightly better A♠ Q♦.
Both found a little help with pairs on the 6♦ J♥ Q♠ flop, but Hossein Ensan still had the lead, and would keep it right through the 2♠ turn and 9♦ river.
Livingston's elimination earned him $4,000,000, by far the largest cash of his live tournament career, and the undying respect of his fellow Canadian poker players. At the same time, it earned Ensan an advantage going into heads-up against the Italian, Dario Sammartino.
Hussein Ensan Becomes 2019 WSOP Champion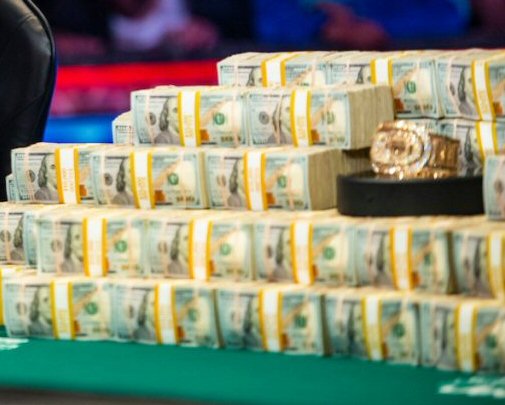 Following a 15 minute break to let the final two players calm their nerves – and get the massive stack of $10,000,000 in bundled cash neatly onto the table – heads-up action lasted approximately an hour and a half. In that time, after starting out 279.8M (Ensan) to 235M (Sammatino), the Italian was first to swipe the lead away, going up by nearly 2 to 1 in the count. But his German foe was quick to reverse his fortunes.
Hussein held a distinct lead for most of their heads-up battle before the final hand (#301) played out. He led 11 million on the button and got the call from Dario.
Flop: 10♠ 6♠ 2♦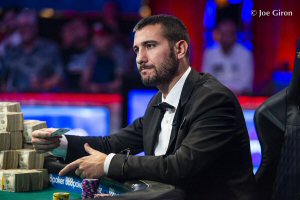 Dario checked and Hussein bet 15m, again getting the call.
Turn: 9♣
Not a peep was heard from the rails as the anticipation built. Sammartino checked once more, drawing a 33 million bet from the German as Dario completed the check-raise with an all-in shove. Ensan snap-called and it was game on!
Dario Sammartino: 8♠ 4♠
Hussein Ensan: K♥ K♣
With an inside straight and flush draw, Dario had enough outs to justify the move, but fate wasn't having it. The Q♣ sealed the deal. The Italian would finish runner up for an impressive $6,000,000 as Germany's Hussein Ensan took the $10,000,000 prize and the coveted WSOP Championship bracelet.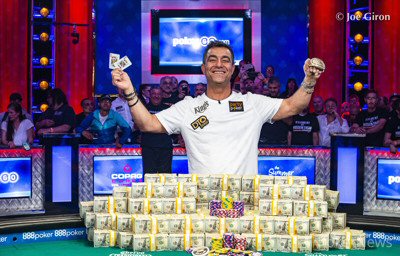 In his post-game interview, Ensan said of Super Dario Sammartino, "He's a big name and he's a very good player, but short-handed you need cards. You need hands and for sure luck. Luck and hands [were] on my side."
The historic 50th anniversary winner went on to call his victory an "unbelievable" moment. "It is the best feeling I have in all my life!"
Party Poker Canada, the most trusted Canadian gaming destination, and our editor's pick for two years, now offers a wide variety of popular card games: from Texas Hold'em, to  Omaha, to 7 card stud, to Limit Hold'em and even casino games like blackjack. Play for fun, for free, or play for real, for real money that is ! Our editorial pick for 2023.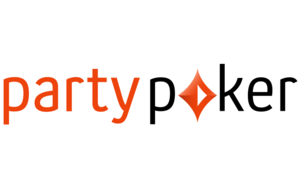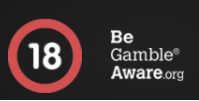 (Reminder to Gamble Responsibly)