5 Nov
Best Epic Poker Moments: Top Hits & Misses
Epic Live Poker: The Absentee Winner and One Big Mucking Disaster!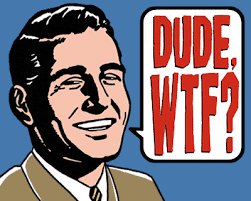 Everyone who's had any notable experience playing live poker has had one of those moments of complete mental vanquish. When for some inexplicable reason—more often than not, mind-numbing boredom plays a significant role—you do something completely inane. Betting out of order. Misreading a hand. Nodding off, only to wake with a start, scattering your neatly stacked chips. That one will get you some brusque looks.
These things happen, and they don't usually matter in the greater scheme of things—unless they happen to occur in the latter stages of the World Series of Poker Main Event. Just ask Andras Koroknai. He knows all about epic poker fails, following a real brain-blender moment that nearly cost him $1.6 million.
Andras Koroknai's Big Mucking Disaster
Picture it. The 2012 WSOP Main Event. A field of 6,958 has been whittled down to just under 100 remaining. Andras, from the small blind, shoves his whole stack—2 million into the pot. In the big blind is Canadian poker pro Gavin Smith, who mucks his hand. Koroknai, pleased with himself, mucks his cards to the dealer and leans in to rake the pot. And then it happens…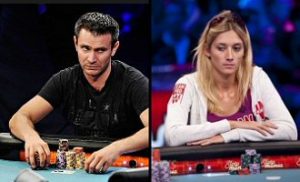 Koroknai has completely overlooked one tiny little detail; the French femme fatale, Gaelle Baumann. Under the gun, Baumann was the one to open the pot at 60,000. She's still active, and Andras just tossed his hand away.
Whoops!
Koroknai scrambled to retrieve his cards from the dealer, but only one of them could be confirmed. Smith had a good laugh over the epic poker fail as the tournament director arrived to sort things out. The TD decided—and confirmed via a phone call to head honcho Jack Effel—that Andras would only suffer a 60,000 chip loss for the critical lapse in judgment.
Lucky for him, too. Andras Koroknai went on to finish 6th in the 2010 WSOP Main Event, worth $1,640,902.
Thai Ha Becomes $30,000 Absentee Winner
While skill dominates, it never hurts to have good luck in poker. If anyone has it, it's Thai Ha of Vietnam. In January 2018, he was one of thousands of players who turned out for the PokerStars Caribbean Adventure. It was Day 2 of the PCA Main Event, and the sponsors decided to spice things up a bit with a special promotion.
A single table would be randomly drawn, and the players at that table would compete in a blind hand. The winner of the hand would receive a Platinum Pass valued at $30,000, including entry to the $25k PokerStars Players NLHE Championship in January 2019. The drawn table, #34, had seven players at it—six of which were present. Only Thai Ha was missing in action. Since the blind hand was a free promo, he was dealt in, too.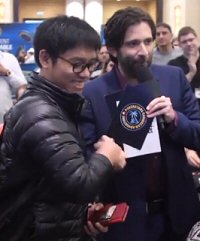 The hand played out, and Canada's Mike Leah was expected to win, having flopped top pair 10s that stayed strong throughout. Since Ha hadn't returned after the river, his second card was still hidden. His neighbor flipped it to verify Leah's sure win, only to discover Ha had rivered trip 8s—good for the win and the Platinum Pass.
Turns out, Ha had just returned before his winning hand was revealed. The crowd around his table was so packed he couldn't get back to his seat. As everyone gasped at the unexpected victory, he exclaimed in astonishment, "It's me!"
Epic Live Poker Moments
While a momentary lapse in reason, or drop of good fortune, isn't uncommon, occurrences like these are truly epic, and incredibly rare. It's not every day someone accidentally almost throws away over one and a half million dollars, or wins a prize package to multi-million dollar poker event on a BRB.
My congratulations go out to both Andras Koroknai for surviving what would have been the worst dunce-cap move in the history of the game, and to Thai Ha, who will be enjoying another trip to the Bahamas (all expenses paid, this time) in January 2019 for the $25k PS Player's Championship, where at least $8 Million is guaranteed.
Party Poker Canada, the most trusted Canadian gaming destination, and our editor's pick for two years, now offers a wide variety of popular card games: from Texas Hold'em, to  Omaha, to 7 card stud, to Limit Hold'em and even casino games like blackjack. Play for fun, for free, or play for real, for real money that is ! Our editorial pick for 2020.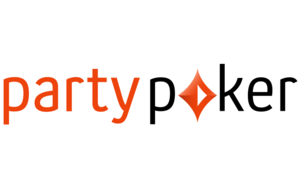 Canadian Poker Games