26 Oct
Bad Beat Poker: Worst of the Worst
The worst bad beat in poker history…

Ask any hardened player, and they'll agree—bad beats are the absolute worst thing in poker. They can be very expensive, taking a toll on your bankroll, as well as your emotional stability. Just when you thought you had the best possible can't-lose hand, the most unlikely of river cards swoops in to crush all your hopes and dreams, like taking a sledge hammer on to a Faberge egg.
Bad beats happen every day in poker. At casinos, online poker rooms, home games… everyone experiences them at some point. Likewise, every poker player has a story. And their story always constitutes the worst bad beat in the history of poker – at least, in their eyes.
Phil Hellmuth could spend weeks telling you about all the bad beats he's experienced. His propensity for a bad beat poker tilt is world famous. He detests any player that doesn't fold to him when he's clearly giving all the right signs that he has the winning hand. And when they don't fold—and when it comes back to bite him in the ass—he becomes the world's biggest poker brat (hence the nickname).
But having witnessed a great deal of bad beats in my day, thanks mostly to major events finally receiving the televised recognition they deserve, I do believe there's one bad beat that tops them all. It happened in 2010 at the World Series of Poker, in a hand between renowned poker pro's Matt Affleck and Jonathan Duhamel.
The Worst Bad Beat in Poker History
It happened on July 17, 2010; the final day before that year's elite November Nine were decided. There were just 15 players remaining in a field that began with 7,319 entries. The prize pool—$68,798,600. 747 players would take home cash in the event, but only the top 9 would earn a guaranteed million or more. Reserved for the first place winner was a staggering $8.9 million.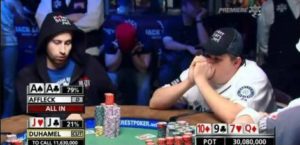 The hand started with a visibly bored Jonathan Duhamel looking down at J♥ J♣—a hand worth investing in when your stack is large and your attention span waning. He raised 575k, only to be met with a re-raise of 1.55 million from Matt Affleck, who was peeking down at A♠ A♣ on the button.
A few minutes later, long after everyone else had dropped out, the board showed 10♦ 9♣ 7♥ Q♦. By this time, there was already 18.45 million chips in the pot. Jonathan kept checking, and Affleck kept investing. And why shouldn't he? He was favored to win by 79%. But Duhamel had some outs to work with, so he kept making the calling.
Once again, Jonathan checked. Affleck, without hesitation, announced he's all-in, adding another 11.6 million to the pot. It took Duhamel a bit longer to decide this time, but he made the call.
The disappointment on his face when Affleck flipped pocket Aces was just as palpable as the excitement brewing within Matt as he rose from his seat, heart acing with anticipation.
If Affleck were to win this pot, he would be the dominant chip leader, in a strong position to make the November Nine, if not win the WSOP Championship altogether. It would also cripple Duhamel, leaving him short-stacked with about 8mil in front. But as you already know, that's not what happened…
With every railbird at the Rio on their felt, the biggest hand of the 2010 WSOP Main Event was unfolding. And then it happened… the dealer turned the river card, revealing an 8♦. Jonathan Duhamel made the straight. He won the 41.71 million pot.
Matt Affleck was crushed, head in hands, bent over the table, and all Duhamel could do was shake his head, smiling with astonishment.
Cheeks red, lip quivering, Matt held his baseball cap over his face for a moment to hide his heartbroken tears. He earned a well-deserved standing ovation from the crowd as he turned and left the table. It was, in this writer's opinion, the most devastating, gut-wrenching, 110% worst bad beat in poker history.
As you probably know, the win for Jonathan solidified his position as the far-superior chip leader. It led him through to the November Nine, and eventually aided in his victory as the 2010 WSOP Champion, worth $8,944,310 (minus gratuitous taxes, of course).
Want to see the sickest bad beat play out with your own eyes. Here's the video…
Party Poker Canada, the most trusted Canadian gaming destination, and our editor's pick for two years, now offers a wide variety of popular card games: from Texas Hold'em, to  Omaha, to 7 card stud, to Limit Hold'em and even casino games like blackjack. Play for fun, for free, or play for real, for real money that is ! Our editorial pick for 2023.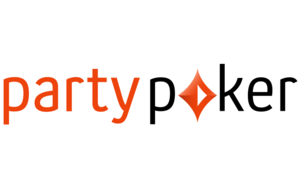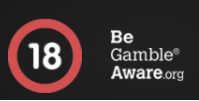 (Reminder to Gamble Responsibly)