12 Oct
888Poker God of the Arena $1M GTD
This Sunday, October 14, 2018 – 888Poker will host the $1,000,000 GTD God of the Arena Main Event.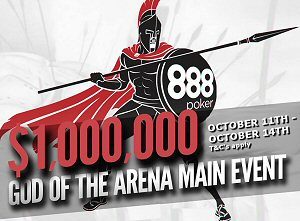 Everyone who is anyone in the online poker world (that means you, too!) should be gearing up for this Sunday's massive $1 Million GTD God of the Arena Main Event at 888Poker. Why such a massive prize pool? Because 888 has a lot to celebrate this weekend.
The lucrative series was designed to celebrate 888Poker's coinciding launch of progressive jackpot tournaments. These games are akin to bounty tournaments, but with a devastating twist that paints a massive target on the back of those who eliminate the most participants.
More on that in a moment… First, let's take a look at the million-dollar prize pool up for grabs this weekend.
God of the Arena Main Event
The online poker room kicked off its new God of the Arena (GOTA) series yesterday. The 12-event schedule includes preliminary tournaments with buy-ins ranging from $5.50 up to $320, and prize pools of $15k to $100k.
Today's events (Friday, Oct 12, 2018) include:
GOTA 8-Max – buy-in $109 – GTD $30,000

GOTA Mini-Max – buy-in $16.50 – GTD $20,000

GOTA 6-Max – buy-in $55 – GTD $15,000
The schedule looks identical on Saturday, October 13, except that the 6-Max game offers a much cheaper $5.50 buy-in, with the same $15k GTD on the table. That one is sure to draw a large crowd. Have a look at our previous small stakes tournaments strategy for tips on how to splash into that juicy prize pool.
Then on Sunday, the online poker room will host the final trio of tournaments in the series. They include another low-cost tournament, the GOTA main event, and a special 8-Max high roller.
GOTA 8-Max – buy-in $22 – GTD $30,000

GOTA Main Event – buy-in $55 – GTD $1,000,000

GOTA 8-Max High Roller – buy-in $320 – GTD $100,000
Progressive Jackpot Tournaments
Getting back to the reason for the big million-dollar poker tournament—888 began hosting progressive jackpot tournaments this week. The online poker operator is already famous for delivering some of the most popular bounty tournaments in the digital realm. Now, those tournaments are getting a lot more interesting.
The progressive factor applies to the bounty on each player's head. In the beginning, a portion of each buy-in becomes a player's bounty. That's normal. The difference comes when someone eliminates another player. Instead of receiving the eliminated player's full bounty as the prize, only a portion is awarded. The rest of the bounty is transferred to the head of the player who eliminated them.
In this way, the value of players who knock out others will grow progressively larger. By the time the final stages are reached, some participants may have enormous cash prizes on their head, making them a prime target for everyone else at their table. As these games continue to get more popular—and they will—I wouldn't be surprised to see occasions where the last man (or woman) standing earns more off the runner-up's bounty than they do off the 1st place prize.
Party Poker Canada, the most trusted Canadian gaming destination, and our editor's pick for two years, now offers a wide variety of popular card games: from Texas Hold'em, to  Omaha, to 7 card stud, to Limit Hold'em and even casino games like blackjack. Play for fun, for free, or play for real, for real money that is ! Our editorial pick for 2020.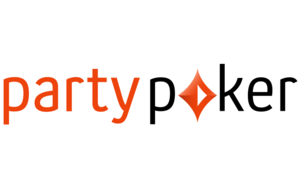 Canadian Poker Games