11 Mar
Best Skat Apps for Android and iOS
Reviewing the top Skat game app for iOS and Android devices.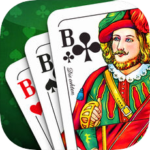 I have to admit, Skat isn't a game I was super familiar with until just recently. I had dabbled with it in the past, but it wasn't until I began writing this segment on Skat just a few weeks ago that I really came to appreciate the entertainment value of this complex card game. And taking the top rated Skat apps on Google Play and the Apple Store for extensive test runs was considerably more fun than I'd anticipated!
As usual, I've weeded out the not-so-great ones to offer you an unbiased, hands-on review of only the best Skat apps for each mobile operating system. That honor goes to Skat Palace!
Top Skat Game App – Skat Palace Review
Skat Palace, as it's known on the Apple iTunes, was created by a group of German developers known Spiele-Palast GmbH. At the Google Play Store, you'll find it under the name Skat (Free, no Ads), developed by the same company. Following the initial release in 2012, it's been updated regularly, including the most recent (to date) in January 2019.
This Skat mobile app has a lot of perks, namely the ability to create games with custom rules and invite your friends to play. So if you enjoy Kontra and Rekontra rules, or playing Ramsch when no one bids, you can. You also have the option of playing for "chips" (in-game currency) or just for fun (no score), so there's never any need to make an in-app purchase unless you really want to. And, as the Android Skat app's name implies, there's no ads!
Before we continue, let's take a quick look at the variable specs and download links for Skat Palace as published (and current at time of writing) on Google Play and the Apple Store.
Specifics
Android – Google Play
IOS – Apple iTunes
App Store Link
Skat (Free, no Ads) for Android
Skat Palace for iOS
Star Rating / Reviews
4.5 * / 38k+
4.8 * / 30+
Compatibility
Android 4+
IOS 8.0+
iPhone, iPad, iPod Touch
Content Rating
Everyone
12+yrs
File Size
28.74MB
80.3MB
Price

Free w/ Ads & In App Purchases of $0.99 – $344.99

Free w/ Ads & In App Purchases of $0.99 – $89.99
Note: Apple's age-restriction policies are more exhaustive than Google. Apple determines that, due to the use of coin-like tokens, the Skat Palace app contains "Frequent/Intense Simulated Gambling", therefore restricts its availability to ages 12+. Google Play Store, on the other hand, views the game as being a traditional card game, appropriate for all ages.
Mobile Skat App Features & Game Play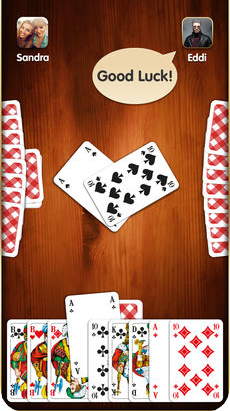 The first time you open the game, you'll be given the option of a quick tutorial. If you already know how to play Skat, you can skip this. Otherwise, let it run for a quick refresher. Beyond this, the menu offers a range of options, including League play, Competition, Shop (to buy chips), and Preferences to customize your experience, including language, sound settings, card deck, etc.
Getting started takes a few minutes. You'll start with a Newbie ranking and 20 chips with a 'No Premium' account. If you seriously enjoy the game, you can upgrade to a Premium account for additional features, like game stats, private chatting, and heightened use of common Skat rule variations. If you're just a fun-loving casual player, don't worry about upgrading.
Click on the Edit button next to your profile to choose your name (unless you want to be called Newbie), join a club and/or invite friends to play with. In order to play, you'll need to join a club. You can do this in the profile editor, or tap on Competition, then choose Club Search. Choose a club name from the list and press Apply. You can also create a club once you earn (or buy) 100 chips.
Once this is out of the way, you can start playing Skat to your heart's content. Game play is very straight forward, and the games run pretty quick. The only draw-back – if you see it as one – is that there's no option to play against computer players. You'll always be playing against real people. Fortunately, you'll be matched against players of your own rank, or slightly above, to assist in improving your Skat game as you go.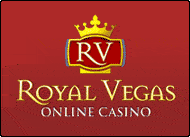 Royal Vegas offers a wide range of casual card games for fun or real money. Everything from keno, bingo and scratch cards, to even blackjack and texas hold'em. Safe, and fun.