31 Jan
Hearts+ App for iPhone and iPad
Review of Hearts+ Game for iOS, the highest rated Hearts mobile app on the Apple iStore.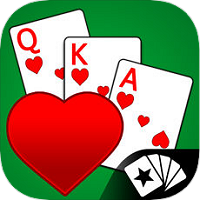 Hearts is one of the world oldest and most popular card games. Here in Canada, it continues to occupy the tables of friends/family game nights all across the country. And as so many of today's trivial pleasures have, it's even been re-imagined as a digital game for mobile smartphones and tablets.
Today, we'll take a closer look at what the iOS-running masses have chosen as their absolute favorite Hearts app. It's called Hearts+ and it's been around for a few years now, attracting hundreds of thousands of downloads and enough feedback to incite frequent updates. So let's see what so many players are raving about, and if it really lives up to the hype.
Free Hearts+ Mobile App for iOS
Hearts+ is a mobile card game for iPhone, iPad and iPod Touch—any device running on iOS 9.3 or above. It was developed by the creative team at A Star Software LLC, a digital gaming firm that specializes in transforming the world's most popular card games into mobile reproductions (Euchre, Spades, Solitaire, etc.)
Before we get any further, let's briefly look over the game's specifications, as provided by the Apple App Store, (current at time of writing):
Popularity (Stars): 4.8 / 5 (25k+ ratings)
Compatibility: iOS 9.3+ on iPhone, iPad, and iPod Touch
Age Rating: 4+
File Size: 106.3MB
Price: Free w/ in-app purchases (optional)
25 Tokens – $0.99
100 Tokens – $2.99
500 Tokens – $9.99
Mobile (iOS) Hearts+ Features
When a global pastime is transformed to a digital interpretation, features mean everything. This mobile Hearts app seems to excel in that department. It's graphically stunning with sharp, vibrant images. The UI is quick, stable and user friendly.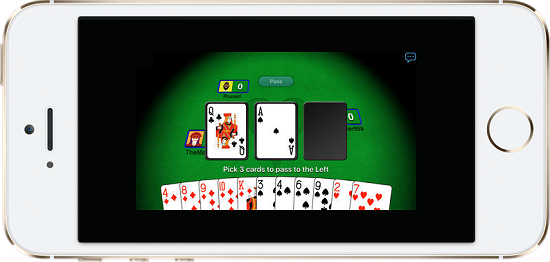 One of its most attractive features is the option to play at your own pace against AI computer players of variable skill, or in online multi-player mode. This game is easily popular enough to ensure endless action at all hours against countless players from all over the world, or you can choose to play private tables against your friends.
Other handy features include automatic game saving, a quick but effective tutorial for beginners, and progressive achievements to make players feel like their actually accomplishing something—not just passing time playing games on their iPhone or iPad.
Review – Hearts+ Card Game for iPhone / iPad
Now you know what the mobile Hearts+ game has to offer, let's talk about how good it really is. I've spent a good deal of time playing this title, and for the most part, I really enjoy it. It's got almost everything a good home game should have, aside from a hardwood table and chairs.
One thing I've found rather annoying is that selecting a difficulty for AI opponents doesn't necessarily mean altering their knowledge of strategic game play. Sure, they make slightly better decisions on hard mode, but for the most part, it seems the game just makes it harder for the human player to win by dealing them a terrible hand. It seems the bot that's passing me cards always has the Queen of Spades, and never hesitates to pass it on. It's not just me, either. Check out the reviews on the App Store – I'm not the only player to notice this.
On the bright side, as someone who's played Hearts tournaments for cash, I can appreciate that the Hearts+ app for iPhone and iPad is an excellent means of improving your game. If you're just learning how to play Hearts, or practicing an effective Hearts strategy, this app will definitely help. If you have an Android smartphone or tablet, you may also want to read our review of Hearts+ for Android.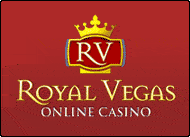 Royal Vegas Canada offers an interesting palette of specialty games for fun or real money. Everything from Texas Hold'em, dice games, Omaha, Keno, 7 card stud, to craps, blackjack and slots. Safe, and fun.