30 Jan
Hearts + Card Game App for Android
Review of Hearts + App for Android mobile devices.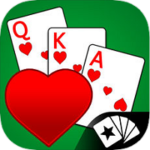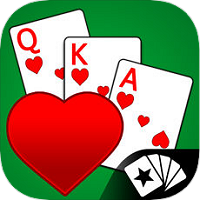 A quick search of the Google Play App Store reveals more than 50 ways to play Hearts on Android smartphones and tablets. Of those with 1k+ installs, they range in popularity from 2.8 to 4.6 stars. Most are free; some are not. With so many to choose from, most of us will all do the same thing – install the first one on the list. After all, it is the highest rated free app among them.
The question is, what makes this game so popular; so preferable among the masses? More than half a million people have installed it, and over 8,000 were passionate enough about their experience to review it. Is it worthy of such praise? Find out now in our review of the Hearts + card game app for Android.
Free Hearts + Mobile App for Android
Hearts + is the brainchild of A-Star Software LLC, a small US firm specializing in the digital production of classic card games. Their other creations include Canadian favorites like Euchre and Spades. They're an attentive team, publishing frequent updates based on user feedback.
Before we get into features and game play, let's have a quick look at the current specs, provided on the Google Play Store:
Popularity (Stars): 4.6 / 5 (8k+ ratings)
Compatibility: Android 4.4+
Age Rating: Everyone
File Size: 73MB
Price: Free w/ in-app purchases (optional)
25 Tokens – $0.99
100 Tokens – $2.99
500 Tokens – $9.99
Mobile (Android) Hearts + Features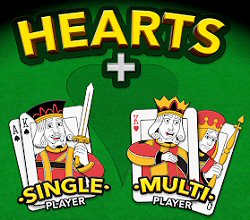 Hearts isn't a complicated game, but when you're playing in the digital space, there are several features you simply can't do without. The developers of Hearts + hit on all these points, providing a single-player mode, as well as online multi-player functionality to compete against friends or everyone else across the globe.
There's a quick tutorial to help new players along, and a 'Jack of Diamonds' variant for more experienced players. In single-player mode, you'll come to appreciate the auto-save feature when life comes along to interrupt your game just as you decide to shoot the moon.
Computer opponents can be set to varying degrees of difficulty, and a wide range of Achievements ensure players always have a goal to work towards as they play.
Review – Hearts + Card Game for Android
How well do all those features work? I'll admit, I was impressed, for the most part. As much as I like the diversity of playing against real people, if not actual friends, the computer bots quickly became one of my favorite features. Setting them to easy makes this a perfect platform for learning how to play Hearts, and building your confidence since you're likely to win every game. And for veterans like myself, it's a great way to practice and improve the efficacy of a Hearts strategy—to an extent.
It's not just the intelligence of the AI bots that is adjusted. The game seems to deal impossible hands in the hardest difficulty mode. Expect to be passed the Queen of Spades every single time, and if there's one card out there that will ruin your game, that's the one that will be led next. These AI players aren't just good, they are psychic! In that regard, it's not very realistic. Unless you want to test your ability to react to worst-case scenarios, you're better off playing normal mode, where things are truly randomized.
Otherwise, this is an excellent Hearts card game app. The graphics are crisp, clean and vibrant. Game play is smooth. I would definitely recommend the Hearts + app for Android. If you have an iPhone or iPad, you may also want to read our review of Hearts+ for iOS.
Popular Canadian Card Games

Jackpotcity.com  is our editorial pick for your gaming needs. Currently offering an entire suite of casino games, as well as a wide range of Canadian deposit options, JackPotCity truly offers world-class gaming.