19 Apr
Panel Talks eSports Gambling at ESI Digital
Highlights and Hurdles for Evolution of eSports Betting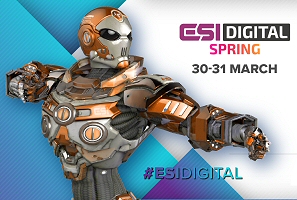 In March, upwards of 500 industry heads, experts and analysts from all over the globe logged on to partake in the live Esports Insider Digital Spring event. Leading one of the most highly anticipated panels of the year was Adam Weinstein, CEO of ThriveFantasy, who was joined by a number of esteemed colleagues in hosting, "Letting it Ride on eSports: How Gambling on eSports is Evolving"
The panel, which took place online Tuesday, March 30, detailed a number of factors impacting the electronic sports industry, both positive and negative. One of the most poignant topics was that of gambling, and how the growing number of bettors, and eligible betting markets, are driving growth. Both highlights and hurdles were the subject of more than 16 hours worth of live content.
Letting it Ride on eSports: Meet the Panel
The ESI Digital panel included a host of leading experts and industry executives. The live event included the following host of panelists:
Adam Weinstein – Founder and CEO of DFS platform ThriveFantasy
William Collins – a Co-Founder of eSports analytics company Team Genji
Sean Sullivan – Partner with the law firm Davis Wright Tremaine, LLP
Adam Kling – CEO of eSports monetization platform FYX Gaming
Dr. Brett Abaranel – Director of Research for the UNLV Int'l Gaming Institute, University of Nevada, Las Vegas
#1 eSports Betting Issue: Truth in Data Analytics
The emphasis of the entire eSports panel was put on the gambling side of the business, and how eSports betting is emerging as a primary source of growth for the industry. This avenue branched out in various influential topics, including revenue drivers, community impacts, and potential obstacles. As the discussion got underway, attention quickly fell on the topic of truth and transparency in game-creator data.
With traditional sports, there is no question over the data, because the events take place in real, physical form. We can see how fast a runner is running. We don't have to rely on a digital timer to tell us the time and speed. We can go back and watch the replay, and time it ourselves. In eSports, some things are easily verifiable, and some are not. Gambling operators rely heavily on the data and statistics fed to them by the game's creators. Thus, the question is, how much can gambling operators trust that the data coming from the game-creator is accurate and honest?
Vegas oddsmakers have sports lines down to an exact science, but eSports is still a budding market. If the betting websites can't trust the information they're getting, they can't set accurate lines based on true probabilities, which translates to a very high-risk business.
Evolution of eSports: Building on a Blockchain
FYX Gaming is working to shore up this black hole in the system. CEO Adam Kling spoke of his company's efforts to merge blockchain technology with eSports game development. He believes that by building games on a blockchain, the industry can harness a "shared database of truth", thereby eliminating the concern for integrity and accuracy in game and player data.
The safety, security and trustworthy nature of a transparent environment would allow the eSports betting market to cater to all types of customers, including the ever-critical presence of big money bettors, spurred by a provably fair market in which the data they see, and inevitably bet on, is populated with genuine stats.
"I think the big value that blockchain offers is that all of these games can utilize what is essentially a shared database of truth," Kling elaborated. "When we think about the future of esports and gambling there's an incredible incentive to cheat, and blockchain is going to keep people honest."
Kling also believes blockchain and digital currency can help the eSports gambling industry evolve into a more efficient market worldwide. Monetization is a big concern for global businesses. Cryptocurrencies can resolve a lot of these issues, helping everyone from small gaming studios and independent developers, to bettors looking to place a wager on an online or mobile eSports betting platform.
Mass Popularity of eSports in China
The Chinese market was another major topic of discussion at ESI Digitla Spring, and rightly so, seeing as China played host to the live event. While many of the panelists joined the conference via live stream, much of the audience was on hand, watching the event unravel in person. The very first discussion of Day One evolved around Chinese eSports teams and brands, and how they've each fared in domestic and international landscapes.
Bo Shen, the VP of International Expansion and Innovation at RNG Esports, explicated the significant popularity of eSports entertainment, compared to traditional sporting events in the country. "Traditional sports in China is very weak compared to other countries," said Shen. "But China developed esports so quickly to fill this void."
Trinity Wu, Head of Overseas Marketing for LGD Gaming, reciprocated that position. Wu highlighted the country's remarkable passion for gaming, especially among the Gen-Z demographic, pin-pointing this as a major catalyst for eSports growth in China.
Stijn Jacobs, Head of Strategy for Insightful Consulting, weighed in with similar sentiment, speaking of the strong and immediate interest Chinese firms have taken in sponsoring eSports teams.
and also mentioned that from this growing popularity, Chinese organisations have started to gain traction internationally. As a result, more brands are looking towards sponsoring esports teams in the region.
"What we see in the figures is that viewership is huge in China," said Jacobs. "Teams dominate the preferences of the Chinese population. If you look at every LoL competition, the Chinese audience is dominating. They dominate every other audience. So for brands entering the Chinese market, it's a way for them to reach teams outside of China as well."