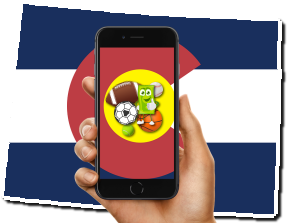 The gaming scene in Colorado was flipped upside down in May 2020 when the first CO online sports betting sites went live. It wasn't the full-spectrum iGaming legislation many citizens of the Centennial State were hoping for (online casino and poker games remain illegal), but it's a colossal step into modernization, and one countless sports fans were thrilled to see come to fruition.
The legalization of any form of online gambling is something adult Coloradans have anxiously awaited for a very long time. Aside from the flaccid laws of long-lost pioneer days, the state's gambling history isn't very extensive. Horse racing and lotteries were the only acceptable form of gambling until the 1990s, when very limited casino gaming was approved. Even the 2019 sports betting law was narrowly passed. But pass it did, and finally, here we are, legally experiencing a pastime much of the world has enjoyed for decades.
To date, there are 11 retail locations and 15 online sportsbooks in Colorado, all operating under the strict regulatory guidelines of the Colorado Division of Gaming (CDoG). This website is dedicated to providing comprehensive, unbiased details about Colorado's licensed online gambling operators, and everything interested bettors need to know about the state's burgeoning market.
FAQ: You've Got Questions – We've Got Answers
Live and online sports gambling laws are very new here. If you're reading this now, odds are it's because you're looking to gain a better understanding of these nascent laws, and what citizens of Colorado are and are not capable of wagering on over the internet – in a legal sense, of course.
International gambling websites have been peddling their black-market wares to US citizens for more than two decades now. But as most Americans have come to learn, unauthorized online gambling isn't just illegal, it's unsafe, it's unregulated, and it presents a far greater risk than the actual odds of most gambling activities.
That being, said, we're going to kick off this section with a quick FAQ answering the five most common questions from Colorado's novice iGamers.
Quick Q&A
Is it really legal to gamble online? Yes. Colorado's licensed and regulated online gambling websites are 100% legal for "eligible" users.

Who is "eligible" to gamble online in CO? Anyone of legal gambling age (21+) that is physically located in the state of Colorado, and whose name does not appear on the Colorado iGaming Self-Exclusion list, is eligible to gamble online.

What forms of online gambling are legal in Colorado? Online sports betting and horse race betting.

How secure are CO's gambling websites? Every sports betting site regulated by the CDoG is just as safe and secure as any other monetary-based online activity (online banking, online shopping, etc.) Being state regulated, the security measures upheld are the same as those maintained by government websites.

Are all CO online betting sites the same? No. Every operator has its own unique qualities and perks. Some offer a greater variety of sports, or larger variety of odds and lines. Some have better promotional offers, or lower wagering requirements. Having researched them all thoroughly, we generally recommend BetRivers Sportsbook, but we also encourage you to explore this website and discover for yourself what suits you best.

I don't understand the odds. What's a "moneyline"? Not to worry. Our Quick and Easy Tutorial on Moneyline Odds

, including US/UK/EU odds and conversions, explains everything.
Looking for more information? See our complete iGaming Q&A fact sheet here:
CDoG Licensed Online Sportsbook Operators
With new retail and online sports betting laws on the books, the Colorado Division of Gaming (CDoG) has been busier in recent months than they have been in since the turn of the millennium. When sports betting was first legalized – along with the ability to do so over the internet – the department was tasked with scripting a detailed regulatory framework, as well as reviewing the license applications, investigating financial resources, and running background checks on all operators and vendors interested in participating in the market.
The following is a list of all iGaming operators that have been approved for a license to host online gambling services in Colorado.
The Do's & Don'ts of Colorado Gambling Laws
The recent legalization of new gambling verticals has opened a whole new door for risk-taking Coloradans. As of May 2020, sports betting – a form of gaming that had been banned (outside Nevada) by the federal government for more than 25 years – is now an accepted, regulated, and wholly legal option in the Centennial State. Not only is it newly legal, it can be done in person, or over the world wide web. But there are restrictions you need to be aware of.
First and foremost, sports betting is only legal in Colorado when conducted at one of the state's authorized land-based or online sportsbooks. You can't simply walk into the local bar and place bets with Bouncer Bill the Bookie. Retail bookmakers must be located on the property of a licensed gaming operator. Colorado's online gambling laws require web-based sportsbooks to partner with a land-based gaming license holder to receive approval from state regulators. Wagering with any unlicensed, unauthorized bookmaker is still illegal.
As for other types of gambling legal in Colorado, you'll find dozens of land-based casinos, but none in the virtual realm. The same goes for poker rooms. They are welcome to operate in a licensed gaming hall, but not over the internet. The Colorado Lottery, as well, can be played in person, but not online.
Here's a quick breakdown of Colorado's legal gambling activities, and how/where you can enjoy them.
| | |
| --- | --- |
| Legal Gambling On Land | Legal Gambling Online |
| | |
Top CO Online Sports Betting Sites
Citizens of the Centennial State are not lacking for variety in the interactive booking market. After only a few months of legality, there are already 15 online sports books in Colorado. Every one of them is vying for your loyal membership. All you have to do is compare the qualities of each operator to decide which one best suits your needs and wants. For example, they all offer wagers on sporting events, but only some went the extra mile to incorporate things like horse race betting and eSports. Whether those efforts impact your decision depends entirely on where your betting interests lie. With that in mind, we've scripted comparisons by the following qualitative features:
Having spent an extraordinary amount of time researching these qualities, we're recommending Bet Rivers CO as our favorite brand, for a number of reasons. That doesn't necessarily mean Bet Rivers is the right choice for you, but if your preferences align with the featured qualities on our lists, it just might be a perfect fit.
What stands out the most about BetRivers Sportsbook is its level of experience in the US iGaming market. PA BetRivers has been online since 2019. Its sister-site, PlaySugarHouse, has been operating in New Jersey since 2016. Two years later, it was the first to launch an NJ online sportsbook; the first legal online sportsbook in the United States, in fact, launching almost immediately after it became legal to do so.
We were also impressed with Bet Rivers' diversity in betting options and payment methods (including PayPal), live streaming of select games, and a never-ending stream of player-choice bonuses. The welcome package tops any other in the market, matching your first deposit 100% up to $250, with just 1x wagering requirements. From there, the loyalty program awards points for all wagers made. Those points are a like a virtual currency for the site's Bonus Store. Players use them to buy things like free bets, profit boosts, and more.
Learn more:
No Legal CO Online Casinos or Poker Apps – Yet!
As we've already stated, Colorado stuck to its decades-long "limited gaming" policy when scripting regulations for live and online sports betting. Although it's the state's 30+ casinos that have the right to launch such operations, they cannot include casino or poker games in their digital offerings. If history has taught us anything, it's that the great people of Colorado prefer to take a slow, gradual approach to gaming expansion.
The good news here? Internet casinos and poker rooms are likely to join CO online sports betting operators in the eventual future. Theoretically speaking, it could be sooner than later. So far, sports betting is making up for the inevitable loss in gaming revenue, brought on by the crazy events of 2020. The state's mandatory closure of casinos from mid-March to mid-June put some of them right out of business; thus costing the government millions in tax dollars. Sports betting has provided a much needed supplement for the tax coffers. Every month, the revenue stream grows larger. But it will eventually plateau; most likely as the NFL season comes to an end. When that happens, it may not be long before leaders consider the benefits of expanding into "limited" online casino gaming.
We'll be keeping a close eye on this situation. Stay tuned for updates… 
Disclaimer – The information provided on this website is meant for educational purposes only. We will not be held liable for any irresponsible / illegal activity on your part.