27 Oct
Colorado Online Racebooks Reviewed
Licensed operators of online horse race betting in Colorado.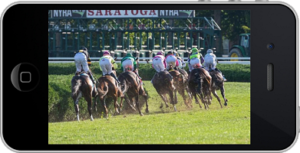 When the lawmakers of Colorado legalized sports betting, they took extra steps to ensure the imminent growth of the market. One such step was granting Coloradans the option to place their sports bets over the internet, by way of traditional computers or mobile devices. In doing so, they also elected to extend the already legal act of horse race betting to the digital realm.
To date, fifteen of the state's land-based casinos have elected to apply (and pay for) an online gaming license. Of those fifteen, four have taken the extra step to launch Colorado online racebooks. In the following context, you'll learn a bit more about these operators, and what they have to offer their virtual members.
Online Horse Race Betting in Colorado
If you've had a glance at out timeline of Colorado gambling history, you know that horse racing was the very first form of gambling legalized in the Centennial State. It happened more than seven decades ago, in 1948. Greyhound racing was also legalized at that time, but was later outlawed in 2014.
Upon approval, multiple race tracks were built, and when the first races were held in 1949, massive crowds turned out to place their bets. As the years went by, more forms of gambling were adopted into law. Of particular importance was the limited gaming act, which brought the first commercial casinos to Colorado. This was a major turning point for racetracks, which were quick to install slot machines and table games.
More people showed up at the track to play the slots, or toss chips at the blackjack tables, but fewer and fewer numbers were betting on the ponies. Why bother, when there's so much more gambling entertainment available indoors? It's logically and conceptually feasible that the approval of online horse race betting is intentionally giving gamblers a more convenient way to bet on horse racing – alongside sports betting – without the distraction of casino games.
Four Colorado Online Racebooks
There are currently four online racebooks operating under the regulatory guidance of the Colorado Division of Gaming (CDoG), in conjunction with the Colorado Racing Commission (CRC). These are the operators that were approved for an online gaming license in the state, and chose to extend their services beyond sports betting, to horse race betting. They include:
DraftKings Sports (Closed?)
FanDuel Sports
Monarch Black Hawk
SBK CO
Let's take a closer look…
DraftKings CO Horse Race Betting – CLOSED?
UPDATE: DraftKings Colorado no longer seems to support horse race betting. Aside from old news posts, all links to 'Racebook' and/or 'Horse Racing' have disappeared from the website.
FanDuel Racing CO
FanDuel's online racebook offers virtual OTB anytime, anywhere – within Colorado, that is. If races are happening in the world, you can bet on them here. The racebook covers 29 of the largest US and international tracks, with odds on thoroughbred, quarter horse and harness racing.
The website has a lot to offer new and experienced racebook fans. It offers an information sheet for novice bettors, tips on the day's best races, and live streaming of all the big events from around the world. Betting on the FanDule Racing 'Track of the Day' grants a 10% profit boost on Win bets. First-time race bettors receive a $5 free bet for their first deposit of $50 or more.
Monarch Black Hawk Horsebook
The BetMonarch app offers a sportsbook and racebook for mobile users, and mobile users only. The betmonarch website is just there for show, detailing what you can expect to find in the app. For race bettors, the BetMonarch Horsebook offers all the usual bets – Win, Place, and Show bets, Daily Doubles, Quinella, Exactas, Trifectas, and Pick 3/4/5/6 wagers.
SBK CO Racebook
SBK is another Colorado mobile sportsbook that took the app-only approach to iGaming. Within the app, you'll first need to tap the Browse button. If it's a big race day, odds are racing will be featured at the very top. If not, scroll down through the alphabetical list until you see Horse Racing, then tap it. Here, you can choose between popular races, today's races, or scroll through all 23 SBK-supported racecourses. Limitations on betting include only Win and Top 3 (Win-Place-Show) wagers.