10 Sep
Las Vegas Strip History
How a lone desert highway became the Las Vegas Strip.

In 1930, long before there was ever a road named Las Vegas Boulevard or an interstate highway connecting Southern Nevada to Los Angeles, local entrepreneur Frank Detra had a visionary idea. With his wife Angela, he would buy vacant land just north of what's now the Fashion Show Mall and build a private nightclub called the Pair-O-Dice.

Featuring a homey atmosphere, the club would offer Italian meals and live music to attract visitors coming up to see Boulder Dam via U.S. Route 91 from California. And to make sure they spent their money before reaching the entertainment quarter downtown, there would be illegal gambling and bootleg booze, too. Thus begins the unique and sorted tale of…
The History of the Las Vegas Strip
For eight years, Frank and Angela did quite well with their Pair-O-Dice Club—so well that in 1938, Guy McAfee, a former vice squad officer from Los Angeles, took an interest in the property. He bought them out, renovated the club to make gambling its top priority and renamed it the "91 Club." Jokingly, he would compare the lone desert highway that ran past his door to Hollywood's famous Sunset Strip. The label stuck, and the seven-mile stretch of the L.A. Highway leading into Las Vegas has been known as "The Strip" ever since.
Early Development
Initially, the only competition on "The Strip" came from the Red Rooster, a smaller watering hole located a mile south on the highway and the first club that motorists coming into town would see. Then, in 1940, California hotel developer Thomas Hull visited Southern Nevada looking for a place to build his next El Rancho Resort, and local businessmen Bob Griffith and James "Big Jim" Cashman convinced him the best location would be outside the city limits, where land was cheap, taxes were lower and water rights were not under dispute.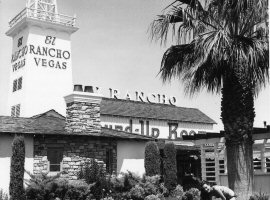 Hull purchased 133 acres at the corner of Highway 91 and San Francisco Street (now Sahara Avenue) for $150 an acre. The woman he bought the land from believed it was "worthless," but on April 3, 1941, the Strip's first true resort-casino opened there, with 40 cottages for lodging guests and a gambling hall for craps, blackjack and roulette.
About that same time, a Texas cinema-magnate named R. E. Griffith was also scouting locations for a new hotel. When he saw the skyrocketing value of the El Rancho, he decided to purchase McAfee's 91 Club, paying $35,000 for the 35-acre property. This became to site of a Western-themed resort the Last Frontier, which opened on October 30, 1942—a low-rise hotel with high ceilings, a huge fireplace and a swimming pool out front where it could be see from the highway like a mirage beckoning visitors.
The Post-War Boom
A shortage of construction materials during wartime brought to growth of The Strip to a temporary halt. But just as soon as World War II began drawing to a close, a mob-connected guest of the El Rancho named Benjamin "Bugsy" Siegel decided to get in on the action. He convinced his bosses back East to put up $1 million to buy an extravagant but stalled project on The Strip—the Flamingo Hotel & Casino.
When completed in December 1946, the new resort featured a golf course, riding stables, a four-story hotel, a three-tier waterfall, palm trees and a European-style casino. It also offered first-class entertainment in its massive showroom, such as Jimmy Durante, George Jessel and Xavier Cougat. Of course, when the property lost money initially due to Bugsy's extravagances, his backers had him murdered and took over operations themselves. But from then on, for then next 20 years, almost all the new Strip developments were financed or operated with the mob's backing.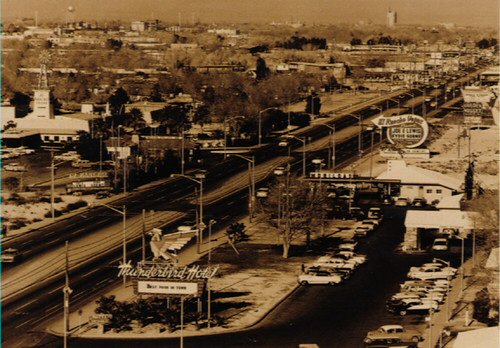 Among the properties added in the post-war era were Wilbur Clark's $4.6-million Desert Inn backed by "friends" in Cleveland and Detroit in 1950; the Syndicate-funded Sands Hotel & Casino in 1952; and Jimmy Hoffa's pet project—The Dunes— using loans from the Teamster's Union Pension Fund in 1958. Other properties that went up one after another along the Strip included the Sahara, Riviera, Hacienda, Tropicana and Stardust. And the building boom would continue for decades thereafter. Indeed, history has never witnessed anything quite like this incredible makeover—a lone desert highway converted into a world-famous entertainment corridor—The Las Vegas Strip.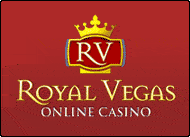 Royal Vegas, the #1 rated Casino for Canadians offers a thrilling and secure live gaming experience. Players are catered to by real dealers via webcams. That, and a world-class gaming experience, with innumerable card games and fun for everyone ! RV has been in the business for a very long time, a decade long. Thumbs up !