4 Apr
Play Online Blackjack with Real People
How to Play Blackjack with Friends & Other People Online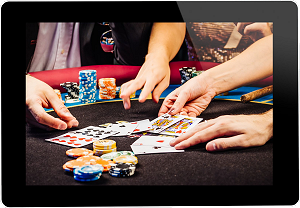 Technology truly is an amazing thing. Long ago, to play a card game with other people, you needed, first and foremost, a physical deck of cards and some real people, physically present in your location. Today, you don't need any of this. Instead, you need technology – specifically, any operative computer or mobile device that can access the internet.
No matter where you are – from the comfort of your living room sofa, to the convenience of the office break room – you can tap and swipe your way into a digital card room and play games like blackjack against other real people. You can play just for fun, or put real money on the virtual felt. The choice is yours – assuming of course that you're an adult residing in a country like Canada, where internet gambling is not prohibited.
You'll learn all about this, and a whole lot more, in our comprehensive guide, detailing…
How to Play Blackjack with Other People Online
You might be surprised to know how long this technology has been around – nearly two decades already. The first multi-player online blackjack games showed up in 2003 when Playtech initiated the soft-launch of the very first live dealer casino studio. It wasn't exactly a grand success. Computers were slow, and the internet was slower. The real-time casting of video and audio streams was nowhere near what it is today.
Over the years, technology has improved immensely. Now, we can access and play live blackjack games over desktop and laptop computers, as well as smartphones and tablets. These interactive tables run ultra smooth on any modestly equipped device.
If you're new to the online gambling community, there is a lot of information you may find useful. Or, maybe you want to skip ahead, past the educational and tutorial sections, and get started right away. Our handy Table of Contents will help you find whatever it is you're looking for.
Table of Contents
The Right Tools for the Job
Mobile tech has really taken off in recent years. The latest iPhone and iPad gear are as good as it gets. Samsung has some high-end Android devices that will easily get the job done, too. But you don't have to go top shelf to enjoy playing blackjack with friends online. For iOS devotees, anything in the range of iPhone 8 or better will do the trick. Samsung's Galaxy S9 and up, or any Android with an equivalent or better processing speed, will work just fine.
If you prefer an old-school desktop or laptop computer, any device bought in the last three years should have more than enough power under the hood. The latest version of Windows or Mac OSX is recommended, but certainly not required.
Mobile vs. Desktop
Which is best? There is no correct answer here. One is no better than the other. It's a preferential choice, nothing more. You can determine what suits you best by considering the various features.
For example, computers offer a larger screen and full keyboard for typing. Laptops, on the other hand, are semi-portable. A smartphone has the advantage of being fully portable and compact, capable of accessing the internet from just about anywhere on the planet. Tablets fall somewhere in the middle of all this. They usually need a WiFi hub to connect to the internet, but they have larger screens than a smartphone, often providing more hours of battery life. They're like laptops, but less cumbersome.
Browser vs. App
One thing you should consider is whether you want to play in browser or on an app. Apps can be really convenient, but they're generally only available on mobile devices, and the free-to-play variety thrive on annoying ads and/or in-app purchases. Mobile casino apps (slots, blackjack, etc.) will give you so many chips per day for free. If you run out, you may have to buy more to continue, or wait for the next free handout.
As they say, there's an app for everything these days, but browsers have really come up in the world. The utilization of HTML5 has changed the digital gaming community tremendously. Flash is out – browser-based programming is in. There's no need to download anymore. Just visit the website in your desktop or mobile browser. Plus, playing in browser will allow you to switch from desktop to mobile any time; (i.e. from desktop browser to mobile browser, and vice versa).
In short, mobile apps are for mobile only, whereas HTML5 games are built for universal optimization (i.e. they work on everything!) Unless you just really want an app, our recommendation goes to browser.
How to Play Blackjack with Friends Online
It may not seem like a big deal, but when it comes to online gaming, playing amongst "real people" and playing amongst "friends" are two very different things. If you want to play for real money, you're almost always going to be playing with people that you do not know. Your friends can join the same table, but you cannot set up private tables the way you would in an online home poker game. Gaming sites won't allow it, because there's too much opportunity for collusion. And where there's real money at stake, collusion is very illegal. Thus, operators won't accept the liability.
Free blackjack games are more liberal. There are quite a few websites and apps specifically designed to accommodate friends, so that they may socialize in a closed group. The trick is to find one that accommodates your needs, and the needs of your friends. If everyone has an iPhone, it won't matter if there's an Android version, or an HTML5 platform that supports computer browsers. The same is true for desktop and laptop users. If all of your friends prefer computers, you won't need a platform that offers an Android or iOS app.
In the "Where to Play" section below, you'll find each of the suggested platforms comes with a detailed description, followed by a checklist. This checklist provides all of the feature information you need to make an educated decision, including things like browser/app availability (with links), device compatibility, who you can play with, and whether you can play for free and/or real money. Which brings us to our next important topic…
Whether to Play Free or Real Money Blackjack
There are many deciding factors between these two options. First of all, legality must be considered. In Canada (as well as several US States and most of Europe), real money online blackjack games are legal. In places like Australia and the rest of the United States, cash games are illegal. If you are in a legal jurisdiction, you must be of legal age to gamble.
Assuming legality is not an issue, consider your desire to play privately among friends or publicly among friends and/or others. As stated earlier, private tables can only be found in free blackjack games. Real money wagers are for public tables, where anyone can join.
To play for real money, you'll obviously need a viable means of facilitating payments, too, along with – my personal recommendation – a strong sense of responsibility.
RNG Blackjack
RNG stands for "random number generator". An RNG blackjack game is one that is computer generated, using sophisticated algorithms (think Matrix cascading-green-numbers screen) to shuffle the cards in a genuinely random order.
You may notice a certification seal on a lot of websites and app pages that reads 'RNG Certified'. This is important, as it confirms the software's RNG has been tested and certified for fairness by independent auditing labs. It verifies that the games are not rigged; that every deal of the cards is as random and unpredictable as the masterful shuffling and dealing of a physical deck.
Every game of blackjack played over the internet is RNG-based, unless it falls into this next category…
Live Dealer Blackjack
Live dealer games are unique and make up a minuscule fraction of the blackjack games found online today. They are real games, played on a real felt-lined table, using real decks of masterfully shuffled cards. A professional dealer does all the handy work, while players sit comfortably at home, participating in the action on a computer, smartphone or tablet. State of the art video and audio equipment facilitates live streaming of the games.
Live casinos have been around for nearly two decades, promoting a solution to one very common grievance among internet players. RNG games don't compare to the experience of a land-based casino. They lack ambiance, interaction, camaraderie. A live online blackjack game brings virtual players as close to a bricks-and-mortar casino experience as technologically possible (until VR matures, anyway).
The only snag with live blackjack is this – you can't play these games for free. Live blackjack is only available in real money editions. It makes sense, if you think about it. That equipment costs money, and the dealers (and all the behind the scenes employees) are on the payroll. If you want to play, you have to pay, just like you would at a live, land-based casino.
If you want to learn more about this option, I suggest starting here:
Where to Play Online Blackjack with Real People
Next up is a list of trusted resources for playing blackjack with friends and other real people online. These websites and apps have been researched and tested for accuracy, fairness, and in the case of real money play, account safety and security.
Blackjack Legends – 21 Online Multiplayer Casino
Blackjack Legends is a mobile app from WildCard Games. Available for Android and iOS, it allows users to play classic blackjack in a live, multi-player format, alongside real people. You do have the ability to play with friends, but not in a private table setting. Other people can also join in, so long as an open seat is available. Interaction is provided via textual chat.
Multi-player mode brings together three players at a table, for six rounds of play. The player with the most chips after six rounds wins.
Some of the app's features include unlockable locations (i.e. Las Vegas, Rio, etc.) and higher stakes tables. As you level up, you collect rings to show off your supremacy on the virtual felt. A Blackjack Trainer feature is included to help you develop and test basic strategy, if you wish to do so. Continuous play permits users to sign in on multiple devices without losing progress.
You'll get a chunk of free chips when you first install the game. You can get another big chunk if you link your Facebook account. Plus, you can claim a free chip bonus every four hours to help keep your virtual bankroll stocked. If you run out, you can buy more via in-app purchasing, or just wait for the next hourly reload to become available.
Note: There is a website link, BlackjackLegends.com, but it only redirects to the developer's website, which links to this and other mobile apps.
Compatibility
Mobile
PC
Mac

.

✓
✘
✘
Accessibility
Website URL
Android
iOS

.

✘
✓

Google Play

✓

Apple iTunes

Play with…
Others
Friends
Friends Only

.

✓
✓
✘
Play for…
Free
Real Money
Free w/ IAPs

.

✓
✘
✓
Blackjackist – 3D Blackjack 21 by Kama Games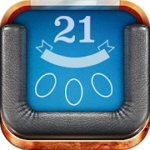 Blackjackist is a traditional blackjack game by Kama Games, creators of a series of popular "ist"-branded social gambling titles (Pokerist, Baccarist, Roulettist, etc.) This game can be played in-browser on any system – desktop, laptop, smartphone or tablet – or you can download the mobile app for Android or iOS. It's got immersive 3D graphics that make the game feel more realistic.
You have the option of playing a single-player, or with up to 3 players at a table. When playing in the default multi-player mode, you can have random people join in the action, or you can invite your friends to take a seat at your table. Players are able to chat with one another via messenger and text chat, and can tap various emojis to depict their mood or reaction to a hand.
You'll need to register an account to play the games. You can choose to 'Sign in with Apple', or create a new account, requiring only a nickname, email, and password. Linking your account to social media will  enhance your 'play with friends' options. Plus, by choosing to link the account, you can play across multiple devices without losing your progress, and can simply tap a button to invite your friends into the game.
Blackjackist features include free daily chips, daily quests, level-ups and achievement rewards, all of which will help keep your virtual bankroll stocked. The games are RNG certified fair. A tutorial is available to walk new players through all of the game rules.
This is a 100% social gaming platform, not a real money blackjack game. It is free to play, with no purchase ever required. You do have the option to spend real money to buy extra chips, but no money can ever be won back.
Compatibility
Mobile
PC
Mac

.

✓

.

✓
✓
Accessibility
Website URL
Android
iOS

.

✓

Blackjackist.com

.

✓

Google Play

✓

Apple Store

Play with…
Others
Friends
Friends Only

.

✓

.

✓
✓
Play for…
Free
Real Money
Free w/ IAPs

.

✓

.

✘
✓
Vegas World Blackjack – Black Tie Blackjack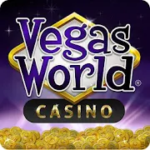 I came across this fun little 3D blackjack game a few years back. It lets players choose from an eclectic mix of male and female avatars to lead them into a virtual caricature-esque Las Vegas – or a tropical island at sunset, if you prefer your cards be dealt by a hula dancer. You can play alone or with other real people, friends or otherwise. Cross platform HTML5 optimization offers in-browser play on any computer or mobile device, with apps available for Android and iOS devices.
Once you've chosen an avatar, you can play as a guest, or save your character by giving it a name and registering the account with an email and password. Doing so will give you the ability to invite friends to your table, and to be invited to a friends' table. It also gets you an extra 100,000 coins, so I do recommend it.
Playing in single-player mode lets you set your own pace, and also gives you the option to play multiple hands; up to five at once. Multi-player mode makes room for up to five people, including yourself and any friends you invite to the table. You can communicate with others in the chat, which can be toggled on and off, and resized to standard or large view.
The blackjack games are 3-deck affairs where the dealer hits soft 17, but stands on all other 17s or above. Players can double on any two cards and double after a split. Blackjack pays 3:2, putting the house edge at about 0.5% with basic strategy. Combine that with the charms and treasure boxes you earn as you play, which award a steady flow of additional coins, and you should never be faced with the question of buying additional chips for real money (although it is an option). Long story short, it's very easy to keep your bankroll on the incline!
Vegas World Blackjack isn't just for blackjack players, though. It wouldn't be much of a "Vegas World" without a selection of other popular casino style games. You can also enjoy slot machines, video poker, roulette, multi-player poker, bingo, virtual sports betting and more. Some of these games be played with friends as well, where multi-player options are available.
Compatibility
Mobile
PC
Mac

.

✓

.

✓
✓
Accessibility
Website URL
Android
iOS

.

✓

VegasWorld.com

.

✓

Google Play

✓

Apple iTunes

Play with…
Others
Friends
Friends Only

.

✓

.

✓
✓
Play for…
Free
Real Money
Free w/ IAPs

.

✓

.

✘
✓
Big Fish Casino – Slots & Card Games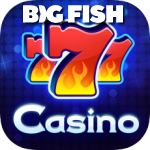 Big Fish Gaming is one of the top social gaming companies on the planet, renowned for their vibrant 3D graphics. They produce all sorts of games, from family favorites, to single-player solitaire style games, to word puzzles and much, much more. They also have a fun casino gaming app known as – you guessed it – Big Fish Casino.
BF Casino is a great choice for players seeking a little friend-on-friend blackjack action. Of course, their gaming platform also comes with a plethora of slot machines, which are not traditionally known for proffering social interaction. But at Big Fish Casino, propagating friendship is paramount. Even the slot machines can be played in a private slots room with fiends.
The biggest gripe among app reviewers has been tight payouts. These complaints have been going on for years, but they apply to slot machines more than anything else. At the blackjack tables, the rules, and your attention to strategic detail, define the return to player (RTP). Big Fish Casino is RNG certified for fairness, so we know the card games aren't rigged, but those slots can be set at any RTP level the game's manufacturers deem fit. So long as their RTP is met, it's considered fair.
Our recommendation – don't play the slots. Stick to table games and reasonable wagers. Combined with daily chip bonuses,  you should never run out of chips. Buying more is pointless anyway, since you'll never get to exchange them back for real money.
To play, you can visit the website in any browser, or download the app from Google Play, Apple iTunes or even the Amazon Store. You'll need to register an account first, and be sure to share your username and "Friend Code" with all of your friends so you can add each other for private table invites.
You can find your Friend Code by pressing Settings (gear icon) from the lobby, then Account Settings. To add a friend, press Friends in the lobby, then press Add Friends. Enter the Friend Code and press Submit for each friend you want to add.
Finally, to create a private blackjack table, click Blackjack from the main lobby, then press the table-type button and choose Private from the drop-down menu. Once the table opens, you can press the + sign next to an empty seat to invite a friend. You can have up to 5 players on a blackjack table. From there, the game play is pretty self-explanatory.
Note: Big Fish Games, Inc was one of several social gaming apps involved in a class action lawsuit that resulted in a US-$155 million settlement in 2021. However, that suit had to do with the legality of gambling (even as a social platform) in certain US jurisdictions, and nothing to do with the 'frequency of wins', as claimed by some reviewers of the apps.
Compatibility
Mobile
PC
Mac

.

✓

.

✓
✓
Accessibility
Website URL
Android
iOS

.

✓

BigFishGames.com

.

✓

Google Play

✓

Apple iTunes

Play with…
Others
Friends
Friends Only

.

✓

.

✓
✓
Play for…
Free
Real Money
Free w/ IAPs

.

✓

.

✘
✓
Blackjack21.io – Super Simple In-Browser Blackjack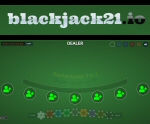 Blackjack21.io is the most simplistic browser-based game of 21 on the web. When you visit the website – on a computer or mobile device – you'll be asked to enter a nickname, then choose form two options: Play Offline or Create Table. Offline is for single-player mode. Choose Create Table to instantly set-up full table for you and up to 6 friends (7-seats total). The table loads immediately.
Click on any seat to join. Then, in the upper left corner, click COPY next to the table's Invite Link. Send that link to each friend you want to join you. When they use that link, they'll get the same front page asking them to enter a nickname and choose how they want to play. Instead of Create Table, their button will say Join Table. Press that, pick a seat, and start playing.
It's all pretty self-explanatory, really. As simple and easy (and free, with no ads) as Blackjack21.io is, there is one thing lacking. You can't chat with your friends in-game. You can always set up a multi-way phone call and chat that way, but there's no option to text or voice/video conference within the software.
Important Note: While the game is called Blackjack21.io, that is not the domain or URL for the game. It's located at blackjack-multiplayer.herokuapp.com. That is the correct URL, and the one our links point to.
Compatibility
Mobile
PC
Mac

.

✓

(in-browser)

.

✓
✓
Accessibility
Website URL
Android
iOS

.

✓

Blackjacki21.io

.

✘
✘
Play with…
Others
Friends
Friends Only

.

✘

.

✓
✓
Play for…
Free
Real Money
Free w/ IAPs

.

✓

.

✘
✘
Zone Online Casino – MSN's Free Multiplayer Blackjack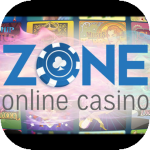 Ah, MSN! The classic Microsoft Network. We all know it. Most of us trust it. Who better to provide a multiplayer social casino platform than these guys? As soon as I came across it, I knew I'd be adding it to this list. What I didn't know was that it would turn out to be the EXACT SAME platform as found on Vegas World Casino, which I previously reviewed.
There are only two differences between VW Casino and Zone Online Casino. The first and most notable is that, being a part of the Microsoft Network, you can register and save an account at Zone by simply pressing the "Sign in with Windows" button on the Zone homepage. Then log into your MSN account, and you're all set. Of course, playing as a guest is also an option, but if you want to create private tables and play exclusively among friends, you'll need to save your account anyway.
The second difference – and this could be a game changer, if you seriously prefer downloading apps – is that MSN doesn't bother with mobile apps at all. As we all know, Microsoft is the maker of 'Windows', therefore has no desire to support other operating systems like its major rival, Apple (iOS), or Goggle's mobile giant, Android. Zone is built entirely in HTML5 for universal compatibility with all operating systems and browsers. Visit the site, play the games, 1-2-Done.
Once you enter the website, you'll choose an avatar to represent you at the tables. There are 24 to choose from; 12 male, 12 female. Single-player and multi-player blackjack games are available, either in Classic mode (traditional casino setting) or Hula mode (tropical island setting). Multiplayer tables offer 5 seats – one for yourself, and four more for the friends you choose to invite. So long as the table is made private (set a password and share it with your friends), no random players can join in. Playing with friends isn't necessary, though. You can join any open table and play with other real people from around the globe.
A text chat is provided for easy communication between all players at a table. The game rules are pretty standard: 3 decks; dealer hits soft 17; double on any 2 cards; double after split; blackjack pays 3:2. The RTP is about 95.5% with basic strategy.
Being a complete casino suite, you'll also have access to a variety of other popular gambling amusements, including slot machines, video poker, roulette, virtual sports, etc.
Compatibility
Mobile
PC
Mac

.

✓ (in-browser)

.

✓
✓
Accessibility
Website URL
Android
iOS

.

✓

zone.msn.com

.

✓ (in-browser)
✓ (in-browser)
Play with…
Others
Friends
Friends Only

.

✓

.

✓
✓
Play for…
Free
Real Money
Free w/ IAPs

.

✓

.

✘
✓
Royal Vegas Casino – Live Dealer Blackjack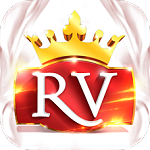 Royal Vegas
is one of the internet's oldest and most reputable real-money gambling websites. They've been online since 2000, and hold a remote gaming license from the highly respected regulators of the Malta Gaming Authority. For more than two decades, Royal Vegas (2000 est.) has presented its users with the option to play live dealer table games, including live blackjack.
The operator's integrity is only half of the reason why I've chosen Royal Vegas as a top choice for playing live 21. The other half of the equation belongs to their employment of Evolution Gaming software (among others). Evolution is the world leader in live casino studios. It always has been; a fact proven by 12+ years' worth of back-to-back eGR Best Live Casino Supplier awards. That alone speaks volumes to the reputation of the brand, and the unparalleled customer satisfaction rating among its users.
Live casino blackjack is a great way to enjoy the camaraderie of playing alongside other real people, while having the ability to play for real money. In fact, you have to play for real money at live tables. They are – as intended – a virtual mimicry of land-based casinos. As such, players in certain jurisdictions where internet gambling is illegal will not be able to access Royal Vegas Casino (i.e. Canadians are welcome, most Americans are not).
Royal Vegas offers 8 live blackjack tables, with variants like Classic Blackjack, Real Blackjack, Live ONE Blackjack, Live On-Air Blackjack, and more. The classic tables are the cheapest, starting at $1. They seat up to 7 players from a multitude of different Evolution-powered online casinos. Private tables start at $5 and $10, and are exclusively open to players of Royal Vegas Casino. Less traffic means you're more likely to find an open table at peak hours, and be able to snag a seat at a table with your friend(s), instead of other random people. The Blackjack Party tables have the lowest minimums with Bet Behind, allowing for virtually unlimited seating; (i.e. it's easy to play blackjack online with friends and other real people.)
To get started, you'll need to register a player account with your real information, including name, address, and date of birth, then make a deposit in the cashier. You'll see that it is possible to play for fun, but that applies to RNG games only, not the live multiplier blackjack tables. Deposits are secured by state of the art data encryption, so there's no need to worry about the safety of your personal or financial information. Simply select the deposit method that suits you best and follow the instructions provided. There are plenty of payment options to choose from, depending on your location. As a Canadian player, I highly recommend Interac eTransfers.
Note: Being a real-money casino, new members will enjoy a promotional welcome bonus with the first deposit. You can use these bonus credits, along with your deposited money, to play in the live casino. As always, terms and conditions apply. Please see the Promotional Terms section on the Royal Vegas website for more info on that.
Compatibility
Mobile
PC
Mac

.

✓

.

✓
✓
Accessibility
Website URL
Android
iOS

.

✓

royalvegascasino.com

✓ RV Casino (APK)
✓ Apple Store
Play with…
Others
Friends
Friends Only

.

✓
✓
✘
Play for…
Free
Real Money
Free w/ IAPs

.

✓

(RNG only)

✓
✘
Social Club VR: Casino Nights (Virtual Reality)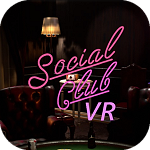 I'm updating this review, as I've gotten a chance to play it for myself. It's a cool game, through and through. If you have a good virtual reality headset (Oculus Rift is highly recommended), I would definitely suggest taking Social Club VR: Casino Nights for a test drive, at the least. Please note that this game is only compatible with VR. There is no PC, Mac, iOS or Android stand-alone version available. It's VR or nothing. It also comes with a price tag of $19.99. If you were hoping to play a friend or two (or more), bear in mind they will each need to purchase the game, and have an adequate VR headset.
Update: Non-VR Mode Beta no longer available. For a limited time, developers were testing a non-VR beta version, but I guess that didn't work out to well. As of now, it really is "VR or nothing".
You'll find Social Club VR: Casino Nights available on Steam, and also on the Oculus website. Both sell it for $19.99, but Steam runs regular discount sales, so be sure to compare pricing before you buy. That said, let's take a closer look at what features you can expect to find within the virtual casino.
I'll start with game variety. Casino-style games include Blackjack, Roulette, and Texas Holdem Poker. You can also enjoy casual games of Chess and Backgammon. For something a bit more interesting, challenge a friend to a test of skills. There's a full boxing ring, plus speed bags, heavy bags, and the most recent addition, a full fitness gym. Shooting Gallery games include Quickdraw, Sharpshooter, and Sniper. All games are available in single-player (against bots) and multi-player (against real people).
Social Club VR is packed with customization and features. You can build you own avatar from head to toe. The more casino chips you win, the more items you'll have access to. You can buy a drink for yourself, or a round for the whole table, and even enjoy a cigar without smelling like a smoke stack.
Almost everything in the game is customizable in some way. You can upload your own MP3 files and have your music pumped through the casino's sound system. You can input your favorite YouTube channel and have it playing on the casino's two flat-screen TVs.  The poker tables may be the most customizable of all. These are the only games (aside from Chess and Backgammon) that you can create as a private session. You can invite your friends to join you at the tables, with up to 6 seats available.
The only downside here – as just about every reviewer on Steam has mentioned – is that there aren't enough regular players. You really have to set up a date and time to play with friends. Otherwise, you're likely to find the club is more like a ghost town. The game itself is awesome, if only more people were actively playing. I'd suggest complaining about this on the SC-VR Discord, but it's been dead since mid-2019.
Compatibility
Mobile
PC
Mac

.

✘

.

✓
✘
Accessibility
Website URL
Android
iOS

.

socialclubvrcasinonights.com

.

✘
✘
Play with…
Others
Friends
Friends Only

.

✓

.

✓
✓
Play for…
Free
Real Money
Free w/ IAPs

.

✘ Buy for $19.99

.

✘
✓
Blackjack Arena – Online 21 with Friends & Others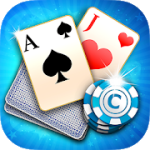 Blackjack Arena is a new way to play multiplayer blackjack with friends on iPhone, iPad, Android, desktop, you name it. It's another HTML5 build, so all platforms, operating systems and browsers are able to run it. There's no download required, no mobile apps to be installed. Unless you want an app, then you can have one. Blackjack Arena is available for iOS and Android smartphones and tablets.
To play in browser, go to Blackjack Arena and press Play Now (the mobile app links are just below that, if you prefer). You can set up a LazyLand user account (or log in if you already have one), or press the appropriate selection to login with Facebook or Google. Next, you'll have to agree to the terms and privacy policies, then the Blackjack Arena game loads right up. 
It's a 3D affair with vibrant graphics and an uncomplicated user interface. You start with 1,000 chips and access to the Las Vegas blackjack tables, where the stakes range from 10-200. You level up as you go, gaining accolades and opening up access to other famous gambling destinations with higher stakes tables. All games are played alongside real people, with up to three to a table. You can launch private tables and invite friends, which also feature up to 3 seats per game.
Text chat is available for communication. You can choose pre-written texts, like "Hello", "Nice hit!", and "Be right back…", among others, or choose Free Text to type your own message. There are 16 different emojis that can be sent to express your mood. Sending of emojis is limited to one per minute, per person, to avoid spamming.
The site doesn't seem to have a lot of free-roaming traffic right now. Last time I actually played (mid-2020), there were 9 people logged in. As of this update, I was the only user online. Then again, there could be countless more playing private blackjack games with buddies. If that's your intent, number of active players won't matter anyhow.
You can invite friends to join you by pressing on the More Services option (bottom right corner, round icon with six dots) from the lobby. Next, tap on Play with a Friend. A new blackjack table loads with you in the center seat, and an open seat on each side of you. Click the Invite Friend button on an empty seat and you'll be given a URL to copy/paste and send to your friend(s).
This is where my biggest gripe comes in… As you're attempting to send that link to your friends, you must continue playing blackjack. A timer is constantly counting down. If you do not place a bet within 10 seconds, you are told to press "I'm Back" when you are ready. A total of four hands can be played with out sitting out before you get disconnected, but if you're the only person as the table, that's four 10-second timers (40 seconds) before you're unceremoniously booted from the table. And if you are kicked, the link you sent your friends is no longer valid. Now that ya know, don't let it happen to you.

Compatibility
Mobile
PC
Mac

.

✓

.

✓
✓
Accessibility
Website URL
Android
iOS

.

LazyLand.com

.

✓ Google Play
✓ Apple Store
Play with…
Others
Friends
Friends Only

.

✓

.

✓
✓
Play for…
Free
Real Money
Free w/ IAPs

.

✓

.

✘
✓
Battlejack – Blackjack RPG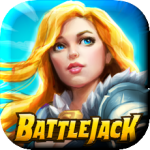 BattleJack RPG is by no means your ordinary game of 21. It is an adventurous role playing game (RPG) that is loosely based around the concept of blackjack. Each player ventures into a mythological realm of heroes, villains and mysterious creatures. To save the legendary tree of life, Yggdrasil, you'll deal cards to a hand, using standard blackjack rules and basic strategy. Instead of betting coins to win or lose, the result of the cards determines your heroes' attacks against the enemies before you.
As the game begins, you discover that you're a Guardian, summoned by (and in charge of) three unique warriors who are on a quest to save the world from eternal darkness. A brief tutorial will teach you everything you all of the basics in a matter of a few minutes. I won't go too far into deal here so as not to spoil the plot…
You'll learn that the playing cards are known as Mana Cards. The numbers on the cards are the same as a standard deck of cards, except that they are all numerical values (A and 2-10, no face cards). True, this means less blackjacks, but in this game, you don't need a two-card 21 to make that special hand. Any total of 21, using any number of cards, is a "BattleJack".
Instead of the usual suits, the cards have elements of fire, earth, water and magic. Each of your characters is also elemental, so each time a card is drawn depicting one of your character's elements, it activates their power to strike the enemy, and can enhance their attack with a power multiplier. If your hand reaches exactly 21 points, it triggers the BattleJack, wherein all characters will attack with a multiplier of 3x their current attack value.
Be careful how you play your hands. Using basic strategy is recommended, to an extent. Busting is never a good thing. If you bust, you will lose your turn, and the enemies will attack you instead. They also attack after you deal so many hands, depending on their speed.
So, where does the multiplayer feature come in? You obviously won't being playing blackjack at a table with real people. The friend aspect comes in as you level up and gain access to joining and creating guilds. Friends can join the same guild and play the adventure together. They can share usage of one anther's best fighters, and gain special rewards by working as a team to win special leaderboard events with other guilds.
As I said, this is by no means your ordinary blackjack game, but if you're looking for something outside the box, and you like legend and lore type RPG games, this one is definitely work checking out!
Update: The BattleJack Facebook page (which hasn't been updated since 2018) insinuates that you can play this game directly in Facebook. This is no longer true. In fact, most links to the game, including the Apple Store app download and 'Instagram Official' website, no longer exist. The only way left to play is to download the app for Android.
| | | | |
| --- | --- | --- | --- |
| Compatibility | Mobile | PC | Mac |
| . | ✓ | ✘ | ✘ |
| Accessibility | Website URL | Android | iOS |
| . | ✘ | ✓ Google Play | ✘ |
| Play with… | Others | Friends | Friends Only |
| . | ✓ | ✓ | ✘ |
| Play for… | Free | Real Money | Free w/ IAPs |
| . | ✓ | ✘ | ✓ |
CardzMania Blackjack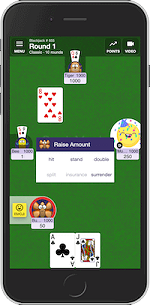 CardzMania is the newest addition to our list, capable of bringing up to 12 friends together for a single game of blackjack. It's a very simple platform, more about the social interaction than the graphics or features. Still, for its purpose, it does a great job. Plus, blackjack is just one of 50+ multiplayer games you can enjoy with friends online.
The best part about this app is that there are absolutely no interruptions. It's free to play, does not require a login, and has no ads. It's in beta testing mode, but it has been for some time now, and continues to run seamlessly (at least in my experience). to set up a table, simply visit the website and press 'Play Multiplayer Online Blackjack'. You'll be transported to a digital table, where you're given a cute default nickname and emoji. You can play around with these while waiting for your friends to join.
To invite friends, you'll simply copy the link as instructed. It's right in the middle of the page when you open a game – you can't miss it. Paste that to each player you want to join. You'll see them as they enter. Once everyone has joined the table, click the Start button.
There's also Video option that allows you to see and/or speak to your friends while you play, but you'll need to register a free account (or sign in with Google). Remember, this game is still in beta testing mode, and the more people you add to the table, the less likely that video/audio stream is to run smoothly. If you experience issues, try running Audio Only. If problems persist, try turning off your firewall (if applicable), or stick to textual chat.

Compatibility
Mobile
PC
Mac

.

✓

.

✘
✘
Accessibility
Website URL
Android
iOS

.

cardzmania.com

.

✓

(in-browser)

✓

(in-browser)

Play with…
Others
Friends
Friends Only

.

✓

.

✓
✘
Play for…
Free
Real Money
Free w/ IAPs

.

✓

.

✘
✓
BlackjackOnline – Free Blackjack with Friends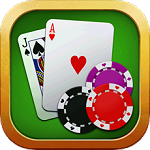 Update: BlackjackOnline is not currently available. Its mobile apps were removed in 2020, and the website is down as of April 2022. We'll let you know if it returns. Until then, keep on scrolling…
BlackjackOnline is a website with a super simple game of 21 built right into the web page. It was developed in HTML5 for universal compatibility with all modern computers and mobile devices. Navigate to the website in any browser and you're ready to play…
There is much more information to come – check back soon for additional updates!
Best Blackjack for Canadians

Jackpotcity.com  is our editorial pick for your gaming needs. Currently offering an entire suite of casino games, as well as a wide range of Canadian deposit options, JackPotCity truly offers world-class gaming.