20 Apr
Casino Staff Out, Electronic Blackjack In
Electronic 21 tables lead to 120+ casino staff buyouts.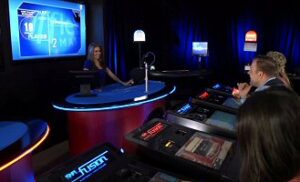 The new year may have brought hope, but it hasn't brought much in the way of change. In Manitoba, casinos that closed last October remain shuttered to this day. Uncertainty remains as to when patrons will be able to walk back through those doors, but we do know this. Whence customers return, they will be greeted by a host of new, electronic blackjack tables, replacing a multitude of former live dealers.
Officials with Manitoba's government-run casinos weren't willing to shed much light on the situation, but local union reps are more than willing to share what they know.
Electronic 21 Tables In…
Manitoba Liquor and Lotteries (MLL) has announced it will soon be offering a new way to play your favorite casino table games. They are investing in an electronic tables system known as "stadium gaming". All the major table games are supported, including blackjack, roulette and others.
The stadium gaming experience revolves around a single live dealer, seated at a table at the forefront of the gaming area. Each player is seated at their own individual table, featuring an interactive, digital display as its table-top. Think of it like an opera house, where the dealer takes the stage, and the players sit in the audience.

There are multiple benefits to this type of set-up; most notably the fact that it's incredibly easy to keep all players and staff members 6 feet apart. No doubt, Manitoba is hoping these efforts will allow them to reopen their facilities sooner, rather than later.
According to a spokesperson with MML, via email correspondence with CBC News, "This pivot in operations will allow us to call back table game employees when the casinos reopen."
But just how many employees will they be calling back? One of the biggest marketing points for stadium-style electronic blackjack and roulette tables – solely benefiting the casino that installs them – is that it takes just one dealer to host a full "stadium" of players.
…120+ Casino Employees Out
The new electronic gaming tables are being introduced at a multitude of Manitoba casinos, including the Club Regent Casino, McPhillips Station Casino, and Shark Club Gaming Centre, all located in Winnipeg. MLL is not responding to questions regarding exactly how many employees could be losing their jobs over these new tables. The same cannot be said of Unifor, the union representing casino floor staff. But that response just might surprise you.
According to Unifor, 150 employees were offered the chance to take a voluntary severance package. Of them, 124 accepted the buyout offer. Other employees have been reassigned to new positions in their respective casinos, based on seniority.
One Unifor national rep, Len Olafson, told CBC that two people have been laid off, but that the buyout deals offered were "over and above" what the union's collective agreement called for. He also noted that the majority of severance packages were offered to table dealers.
In Rare Instance, Union Defends Casino's Actions
"If people had the option, they did not have to take it," Olafson defended MML's actions. "Many people opted not to for the simple reason that they've been there for so long. They have a pension there, they want to retire."
It's rare we see a union rep defending the business by which their members are employed, but Olafson is looking at the situation from a logical standpoint, where modernization is inevitable. He explains that the government gaming agency was planning to install electronic blackjack tables before the disruptive events of 2020. While the loss of jobs is unfortunate, he understands it was unavoidable.
"It's technological," he said, "and as times change, unfortunately, machines do a lot of the things that people do."
CGA Applauds Upgrade to Stadium Gaming
Paul Burns, CEO of the Canadian Gaming Association (CGA), agreed with Olafson's assessment, noting that casinos all across North America have been embracing these new stadium gambling set-ups for the last few years. He believes it to be a natural progression that Manitoba casinos would follow the upgrading trend.
"It's a player experience that's vastly different," said Burns, adding that the new system can help "break down some of the intimidation of the table games."
Stadium seating occupies a greater section of the casino floor, which Burns believes adds a more social element to the atmosphere. Sitting shoulder-to-shoulder with mostly strangers, as traditional table games require, can intimidate some players into avoiding tables altogether.
Further adding to the friendly nature of these wide-spread electronic tables is the dealer's added role as a potential game host. "The table dealer acts as a bit a host, and sometimes I've seen it done where they're mic'd and they can talk to everybody."
Giving players a more communal experience, while discouraging close proximity between patrons, is exactly what the nation needs right now. Burns says it is for this reason that the CGA, and their southerly cousins with the American Gaming Association (AGA), are happy to see so many casinos incorporating the new stadium gaming technology.
"You've seen it in some of the regional markets in the United States," said Burns. US casinos have "brought back more of their electronic table games," and as a result, some "capacity restrictions have been reduced. I think you're going to see some of that same experience here in Canada as casinos begin to reopen when it's safe."
Some Live Tables Remain, But Not Operational
MLL is not doing away with live dealer tables entirely. Some of these tables remain in place, and will one day host traditional games again. However, the agency doesn't believe those tables will be active when casinos reopen. They were shut down during the partial reopening of casinos last summer, and will likely remain shut down until they are deemed safe to operate once more.
Burns agrees with this decision, as well. Electronic 21 tables and roulette tables, combined with standard table gaming, are "providing more variety, more options and choice in the environment."
As of now, there is no indication of when Manitoba casinos might reopen. According to Canada's health officials, restrictions could get tighter before they relax.
Best Blackjack for Canadians

Jackpotcity.com  is our editorial pick for your gaming needs. Currently offering an entire suite of casino games, as well as a wide range of Canadian deposit options, JackPotCity truly offers world-class gaming.