13 Oct
How Canadians Play Real Blackjack on a Tablet
Touch-Screen Tutelage: iPad & Android Tablet Online Blackjack Canada


It really is amazing what we can to with today's technology. Delivering desktop computers into the homes of every man, woman and child has ramped up the speed at which new high-tech devices are being produced. In just two decades, we've gone from snail-pace browsing on picture-tube monitors, to instant-access, touch-screen tablets that deliver the world to us on our sofas; or anywhere else for that matter.
Smartphones are great for some things, but when you want a larger picture to look at, or more space to tap and slide your fingers, tablets are the way to go. Today's top selling tablets are Apple's prestigious line of iPads, and Android's buyer-friendly range of products, available from a variety of major brands like Samsung, Lenovo and Amazon.
Here in Canada, the internet gambling scene gets more and more attention with each passing year. We are among the few remaining nations that do not heavily restrict internet betting. Some provinces have taken the time and energy to introduce home-grown and provincially regulated iGaming websites across the majority of Canada's provinces.
Canada's Provincial iGaming Brands and Markets in 2022
Alberta – PlayAlberta
British Columbia & Manitoba – PlayNow
New Brunswick & Nova Scotia – ALC
Ontario – PlayOLG & iGO licensed gambling sites
Quebec – Espacejeux
Whether you live in one of these provinces or not, you can also access many of the thousands of internationally regulated online gambling websites without fear of legal retribution. And when you put all of these new-age capabilities together, you get…
iPad/Android Tablet Online Blackjack Canada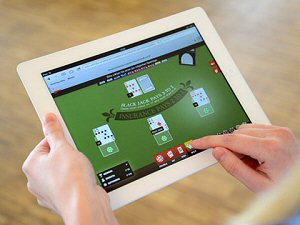 Thanks to the recent mobile gaming revolution, almost every online casino in the world is mobile tablet compliant. Being the most famous casino game from here to Timbuktu, you can rest assured 99.99% of all iGaming websites present their players with not just one, but a complete collection of popular blackjack variants and unique side bets. You can even enjoy mobile live dealer blackjack on any modestly equipped iPad/Android tablet. And rest assured, mobile security features are far better than they were when the tablets arrived around 2010.
If you've ever played online blackjack on a desktop computer, the tablet version will be a breeze. The only real differences are that you'll tap your selections with your finger, instead of clicking a mouse, and the screen size is surely going to be smaller. The average tablet screen today is 10-11", scaling anywhere from a lowly 7", similar to day\s largest smartphones, up to a monstrous 14", comparable to today's average laptop size of 13.4-15".
Even the smallest screens are proficient, considering you don't have to sit at a desk, or deal with a bulky laptop across your thighs. A tablet can be easily held at any position that comfortably accommodates your reach and eyesight.
Best iPad for Online Blackjack Players
The great thing about Apple products is that they are built to last – if you don't drop them, that is. iPad and iPhone are both notorious for screen shatters. If you're careful with them, and/or equip them with tempered-glass screen protectors, their processors and other core tech won't become obsolete nearly so fast as some Android-endowed devices. Of course, such high quality comes with a comparably high price.
The benefit to consumers is that, even though an iPad can be expensive, you can expect it to work great for years to come m- an average of 5 years, to be precise (more on that below). The latest iPad Air and iPad Pro, starting at CA$749 and US$999 respectively, are popular choices. Even some older iPads are still fully capable of running today's universal-optimization, HTML5 scripts without err.
How old is too old?
A good rule of thumb with Apple is that any device built in the last 5 years can still get the job done. That's because Apple generally supports iOS updates for its devices for at least 5 years after they go to market; sometimes more, but never less. That doesn't necessarily mean a four year old iPad is a good buy. Surely you can get it on the cheap, but if it's four years into market, the odds of it being dropped from updates is far too high to waste your money. What it does mean is that, if you have a 3-5 year old iPad collecting dust on the shelf, you don't need to go buy a new one – yet.
Model Comparison 2022: iPad – Mini – Air – Pro
The most important thing you can do in choosing the right tablet for online blackjack is to compare your options. Apple has a full line of products they release on an annual or semi-annual basis. They include the standard iPad, the compact iPad Mini, premium iPad Air, and beefier iPad pro. Below is a quick comparison of each, referencing the latest models.
Specs

iPad

iPad Mini

iPad Air

Pro 11"

Pro 12.9"

 

A13 Bionic w/ Neural Engine

A15 Bionic w/ Neural Engine

M1 w/ Next-Gen Neural Engine

M1 w/ Next-Gen Neural Engine

M1 w/ Next-Gen Neural Engine

Liquid Retina

Liquid Retina XDR

2388×1668

2732×2048

SDR 600 nits

600-1600 nits

12MP True Depth Ultra Wide

12MP True Depth Ultra Wide

Wifi only or
Wifi + Cellular

Wifi only or
Wifi + Cellular

Wifi only or
Wifi + Cellular

Wifi only or
Wifi + Cellular

Wifi only or
Wifi + Cellular

MSRP CA$

iPad

iPad Mini

iPad Air

Pro 11"

Pro 12.9"
Best Android Tablets for Blackjack
Android tablets are harder to gauge, because the operating system is licensed to any tablet manufacturing company willing to buy it. Some build sturdy devices with suped-up processors. Others use cheap, thin plastic and insert just enough tech to make it work for a year or so before dropping into the dense pool of obsolete technology. This is exactly why Android tablets come with such a wide range of prices, starting as low as $59 and scaling well beyond $999.
It's true, you get what you pay for, most of the time. Some of those bargain tablets are a good deal, especially if you don't mind upgrading every 1-2 years. Or, you can snag a more expensive model, like the Samsung Galaxy Tab S8, or Lenovo Tab P12 Pro. These products have enough power under the hood to stay relevant almost as long as their iOS rivals.
Model Comparison: Top Android Tablets of 2022
Specs

Nokia T20

Lenovo Tab P11 Plus

Lenovo Tab P12 Pro

Samsung Galaxy Tab A8

Samsung Galaxy Tab S8+

Unisoc Tiger T618 Octa-Core

Snapdragon 8 Gen1 Octa-Core

IPS LCD

Li-Po
8200 mAh

Li-Po
7040 mAh

Li-Po
10,090 mAh

MSRP CA$

Nokia T20

Lenovo Tab P11 Plus

Lenovo Tab P12 Pro

Samsung Galaxy Tab A8

Samsung Galaxy Tab S8

64GB+4GB

128GB+8GB
Other Great Gaming Tablets to Consider
Android and iOS may dominate the mobile market, but there are other options to consider. Microsoft's line of Surface tablets lead in Windows-based operating systems. Google's Chrome OS draws a sizeable crowd, as well. That said, here are some of the best non-Android/non-iOS tablets for online blackjack in Canada.
Specs

ASUS CM3 Detachable Chromebook

Miocrosoft Surface Go 3

ASUS Vivobook Slate 13

Microsoft Surface Pro 8

Model/Year

Screen Size

Operating System

Display

Resolution

Brightness

Storage

128GB up to
1TB SSD

Memory

Back Camera

Front Camera

Connector

Network

SIM Card

Secure ID

Dimensions

Weight

Battery

MSRP CA$

ASUS CM3 Detachable Chromebook

Miocrosoft Surface Go 3

ASUS Vivobook Slate 13

Microsoft Surface Pro 8

64GB+4GB

128GB+4GB

128GB+6GB

128GB+8GB

256GB+8GB

256GB+16GB

512GB+16GB

1TB+16GB

1TB+32GB
Best Blackjack for Canadians

Jackpotcity.com  is our editorial pick for your gaming needs. Currently offering an entire suite of casino games, as well as a wide range of Canadian deposit options, JackPotCity truly offers world-class gaming.