23 Nov
How to Open a Bitcoin Wallet
How to Get a Free Bitcoin Wallet in Three Easy Steps

Bitcoin is one of the fastest growing technologies civilization has ever known. The establishment of digital currency changed the way so many of us view money. Online banking helped ease us into the idea of digital transactions. We know we can turn a PayPal transfer back into cold hard cash. We know fiat currencies have an exchange value, compared to other currencies. But never has one been so volatile – so intermittently lucrative – as the world's first decentralized, 100% digital currency, Bitcoin. To harness our own piece of this unbridled power, or any of the altcoins that came after it, all we need is a digital wallet to hold it.
How to Get a Free Bitcoin Wallet
Opening a Bitcoin Wallet is not a difficult process. Anyone can do it. It's quick, and it won't cost you a dime – fiat or otherwise.
I believe the reason more people don't own digital wallets is because it used to be more difficult. You had to know technical jargon and have above-average knowledge of programming. I know this, because I myself avoided opening a Bitcoin wallet twelve years ago because, no matter how many of these tutorials I read, it didn't make sense to me.
If I'd known then what I know now, I'd be swaying on a hammock, sipping fruity beverages on a remote island. And while I didn't get in early enough to get rich off it, I can appreciate the fact that it's become a million times easier to buy, sell, trade and use Bitcoins. That's because today, we have access to countless websites, programs and mobile apps dedicated to push-button-expedition of these processes.
Making Use of Modern Crypto Technology
The remainder of this document is going to teach you how to open a Bitcoin wallet in three easy, ultimately painless steps. Below is a short description of each step. Click any one for complete details, or just keep scrolling to view them all in turn.
Find

ing the Right Wallet – There are countless wallets out there. We'll give you the knowledge you need to make an informed decision, and choose one that meets your needs.

Setting up

your Bitcoin Wallet – Learn how to create your new Bitcoin digital wallet. The actual process will vary by wallet of choice, and whether the wallet exists online, in the "cloud" or as a mobile-only application.

Buy, Sell, Send,

and Receive Bitcoins – This final step will teach you how to use your new digital wallet to purchase, sell, send (deposit) and receive (withdrawal) Bitcoins.
1. Finding the Right Bitcoin Wallet for You
There are two basic types of Bitcoin wallets – online wallets and offline wallets. An online wallet is one that is stored digitally, over the internet, constantly accessible for sending and receiving crypto-currencies. An offline wallet is stored on a fortified flash drive of sorts. Like a flash drive, it's a physical USB plug-in device, but it's built specifically for storing crypto-currency, featuring a sturdier, metal case design. They're also pricey, due to the nature of the build. Since they are not free, we won't be discussing those here, but know that they exist if you ever want to look further into it.
Beginners and intermediate users are strongly encouraged to choose an online, cloud-based or mobile wallet. Unlike offline wallets, these can't be lost or accidentally destroyed, plus you can access them from anywhere in the world, on any computer or mobile device.
It should be noted that online Bitcoin wallets are free, but that certain transactions will incur fees, similar to online payment processing companies like PayPal. The frequency and size of those fees will vary from one wallet to the next, so it's important to understand your needs.
Keep Your Wallets and Exchanges Separate
The most critical thing you need to understand is the need to maintain a separate Bitcoin wallet and Bitcoin exchange. If you want to buy Bitcoin from Coinbase, that's fine, but you can't store your digital currencies on the same wallet you use for exchanges. If you attempt to send BTC from a Coinbase wallet to a Playamo Casino wallet, for example, odds are your Coinbase account will get blocked, since gambling-related transactions are a big no-no. You'll need to transfer your coins from Coinbase, or whatever public exchange wallet you do your buy/sell trading with, to a Private Bitcoin Wallet that won't trace your every move.
Here's a list of some of the most popular private Bitcoin wallets – the kind you can send and receive digital currencies through anonymously – and the types of users they accommodate best.
Blockchain Wallet

Blockchain Wallet is the most widely used Bitcoin wallet, especially popular among iGaming enthusiasts. We recommend Blockchain for new users with no prior experience or tech knowledge. It's an online, web-based wallet service, so you can access your digital currencies from anywhere in the world, on any computer or mobile device. There's also an app for iOS and Android devices.
Pros & Cons: Its simplicity is its most valuable feature, but the range of crypto-currencies you can deal in are limited to just seven options; Bitcoin, Ethereum, Bitcoin Cash, Stellar, USD Digital, Algorand, and Tether).
Jump to How to Open a Web-Based Wallet below.
Blockstream Green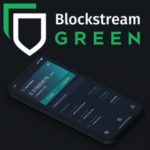 Blockstream Green is unique in the sense that it is a cloud-based digital wallet. This makes it more secure than a web-based wallet, because it does not exist on any physical (potentially hackable) server. Multiple digital signatures are required to access the account. Think of them as keys. It takes multiple keys to get into the account. Blockstream holds one, and you hold the rest. They can't get in without you, and you can't get in without them.
Pros & Cons: Blockstream Green is easy enough for a novice to use, but is recommended for intermediate users who are just a little tech-savvy due to some advanced options you can play around with. In short, it's extremely secure, but a bit more complex. Also, a download is required (see links below).
Download Blockstream Green for
Jump to How to Open a Cloud-Based Wallet below.
Bread Wallet (BRD)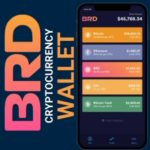 BreadWallet, or BRD as it's commonly known, is another great digital wallet for Bitcoin users. It's not web-based or cloud-based. To beef up security, they made it available only as a mobile app. Installing the app creates an individual, digital wallet that exists only on the user's mobile device. It connects remotely to BTC networks to send and receive units. There's no account creation – no logins – no passwords – no servers storing your info. You get a 12-word paper key to access and move coins in/out of your your wallet.
Pros & Cons: This is not a feature-rich Bitcoin wallet by any means. You can buy, send and receive the most popular digital coins, like BTC, BCH, and ETH – that's about it. But if you're looking for a third-party, private Bitcoin wallet to protect your online gambling funds, and don't mind it being app-only, BRD is the perfect fit.
2. How to Set Up Your New Bitcoin Wallet
Once you've selected the right wallet to suit your needs, it's time to get the ball rolling. Of course, the wallet you choose will effect the setup process. We'll give you the basic rundown for web-based programs like Blockchain, cloud-based wallets like Blockstream Green, and mobile-only applications like BRD.
IMPORTANT: When setting up your wallet, you will be given either a Wallet ID, a multi-word Key Phrase, or both. Get a piece of paper and write it down. Write it neatly, and double check your spelling. Capitalization matters. Keep it in a very safe place.
Do NOT save the ID/Key anywhere on your computer or mobile device. Do not take a picture of it on your phone. Never email it to yourself. There should be no digital evidence of it anywhere. If anyone else gets hold of it, they can steal all the money in your wallet, and because it's anonymous, there's not a thing you can do about it. Consider it a key to a safe. Anyone who has the key can get in. Protect it!
Online Bitcoin Wallet Setup
The process here is as simple as reading directions. Visit the website and look for the "Sign Up" option. It's usually in the top right corner next to the Login button.
Because you're creating an account, you will need to provide some minimal user info. Typically, they'll want an email address, and you'll need to create a password. Once you do this, you'll receive your Wallet ID or Key Phrase. They won't email this to you, and it is only displayed once on your computer or mobile device. WRITE IT DOWN! Put it away, keep it safe and private.
If you want to open a Blockchain Wallet, as described in the section above, this link describes How to Set Up a Blockchain Wallet.
Cloud-Based Bitcoin Wallets
You have to download a program or app for these. On the main page of the website, you should find a link for each major operating system (PC, Mac, Linux, Android, iOS). Choose your system, download the file, and install it.
Once you open it, you'll see an option to create a new wallet. If asked what type of wallet you want to create, choose Bitcoin. Next, you'll receive your key phrase. It could be anywhere from 12 to 24 words long. The longer it is, the greater the security. Again – WRITE IT DOWN! Put it away somewhere safe. To make sure you wrote it correctly, you'll probably be asked to verify it. Enter the words in the correct order. If asked to create a 4- to 6-digit PIN code, do that too. Write it down, as well. From here, your wallet should be all set to use.
If you liked the description of Blockstream Green in Step 1, check out their Step by Step Guide to Creating a Blockstream Green Bitcoin Wallet.
Mobile-Only BTC Wallet App
Mobile-only apps like BRD skip over the whole account setup process. When you install the app on your iOS or Android device, a unique digital wallet is automatically set up for you. The next steps are critical, as the app describes how to recover your wallet if anything goes wrong; like maybe your phone gets stolen, or falls in the toilet. You'll need to do one or more of the following – create a security PIN, generate a recovery phrase, and/or record your wallet ID. If you're using an Apple device, you may be able to enable Touch ID, as well. Follow whatever instructions are provided carefully so that if anything does go wrong, you can get your wallet back. Once complete, you should be able to access all features.
If you want to try the BreadWallet for mobile, here are the Setup Instructions for BRD Bitcoin Wallet.
3. Buying, Selling, Sending & Receiving Bitcoins
Every digital wallet has its own procedures for buying, selling and transferring crypto-currencies, but you'll be glad to know this is the easiest step of all; especially if you chose one of the wallets we reviewed for you above. We chose these because they are all straight forward enough that anyone can figure out how to use them. Plus, they all offer an easy step-by-step walk-through that teaches you how to do all the basic stuff.
Buying and Selling Bitcoins
I stated this above, but I'll say it again. If you're looking to buy and sell BTC and other crypto-currencies through an exchange, and wish to use any portion of those funds at Bitcoin casinos, do not use your private digital wallet to buy them. A Bitcoin Wallet and a Bitcoin Exchange are not the same thing. Some wallets do offer both services, but we strongly suggest you keep them separate.
Use a public Bitcoin exchange, like Coinbase, to do your buying. Public wallets require you to provide identifying information upon sign up. That means they can (and will) track what you buy and sell, and the wallets you send and receive coins to and from. But, once you transfer your purchase to a private wallet, the trail disappears. This is important because public exchanges rarely permit the transfer of digital currency to Bitcoin casinos, anyway.
So to reiterate – set up an account with any reputable Bitcoin Exchange. This account will not be anonymous. It requires a real name, address, date of birth, and payment method (credit/debit card, bank account, PayPal, etc.). Buy your coins with this exchange wallet. Then, look for a Send option. When asked where you'd like to send coins it, enter the Wallet ID for your private wallet.
You can sell digital currencies in the same way, but in reverse. Transfer them from your private wallet to your public exchange wallet, then choose the Sell option.
Sending & Receiving – Depositing at Bitcoin Casinos
Every good Bitcoin Wallet has a Send feature. This is where you'll initiate your deposits. All you need is the alphanumeric Wallet Address given to you by the Bitcoin casino when you opened your account.
Start by logging into your Bitcoin casino account. For the purpose of this step-by-step guide, we'll follow the procedure for depositing at Rock N Rolla Casino. Other websites may be slightly different, but not by much.

To make a deposit…
Log in to your Bitcoin casino account.

From the menu, choose to make a Deposit.

Select the digital currency you wish to deposit with (BTC, ETH, LTC, etc.)

Copy the Wallet Address provided (or see QR method below)

Open your Bitcoin Wallet website/program/app.

From the menu, choose Send.

Enter the amount you wish deposit at the casino.

Paste the Wallet Address into the recipient area.

Submit the transfer.
QR Method: After Step 3, open your Bitcoin Wallet app on your smartphone, scan the QR Code displayed by the Bitcoin Casino, then follow the instructions to complete the transfer.
It can take up to 20 minutes for a crypto-currency deposit to finalize. Refresh your casino account every minute or so until it arrives.
To make a withdrawal…
The withdrawal procedures are essentially the same. Visit the casino, select withdrawal, then choose your currency. Login/Open your digital wallet, copy the Wallet ID, then paste it in the box provided on the casino's withdrawal page. Enter the amount you'd like to cash out and submit the request. Note that withdrawals can take anywhere from 20 minutes to 24 hours, depending on the casino's policies.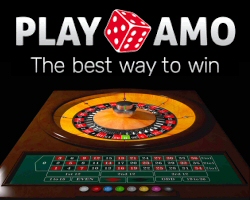 Playamo is a specialty casino tailored to players wishing to utilize bitcoins and play in a safe and anonymous manner. It caters to Canadians who use cryptocurrencies and also traditional cards like Visa/ Mastercard. Check the Playamo Canadian deposit options page ->here<- to see if your deposit modality of choice is accepted. Highly trusted, secure, and one of the select few Bitcoin enabled casinos that actually has a license, under Curacao.