12 Nov
Top Reasons to Live Stream Online Blackjack
Blackjack Live Streams: Maybe watching other people stream games online can be fun?!
If you're a parent, grandparent, even aunt or uncle of anyone between the ages of 8 and 20, odds are you've said these words before…
"Why are you watching other people play video games? What's the fun in that? Why not just play the game yourself?!"
It seems like such a strange phenomena, I know, but it's all the rage these days. It's not just under-21s doing it either. Adults do it too. They have reasons for it – the same reasons the kids give us. They find it interesting, entertaining, educational, and it helps them decide if they want to play a game in the first place – something that can save us adult role models a lot of money in the end.
What I find most interesting of all is that, now days, our youngest generation can so easily turn the tables on us. If you haven't experienced yet, there's another growing phenomena very similar to the 'watching videos of video games' craze. I'm talking about people who live stream online blackjack, and the viewers who love watching them do it.

Blackjack Live Streams for the Adult Audience
Live casino streams have become increasingly popular in the last few years. Most of them stream videos of playing slot machines, which shouldn't be too surprising since most of the games in casinos are slot machines. But more and more, we're seeing live streams of blackjack games, and they've captured the hearts of countless viewers. If you're still confused as to why anyone would watch them, here's a few reasons why you might want to reconsider.
General Interest – Find new games you'd like to play.
If you haven't noticed, the internet has birthed a whole new species of blackjack games, and their multiplying as fast as software companies can imagine them. Land-based casino must limit their variety, due to space restrictions. Online casinos exist in a realm without borders. The more the merrier, right?
With 50+ blackjack variants and rules to choose from, who knows what games you will and won't like? You could take the time to try them all yourself, but most of them are offered by different software companies, employed by different internet casinos. It would take an endless amount of time and account registrations. Or… you could live stream those blackjack games, where it takes just a few moments to see whether a game piques your interest.
Entertainment – Some streamers are truly fun to watch.
The entertainment business is a tricky one. Take Hollywood for example. There are a lot of success stories out there, but far more tales of failure. That's kind of how blackjack live streamers are. A few of them are like that comedian that you absolutely love – the one that makes you laugh until you're about to piss yourself. Then there's the ones that tell lame jokes, only getting a laugh now and again.
If you find the right streams – the ones that 'speak to you', the way any good entertainer can – you can get a great deal of enjoyment out of watching. The more charisma they have, the better. It's not like watching a movie, of course, although there are a few similarities. There are dramatic moments, climactic scenes, extreme emotional shifts, and lots of laughter in between.
Education – Learning the rules and strategies of games.
I remember a few years ago when my nephew started watching people play games like Minecraft and Call of Duty. He was 14. I asked him why – what's so great about watching, as opposed to playing? His answer made complete sense, so I never questioned him again. He said he's learned so much from watching that it's made him a far better gamer. He learned tips, tricks, strategies, and even found out how to upgrade his PC for peak performance.
A good blackjack live stream can do the same for you. There are streamers who play just to play, of course, but there are also those that play professionally, and teach others to play like the pros. They can help you understand why a strategy chart tells you to do one thing instead of another. They can help you make sense of the math behind blackjack, and train your brain for card counting. Since live streams happen in real time, you can even interact with them and ask questions. Who wouldn't want a free, professional coach at their disposal?
#1 Canadian-Friendly Casino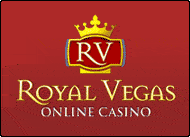 RoyalVegas.ca is our editorial pick for your specific gaming needs in 2022. Currently offering an entire suite of live dealer games, as well as a wide range of Canadian deposit options, RV truly offers a world-class gaming experience.