31 Jul
Shoot to Win Mechanical Craps by Azure Gaming
Is Azure Gaming's Shoot to Win Craps all it's 'crapped' up to be?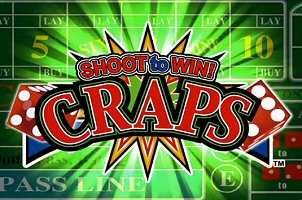 For the last two decades, all the classic casino games of old have been digitally reinvented. An endless online gambling space was built upon the concept of virtual gaming machines. Slots, tables, video poker, even horse racing and sports betting now take place in a virtual realm, just as they do in the physical.
It's not just cyberspace that is catering to an electronically interactive realm of virtual gambling. Land-based casinos are catering to the same technological advancements whenever possible. Azure Gaming is one of many companies looking to accommodate that need, going so far as to develop a mechanical craps game that requires no dealer or boxman.
Shoot to Win Craps by Azure Gaming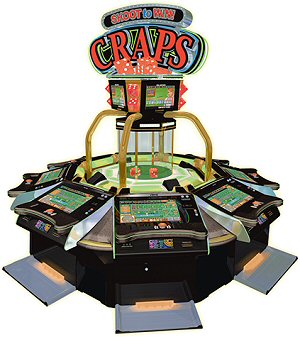 Shoot to Win is a mechanical edition of the same old craps games we've come to know and love over centuries of dice rolling. Modern casinos took the game off the streets and onto felted tables, where it could be properly wagered on – in their favor, of course.
A traditional craps table is large, featuring a massive, dual-sided betting diagram that offers a wide variety of single and multi-roll bets, props, odds and more. The table is so large, and often so overrun with players, that at least two employees are required to run it. For the most part, one handles the dice, and the other handles the bets.
Azure Gaming's Shoot to Win game is an electro-mechanical version that eliminates the need for any employees to run it. It can accommodate up to 8 players at once, with each having access to their own touch-screen kiosk. Each player will tap the screen to place and adjust their bets or collect winnings.
According to the company, what sets this electronic game apart from so many others is that players still have a sense of control. There are two oversized dice encapsulated in a large clear bubble in the center of the craps game. Taking turns, just like a real table, each player is given the opportunity to be the shooter. A big red Shoot to Win button is provided to quake the dice bubble and get them rolling.
"By rolling the dice, the players will experience the excitement just like the live tables," says a spokesman for Azure.
Simulation Allows for Taking Craps Odds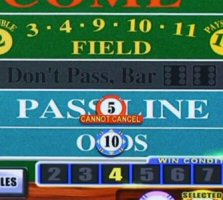 Being an admirable simulation of real craps tables aside, the first thing any veteran craps player is sure to ask is whether Shoot to Win offers craps odds. If unable to take odds of at least 5x, most educated players will walk away. That's because taking odds on certain bets is the only way to get the house edge low enough for a strategy-driven gambler to see it as being worth the risk.
Fortunately, Azure's Shoot to Win Craps tables do provide the option to take odds on the same bets a traditional table would allow for. As for how high those odds can go, that's up to the casino that installs the game. Odds of at least 5x are standard, although some casinos have been known to increase them to 10x or more.
Is Mechanical Craps All it's Crapped Up to Be?
I suppose it depends on what you're looking to get out of the experience. On the positive side, it mimics all possible craps bets and payouts perfectly. Being electronic, it also eliminates the possibility of human error by a croupier, boxman, or inebriated shooter.
On the negative side of that spectrum, the typical level of excitement shared between players around a traditional table is almost non-existent. It's as if the electronic, touch-screen format sucks the communal experience out of the game. If that's not a draw for you anyway, you may still get plenty of entertainment out of it. If not, the real craps table might be more your style.
#1 Canadian-Friendly Casino

Jackpotcity.com  is our editorial pick for your gaming needs. Currently offering an entire suite of casino games, as well as a wide range of Canadian deposit options, JackPotCity truly offers world-class gaming.