15 Jul
ThunderCats Online Slot Machine by Blueprint Gaming
New ThunderCats game a controversial slot release.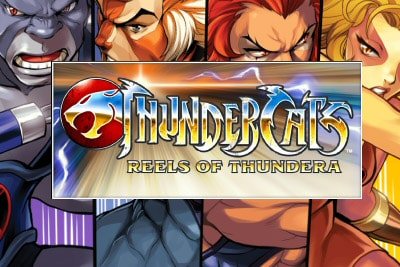 Take a look at the 50 highest ranking online slot machines of the last 12 months, and you'll find that a lot of them come with familiar themes. They are modeled after hit TV game shows like Who Wants to Be a Millionaire, award-winning series like Narcos and Vikings, ultra-famous musical groups like The Village People. Brand licensed slots are all the rage, and digital software labs are constantly looking for the next big production contract.
Blueprint Gaming found one in the company of Warner Brothers. Last month, the studio released the all new ThunderCats Reels of Thundera online slot machine. Your reaction to this news will have a lot to do with your age, and surely that was in the minds of Blueprint executives when they inked the deal. But there's more information than meets the eye, and it's raising questions as to the appropriate nature of the game.
New ThunderCats Game a Controversial Release
As anyone in my age bracket should know, ThunderCats was a popular animated cartoon series of the late 1980's (1985-1989 to be exact). I used to rush home from school to watch it, usually just in time to catch the last half, but I didn't mind because I'd seen every episode already – I knew what happened in the first half. Yeah, if you loved ThunderCats, it really was that awesome!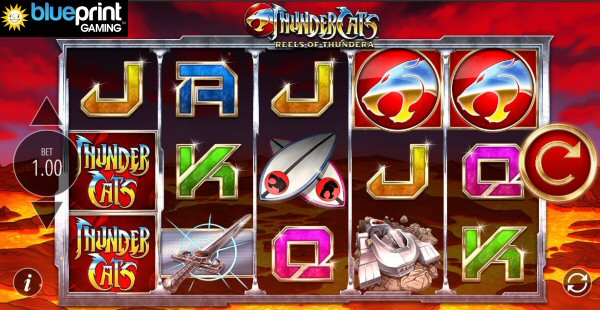 Being such a fan back in my youth, then witnessing the release of a slot machine that mimics this favorite, animated childhood memory of mine, I immediately questioned why the company would take a children's cartoon and attempt to turn it into a gambling sensation.
On the one hand, this is a television show that clearly appeals to the 35+ age range. Blueprint Gaming had to know this when they developed it, and to their credit, the 1980's style animations are fully intact. It comes nowhere near the HiDef, 3D quality, computer generated graphics of today.
On the other hand, if we delve just a bit deeper into the subject, we find that Warner Bros has good reason to get this game on the market asap. They are looking to release a new ThunderCats series before the year is out; ThunderCats Roar. Which leads to the question – is this just a poorly managed publicity campaign?
Old vs New ThunderCats Cartoon
This isn't the first time Warner Bros has attempted to revitalize the feline superheroes of Third Earth. Lion-O and his bad-ass team of warriors waged war against Mumm-Ra once again in 2011. In that version, developers were obviously hoping that bringing back the same conceptual design with all new stories would attract audiences of all ages – much like the undying multi-generational success of Teenage Mutant Ninja Turtles. But that wasn't the case.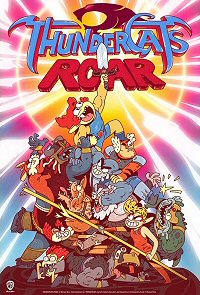 The 2011 rendition was ultimately a short-lived failure. The studio thinks its new 2019 series, ThunderCats Roar, will be different. And after looking up pre-production video footage, I have to agree, at least in regard to it being completely different.
Cartoons have changed a lot in the last decade, and as much as I (being an old-school fan) have resisted the change, children do seem to enjoy them. The new show looks like the ThunderCats were cloned with World of Gumball DNA. They look, sound, and act nothing like the ThunderCats I remember. In fact, the head of the show's production said that, aside from sticking to the backstory, the only thing he made sure to salvage was the "super cool action elements"; the big explosions and laser effects it was so famous for.
Where Does the ThunderCats Online Slot Fit In?
It doesn't really fit into the new series at all. I was expecting to find an exploitative publicity stunt, but instead, I've found two very separate items sharing the same name. And that's the only place Blueprint Gaming and Warner Bros could run into trouble. They've built a game named after a soon-to-be-current children's cartoon.
Since it's already been established (in 2011) that children do not find the old cartoon appealing, I do think that adults – especially those in my own age range, are the only ones that will be excited to hear the TunderCats are back in action on the 5-reel screen!
The new ThunderCats game has a 5×3 reel set, 20 paylines, a max 250k coins payout, and features all of our favorite characters, alongside thematic features like Sight Beyond Sight, The Black Pyramid, Hear The Roar Free Spins, The Ever-Living Free Spins, and ThunderCats Hooo! Free Spins.
#1 Canadian-Friendly Casino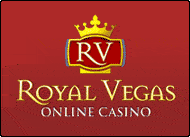 RoyalVegas.ca is our editorial pick for your specific gaming needs in 2022. Currently offering an entire suite of live dealer games, as well as a wide range of Canadian deposit options, RV truly offers a world-class gaming experience.