23 May
Yggdrasil's Niagara Falls Slot a Barrel of Fun
Yggdrasil's new slot machine celebrates history of Niagara Falls.

Take a trip to Niagara Falls today and you'll be bombarded by an abundance of visitor safety guidelines. Notices inform of us the dangers. Guard rails remind us never to get too close to the edge. Security guards hover all around to make sure we don't do anything remotely dangerous.
Oddly enough, more than a century ago, it was a whole different scene. In 1901, the first person to ride over the falls in a wooden pickle barrel – a 63-year-old widowed schoolteacher by the name of Annie Edson Taylor – famously survived the plunge. Fourteen others (that we know of) rode the falls between then and 1995, some in barrels, one in a kayak, one even rode a jet ski. Only 10 survived.
It was the fatal 1995 jet ski incident that resulted in the the security we see today. Plunging over the falls is not only incredibly dangerous (33% fatality rate), it's illegal. But that couldn't stop the creative minds at Yggdrasil from building a new interactive slots game that celebrates both the history of Niagara Falls, and the historic slot machines of yesteryear.
Yggdrasil's New Slot Machine Niagara Falls
The Niagara Falls Slot combines the virtual functionality of slot machines past, with the feature-rich distribution of today's most popular reel spinners. Wilds, multipliers and free spins with sticky wilds and guaranteed wins, not to mention 5 Lucky Coin Drop Bonus games, are all cascading down the 5×3 reels.
The style of the machine and its multitude of delectable fruits, combined with a 1930's musical score, will instantly transport players back in time to a bygone era. The game's graphics mimic old-school machines perfectly, right down to the crooked notification panel that pops up to display the value of any winning spin.
Now let's take a look at the multitude of features Yggdrasil endowed this exciting new slots game with.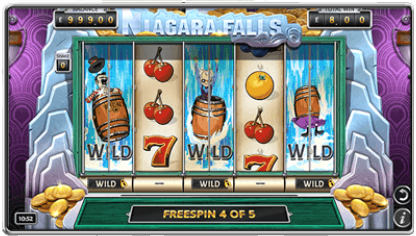 Niagara Falls Free Spins
The barrel is the bonus symbol, appearing on reels 1, 3 and 5. When one appears on each of those reels, it triggers 5 Free Spins. During free games, the bonus reel segments (see below) at the bottom can only contain the word WILD. If the word WILD appears during a spin, the entire reel above it will feature a Sticky Stacked Barrel Wild that remains in place until free games are over.
Lucky Coin Drop Bonus
Beneath each reel is a separate, smaller reel that contains various bonus names; Wild, Stacked Spins, Shake, Free Spins, Win Multiplier (Win x2, x3, x4 or x5). Randomly during any spin, a gold coin can land on the 5th reel. When it does, it activates the Lucky Coin Drop Bonus. The coin is dropped in the top of the machine and falls through the slots, bouncing its way down into one of the bottom reel segments. If that segment has a bonus name on it, the corresponding feature is triggered:
Wild: Coin trail symbols replaced with wilds.
Free Spins: Niagara Falls free spins trigger.
Shake: 1 Shake Bonus added to shake counter; maximum 5 shakes held per bet level. Accumulated Shakes automatically trigger during random Cash Fall Bonus (see below).
Stacked Spin: Activates 1 free Re-spin with stacked symbols.
Multiplier Bonus: Current win pays out at the multiplier on display (i.e. Win x3)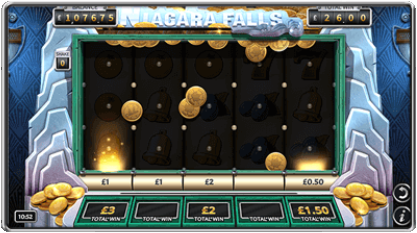 Cash Fall Bonus
If that weren't enough bonuses already, there's one more to look out for. The Cash Fall Bonus is a random feature that can trigger after any spin, so long as no other bonus is active. When it does, the reels turn dark with coins raining down from above. All the coins bounce down the peg board into the slots below, labeled 1x or with a blank. Coins that land in the 1x section award 1 credit, added to the prize meter. Those landing in a blank section award nothing.
It's also possible for a Super Coin to fall. If it does, and it lands in a slot marked 1x, it will increase the slot to 2x, doubling the value of all subsequent coins that fall into that slot. If it lands in a blank slot, it will change it to 1x.
Once all coins have fallen, any accumulated Shake bonuses will trigger, urging additional coins to cascade down the screen before it's over.
#1 Canadian-Friendly Casino

Jackpotcity.com  is our editorial pick for your gaming needs. Currently offering an entire suite of casino games, as well as a wide range of Canadian deposit options, JackPotCity truly offers world-class gaming.